MARBLEHEAD — Perhaps it was some early jitters against a quality foe. Or maybe it was shaking off some of the cobwebs from having the senior prom the night before.
Whatever it was that caused the Marblehead boys lacrosse team to play lethargically for the first 12 minutes of Thursday's contest against Masconomet literally disappeared in the following stanza.
Playing what head coach John Wilkens called "our best second quarter of the season by far", the Magicians netted seven straight unanswered goals to turn a tie contest into a comfortable lead, cruising to a 13-4 triumph over the Chieftains at Piper Field.
Senior captain Will Shull buried five goals and added two assists, junior attack Josh Robertson also had seven points thanks to a 3-goal, 4-assist outing, and senior captain J.T. Monahan turned aside nine shots in net to send the unbeaten Marbleheaders to their 10th straight win.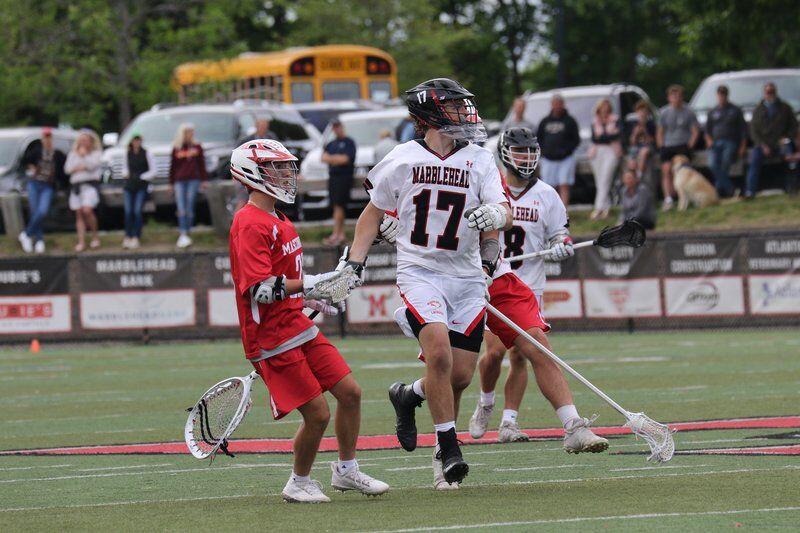 "This is a really good group of seniors, one that's very focused at all times," said Wilkens. "Those times that they don't play well they get upset, which as a coach is good to see. They expect a lot of themselves at all times."
Knotted up at 1-1 entering the second quarter, the goals started coming fast and furious for the hosts. Shull, who now has a team-leading 32 goals, had four in the decisive frame, including one just 36 seconds in and another three minutes later to make it 3-1.
Senior defenseman Gresham Bosworth then ran upfield and buried one, followed by sophomore Connor Cronin and two more from Shull. Robertson finished his team's run, taking a pass from Shull and depositing it home.
"Shull's got the speed and he can shoot it from anywhere. He's hard to defend," said Masconomet head coach Andrew Boepple, his club now 5-4. "If you let his hands free and he can get a shot off, it's going to be a dangerous shot no matter where he is on the field. 
"We tried to have poles on both he and Robertson and a short stick on their attackman (Cronin) to limit their chances, but even then they find ways to get free and get quality shots off."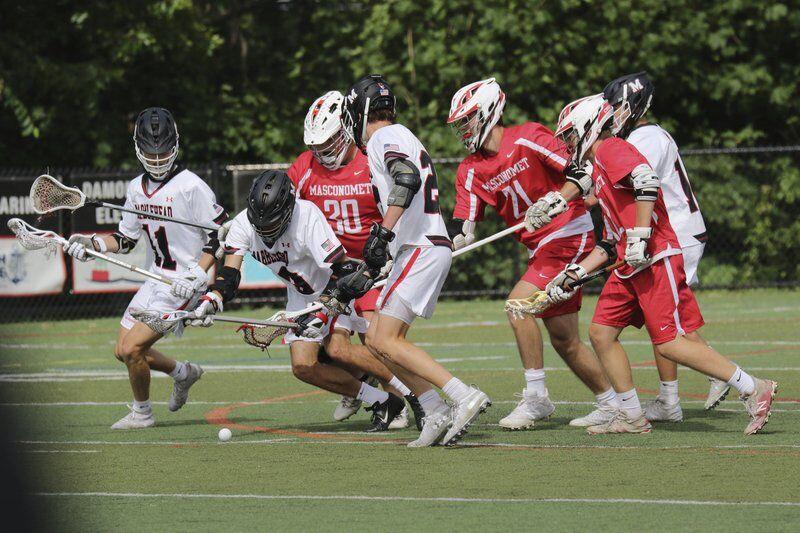 Max Greenbaum, Masconomet's goaltender, did what he could to keep the score respectable, making a dozen saves. But he and his defensemen were under near constant siege, particularly in the first half as Marblehead sophomore faceoff specialist won 9-of-11 draws to give his team possession after possession.
"I can't say enough about Baxter," said Wilkens. "He's really pout the time in to learn the craft and has run away with the job. He's a grinder and always seems to get the job done."
Matt Thompson, an attack, had a goal and an assist for Marblehead while Carter Laramie, Cronin and Bosworth all had single strikes. 
Wilkens said that Robertson "had his best game today. He was a little more creative looking for his shot. He's done a really nice job analyzing the game and learning more about it. Football's his game, but he's really put it all together this season in lacrosse."
He also praised the two-way play of Bosworth, who gave up lacrosse for tennis after his freshman year but decided to return to the sport after a stellar football season for the unbeaten NEC champions during the Fall 2 campaign.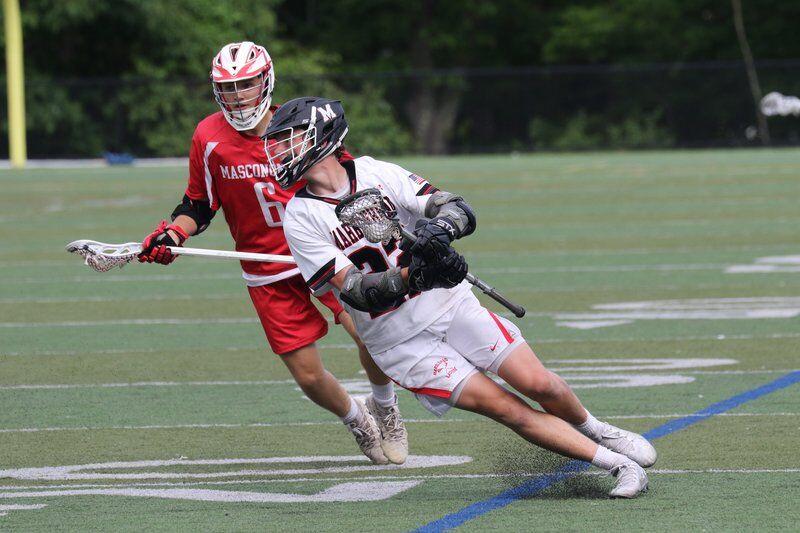 Three of Masconomet's four goals came from senior captain Keo Kiriakos. Fellow attack Andrew Aylwin, a junior, had the other goal and assisted on one of Kiriakos'. 
"A lot of things we didn't do well today are things we've already talked about this year," said Boepple "So we're a little disappointed with ourselves in the effort today. Off-ball stuff, sprinting to the substitution box in transition, really outworking other teams ... those are things we've been over. We have to look inside ourselves and see what we want the rest of the year to be like."
Marblehead has three games left in the regular season (Gloucester, Peabody and Swampscott), while Masconomet, which has four, will be looking to get revenge against two foes that beat them the first time around in Peabody and Beverly (the latter in the annual North Shore Cup).