Player: Cormac Collins
School: Essex Tech
Spring sport: Baseball
Hometown: Lynn
Can you sum up your thoughts after the season had to be officially cancelled? Anything you've been able to do to cope or keep morale up as a team?
I'm just really disappointed. I was looking forward to my last season, and I felt like I had something to prove this year, which I can't do now. We had a solid season last year, and all the returning players were excited and ready to have another good season. We've had zoom calls just to talk to each other, and plan on having some sort of scrimmage and cookout later this summer, just to get everyone together one last time.
What has working out or keeping baseball skills sharp while social distancing been like? Any tips or good solo drills?
Working out has definitely been different. It's now all lightweight and bodyweight exercises as well as cardio with no gyms open. I've also been doing some tee work just to keep my swing mechanics. I do a few swings with the tee set up inside, down the middle, and outside, as well as tee drills that focus on upper body movement and hands.
Did you have any preferences or must-haves for equipment, as far as glove, batting gloves, bat, spikes etc?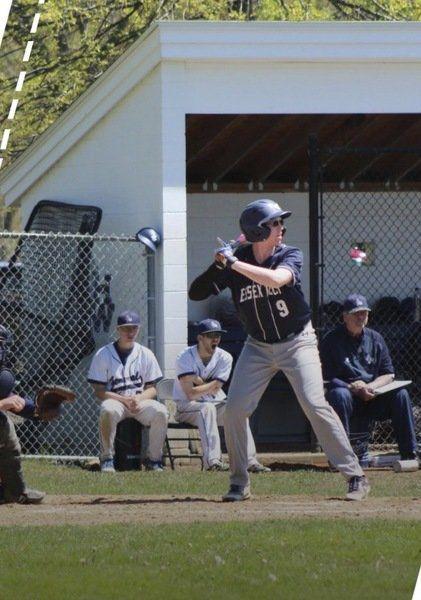 I'm not nearly as picky with equipment as other players. One preference I do have though is using one piece metal bats. My bat is a Rawlings Velo, and I just like the feel better and love the sound off of the bat.
Who was the toughest pitcher you faced in high school and what made them tough?
Saugus' Todd Tringale from states last year. He was one of the fastest pitchers I've ever faced, and still had good use and control of his offspeed. 
If you could have played one game this year, who would you want to play against and at what park? Who's the biggest rival?
I would've liked to play Shawsheen. They're our conference rivals, and games with them are always close. I'd actually would've liked to play away too, since it's nice to beat someone on their home turf, and not to mention they have a brand new turf field that's fun to play on
What was your favorite class and/or teacher at Essex Tech?
My favorite class was history with Mr. Sullivan. I had him two years in a row. We both like sports, and he really made class enjoyable as well. 
What's your favorite or the best TV show to binge/steam to pass the time while we're all stuck inside?
I've watched a few shows over quarantine. "Ozark" was really good, but the one I'm binge-ing right now is "Parks and Recreation."
Any advice for the underclassmen coming back for next year, what they can do to make the most of their time?
Sometimes we get so caught up with our own performance or the team's play we forget why we even play in the first play in the first place. My advice would be just to remember that the game is supposed to be fun. It'll make your four short years on the team more memorable. 
What are your plans for college? Any idea about what you want to study or playing sports?
In the fall I'll be going to University of New England double majoring in marine science and applied mathematics. They have a club baseball team which I might try out for, I still haven't decided yet. If not, I'll still definitely play intramural sports or summer leagues in the future.
-- As told to Matt Williams 
||||