Four days before Christmas, St. John's Prep began the 2019-20 hockey season with a humbling 9-1 loss in Hingham.
Exactly 60 days later, the Eagles concluded their regular season schedule with a thorough 9-1 dismantling of Needham on home ice.
Having turned their season around since that opening night loss, St. John's Prep heads into the state tournament with an 11-4-5 overall mark. That helped them land the No. 4 seed in the Super 8 (i.e., Division 1A) playoffs as it aims for the program's second state championship in the last six years.
The Eagles will begin their tourney journey in the double elimination draw by taking on a familiar foe: fifth seeded Xaverian (13-4-4). St. John's defeated their Catholic Conference rivals in both meetings this winter: 3-0 at home and 5-1 on the road.
"Our kids had a choice to make of what direction the season was going to go in right after that first game. I can honestly say they really dug in after that, became more disciplined, committed to defense and killing penalties, allowing us to go on a nice run and right the ship," said St. John's Prep head coach Kristian Hanson.
"They've done a nice job turning things around, and earning the No. 4 seed speaks to that. But now it's a new season — and we certainly know how difficult it is to beat any team three times in one year. Xaverian is a very, very good team that is completely healthy now, which they haven't always been this season.
"They're going to be give us a battle. And at this point in the season, every game is a battle."
St. John's Prep played seven of the other nine Super 8 teams this season, going a combined 4-3-3 in those outings.
Following Sunday's play-in games between the teams seeded 7-through-10 to determine the final two squads in the Super 8, first round games are slated to take place Wednesday and Thursday at either Loring Arena in Framingham or Gallo Arena in Bourne. The four winners from those first round games will go on to face either other (likely next weekend), as will the four losing teams, where two squads will be eliminated following those loser's bracket contests.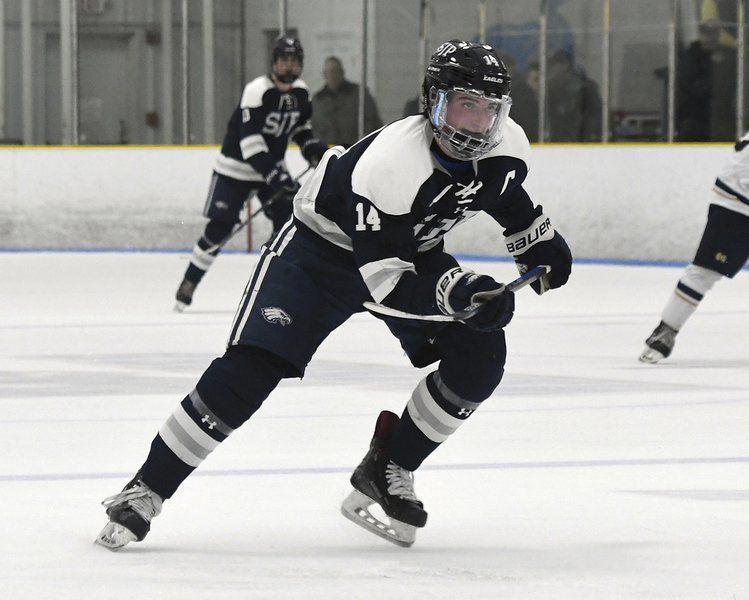 Both the Eagles and Hawks will enter the game on streaks. Xaverian has won five in a row, while St. John's has just one defeat in its last 11 contests. Their goals for/goals against are also similar, with Xaverian holding a slight edge in goals scored (71 to 67), while St. John's Prep has given up five fewer tallies (38 compared to 43).
Balance is at the forefront of the Prep offense, with no one averaging more than a point per game but eight skaters who have double digit points. Ned Malolepszy, the team's top line center, leads the way with 20 points (7 goals, 13 assists), followed by Zach McKennelley (17 points), Evan Moore (16), Jake DiNapoli (16), Ryan Webb (15), and captains Pat Moran (15), Ryan Hart (11) and defenseman Jack Gilligan (10).
Gilligan is the top dog of a defense that also boasts  Andrew Cole, Will Perry, Jack Perry, Josiah Brown and Theo Vetere, a half-dozen consistent and steady back liners who have been a huge part of the team's success. It goes without saying that senior goaltender Noah Dorsey-Sorofman (9-4-5, 1.67 GAA, .918 save pct.) also fits that bill.
"Noah's been so mentally tough," said Hanson. "After that Hingham game, what really impressed me was that he came back the next game and play his best hockey (a 1-1 tie with fellow Super 8 squad BC High), and he's continued that the rest of the season."
Senior captains Ryan Pomposelli and Matty Ryan are two of the state's better forwards; they lead Xaverian offensively. Junior Kyle Harvey, a first-year starter, has been solid between the team's pipes.
The winner of the St. John's Prep/Xaverian contest will meet the victor of the 1/8 first round matchup: either top seeded Arlington (16-1-4) or the winner of the 8/9 play-in contest between No. 8 Framingham (14-5-2) and No. 9 Reading (10-5-6). 
"There's no easy road," admitted Hanson, "but that's why kids come to school at St. John's Prep and why we play the (regular season) schedule we do. By this time of year, you want to be playing your best hockey — and I can confidently say that's been our trend in recent years.
"This season is no different; we've progressively gotten better, and hopefully we play even better when the playoffs begin next week."
2020 SUPER 8 SEEDS
No. Team Record
1. Arlington 16-1-4
2. BC High 13-3-4
3. Pope Francis 13-4-2
4. St. John's Prep 11-4-5
5. Xaverian 13-4-4
6. Catholic Memorial  8-6-6
7. Burlington 14-4-4
8. Framingham 14-5-2
9. Reading 10-5-6
10. Hingham 12-7-3