Name: Andrew Morency
Age: 51
Sport: Football
High school: Beverly High
Years coaching there: Entering 5th season
What have you and your family done to stay busy this summer?: Keeping busy this summer has been an endeavor; as a family, we've been doing more bike riding, walks, artwork, and backyard water activities. Getting creative within the confines at home can be challenging, but it's also been awesome spending time with the kids and fam. If there is a silver lining, it's been embracing the time spent doing ordinary things.
How have you, your players and assistant coaches been planning for this fall?: As a head coach, I'm very grateful to have such outstanding captains (Billy Adams and Jonus Pavia). Through their hard work, we're offering small group voluntary workouts that are live (outside at BHS) a few times a week. And at the same time, larger group virtual workouts have been organized, workouts that have been run by the boys for months. As a program, we have released workout videos, have virtual team meetings every Friday with myself, players, parents, and any other people who want to attend, and keep an open end of communication for any questions/concerns.
Overall, we've really picked up our 'virtual' game. Our website (beverlypanthers.com) is pretty strong right now on purpose. I think it's important to have a home base of information, especially during this unsettled time. 
The upcoming season will be different on many levels, but first is just waiting on Gov. Baker's next announcement; we'll know a lot more about the fall very soon. Once we know the specific dates/time frames, planning the fall will take shape and offer more of a definitive path.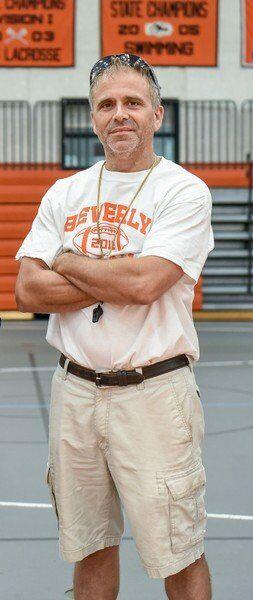 Do you think we'll have some form of a football season this fall?: The safety of the players, coaches, cheerleaders, and fans are priority No. 1,  so with that comes a sense of anxiety as we wait, especially for football. But after following other states — especially those with similar virus situations — you do see some room for optimism. Many states are playing sports, including football, with an altered schedule, new protocols and a willingness to adhere to a step-by-step policy, down the road, to get on the field.
In my opinion, I would like to see football pushed back in the academic year. Spring football is played all over the country, so it wouldn't be too far-fetched to imagine spring football in Mass. But as we know, it can get pretty complicated with other sports, and schedules — so it won't be easy. But for me, idealistically, pushing back the season may be the best bet to safely play again this academic year.
In your opinion, how could games be played while keeping student-athletes and coaches/those along the sidelines safe?: After talking with some refs, coaches, athletic directors and others, there is a path forward. Keeping sideline social distancing, universal playing fields and scheduling local opponents to lessen travel, limiting fans, electronic whistles for refs, new face shields, along with mandatory gloves ... there are a lot of ideas being discussed. Quite frankly, there will have to be a vigilant effort by many to make it happen. But it is possible to be safe and play sports again.
What's one thing you've learned about yourself during this quarantine?: I've started reading books for pleasure again. (Yes, it is possible to remain busy and get lost in a book.) I just finished a Knute Rockne bio, and right now I'm reading 'The Americans' by Daniel Boorstin (I'm a non-fiction guy all the way). It's nice to be inspired by a book again.
— As told to Phil Stacey
||||