Name: Ashley Chalifour
Age: 27
Sport: Volleyball
High school: Beverly High School
Years coaching there: 6 years (2nd year as varsity coach)
Have you been in contact with your players in terms of how they're getting ready for the upcoming season?: In May, the coaching staff and I had a Zoom check-in with our three captains: Rory Harmon, Emma Knott and Caroline Stott. During this meeting, we planned ways for our student-athletes to stay connected in a safe way. Then, we held our regular spring check-in for returning players in June over Zoom, discussing different ways to stay in shape and volleyball ready from their own homes. 
Since those meetings, my captains have begun their 'Instagram Takeover' in which they share their week with the rest of the program. They share ways to modify our regular summer workouts from home. Finally, any important information about the season that needs to be shared is done so via our Twitter and Instagram accounts.
Do you think we'll have some form of a volleyball season this fall?:
As a coach as well as a teacher, I really hope we have some form of a season this year. It's hard for the routines of school and sports to be taken away from our kids, and I miss spending that time together. If we aren't able to have a complete season, I'd love to see some sort of modified schedule that at least allows our kids to be together and playing. The key is having enough time to prepare themselves and their bodies to be healthy and in shape.
With that being said, I also believe that the safety of our student-athletes should always come first. While I value sports and understand their importance, I also know that whatever decision is made will be the best one to keep everyone safe. As a coaching staff, we'll be there to support our students no matter what comes our way.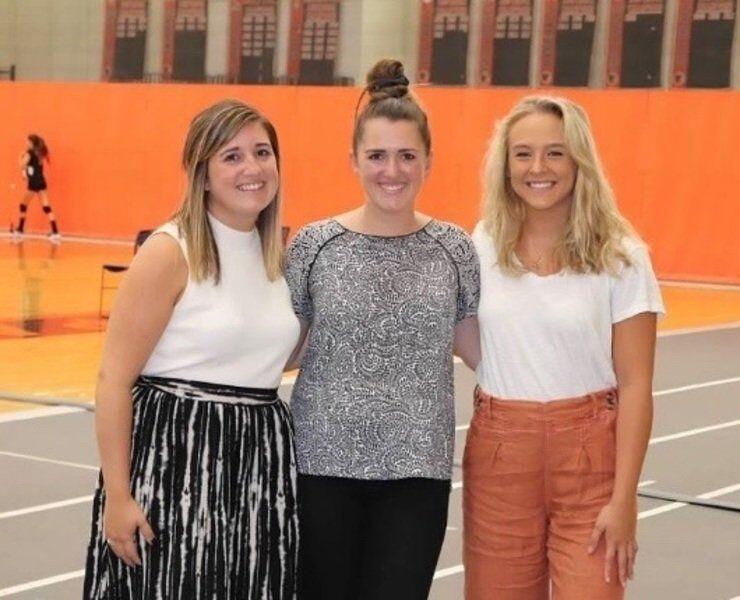 Who was your biggest coaching influence growing up?: My biggest coaching influence growing up was Lorinda Visnick. She was our Beverly travel basketball coach when we were in sixth grade. Lorinda held us to a really high standard at a young age. Lorinda taught me that athletes can be pushed past their comfort zone as long as they're supported and helped along the way. Additionally, I hold everyone on our team to a high standard knowing that they'll be able to reach it. We were never able to complete a drill until it was done correctly.
Finally, Lorinda provided lots of feedback to us as we worked to reach the goals set before us. Her feedback was never altered to be given to young girls; instead, it was always simply basketball or skill-related. That's something that I always find important when working with female athletes.
What's one thing you've learned about yourself during this quarantine?: That I'm even more competitive than I realized. My fiancé and I spent many evenings playing various card games and board games. Almost immediately, we had a running list of days and wins to keep an overall tally of who had won the most. Every so often when I lost, a rematch had to occur so I could end on a win — or at least improve my game plan.
Have you done anything interesting this summer so far?: I've spent the majority of my summer sitting on the beach and reading. For me, that's an ideal summer. It gives me time to relax and mentally prepare for the start of a new school year. With the constant unknown of what's to come, this time on the beach has been key.
— As told to Phil Stacey
||||