Name: Jeff Bartlett
Sport: Cross country
School: Danvers
Years as head coach there: 2
How was the summer? Any new hobbies or activities you've been able to enjoy or get to?
This summer has been all about Daddy Daycare! Our daughter just turned 10 months old and with my wife working full time, my schedule as a teacher during summer means I'm hanging with my daughter all day. I designed a rigorous Crawling Training Plan, and after multiple attempts my daughter set a PR for crawling distance this weekend.
We're also chipping away at the 1000 Books Before Kindergarten Challenge. I've been able to get out on some Saturday mornings to play nine holes with my dad, father-in-law, and brother-in-law. If I get into a groove, I can pile up some double bogeys and the occasional bogey — but only from the most forward tees, so I'm not the greatest golfer in the world.
What do you think about possibly running the XC season in the fall, whether it's under a time trial format or with some changes? Seems that's best given the potential weather in February but also the traditional "peak" and "valley" training that might not lend itself to really going hard for distance runners?
First, I want to emphasize that we need to do our part to help end this pandemic, and we need to make sure we follow whatever guidelines are in place. Competing in Fall 2 is a head scratcher for a number of reasons. First is the weather: you might as well put snowshoes on. Second, it completely turns the typical training paradigm, especially for a distance runner, on its head. I'm all about going during Fall 1 in whatever way we can. Maybe that means we have a training cycle with intersquad time trials, even on the track; maybe it means the NEC coaches put something together that can follow all of the MIAA guidelines. It's still up in the air, but for us on the Danvers XC coaching staff, we're committed to finding a way to have a safe, rewarding, and memorable season of some kind.
Who's someone you've looked up to or admired over the years?
My high school coaches at Pentucket, Steve Meline and Steve Derro. Mr. Meline passed away a few years ago, but he was the single most influential teacher I've ever had. He had a unique ability to get more out of you than you thought possible, both in the classroom and on the cross country course. He made the entire cross country experience valuable for every kid on his team. Mr. Derro, who I still get to see at track meets, is such a caring and attentive coach. His attention to detail and commitment always stood out to me. I try to emulate both of them with my own coaching.
What's the best book you've read lately or the best TV show you've had a chance to binge during the quarrantines?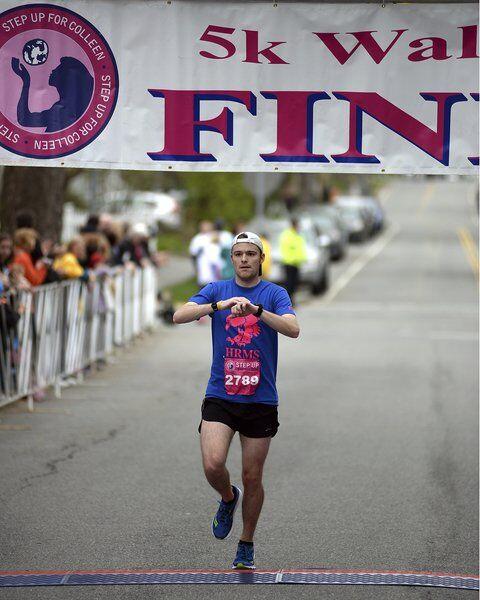 At the start of the summer, I read "Sleeping Beauties" by Stephen King, and I also enjoyed "Hollywood Park" by Mikel Jollett. For TV shows, I love anything taking place in a past era: I've worked my way through "Mad Men," "Babylon Berlin," and "Peaky Blinders." Anything on the Food Network is a win to me. My wife and I have two guilty pleasure shows, too: "Siesta Key" on MTV and "Selling Sunset" on Netflix.
Settle the debate: do you run with music or without? If with, what's on the ultimate race or training play list?
No music! The only time I'll listen to music when I run is when I'm on a treadmill, a.k.a The Dreadmill. If that's the case, it's a lot of pop-punk/punk from the late 1990s/early 2000s. I love music and I love running, but not together. I don't even run with my phone on me, which my wife hates, but I'm into just lacing up the shoes, zoning out, and letting the miles just melt away ... as long as my Achilles cooperates.
-- As told to Matt Williams
||||