Expect nothing, earn everything.
It's the philosophy that Colin Blackwell, a 27-year-old National Hockey League rookie with the Nashville Predators, lives by. The former St. John's Prep superstar knows that his value lies in his ability to adapt to any situation that the Preds need him to play on a given night — and to grasp that opportunity like a thirsty man does after finding water in the desert.
"I'm older as far as rookies go, and this is the first year I've really gotten a full chance to play in the NHL," said Blackwell, who has spent most of his time during the league's shutdown in Nashville. "In the (27) games I've been here this season, I thought I've excelled in whatever role they asked me to play.
"I don't know when my name and number will be called, but when it is I'll be ready," added the North Andover native. "For whatever role, I'll be ready and prepared to play."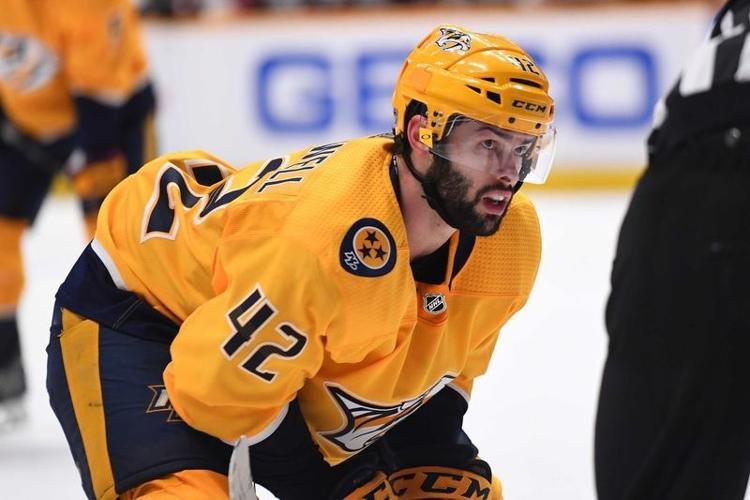 With the NHL scheduled to resume in late July or early August, Blackwell and the Predators will face the Arizona Coyotes in a best-of-5 qualifier to determine which squad advances into the Stanley Cup playoffs. Nashville, which earned 78 points in 69 regular season games, is the No. 6 seed in the Western Conference; Arizona, the No. 11 seed, earned 74 points over 70 regular season tilts.
He is certainly cognizant that this is an important time not only for his team as they chase Lord Stanley's mug, but also for Blackwell individually. 
"I'm trying to prove to my teammates, coaches and the organization that I want to be here for the long haul," he said.
Blackwell, who had 3 goals, 7 assists and was a plus-7 with 10 penalty minutes in his 27 games with the Predators this winter, had his first NHL point against the Coyotes two days before Christmas on an assist.
He spent many nights playing the wing on a hybrid third/fourth line with Kyle Turris and Craig Smith ("both of whom have top 6 talent," said Blackwell), and also took shifts alongside Austin Watson and Yakov Trenin. Over his last five contests before the season pause, though, Blackwell rode the portside on Nashville's top line with superstars Ryan Johansen and right winger Colton Scissons.
What he brings to the rink each night is anything but banal.
"What's been awesome for me is that I've turned myself into a Swiss Army knife of sorts," said Blackwell, who is down to about 183 lbs. after dropping a dozen pounds while staying active during quarantine. "I've played with some top end players here and proved I can play with them. But I've also served my role as a utility guy and energy guy.
"I can play any role they need me to; all the time I spent in (AHL) Milwaukee, I did everything from first to fourth line as well as the power play and penalty kill. That really prepared me for this."
It should also bode well for Blackwell when the NHL season resumes. There's no telling what injuries or sickness may befell a team during any type of prolonged playoff run, so even with squads able to carry 28 players now, the need for reinforcements and/or juggling of lines and responsibilities will undoubtedly crop up. 
Blackwell could also have a leg up in terms of preparing himself, both physically and mentally, for what lies ahead. He's someone who missed the equivalent of more than two full college seasons at Harvard while dealing with concussions, yet always returned to the ice and got the ball rolling immediately.
"My body is used to having time off," he said of the pandemic. "I want to use that to my advantage."
During the last three-plus months of quarantine, Blackwell has read books such as 'Ego Is The Enemy' and the late Kobe Bryant's 'The Mamba Mentality'. He's gotten out of Nashville proper into some of the suburbs to explore some of the surrounding farms, and even rode a horse at one of them. He's rollerbladed, golfed ("I'm still not very good," he chuckled) and has hiked all over the area. Recently, he's been able to skate again.
He's also always believed hockey would be back at some point this summer, and having that mindset gave him an extra boost to keep up with his training and be mentally prepared to return. With head coach John Hynes hired midway through the season by the Predators (Jan. 7), the training camp that precedes the return to game plan will be another chance for Blackwell to showcase his wares.
"I've been trying to do my part to put myself a little bit ahead of the curve for when we head back into training camp," Blackwell said. "The way I play is beneficial for any team in a playoff atmosphere. I'm ready."
||||