DANVERS (8-2) at GLOUCESTER (1-9)
All-time Thanksgiving series: Gloucester leads the Thanksgiving series, 36-18, which started in 1964, as well as the all-time series, 45-22-2. Danvers, however, won last year, has taken two of the last three meetings and three of the last five. 
Danvers Points For/Points Against: 266 PF (26.6 ppg.), 201 PA (20.1 ppg.)
Gloucester Points For/Points Against: 60 PF (6.0 ppg.), 379 PA (37.9 ppg.)
Danvers' top players: Rich Canova, Sr. RB/FS (214 rushes, 1,150 yards, 15 TDs; 7 rec., 113 yards, 3 TDs); Ezra Lombardi, Sr. QB (38-for-71, 566 yards, 5 TDs; 63 rushes, 228 yards, 5 TDs); Tom Walfield, Sr. C/LB; Russ Canova, Sr. FB/LB (26 rushes, 204 yards, 3 TDs; 14 rec., 127 yards; leads team in tackles); Jack Strangie, Sr. FB/LB (33 rushes, 137 yards, TD; 6 rec., 114 yards, 2 TDs); Andrew Chronis, Jr. TE/LB; J.P. Kelter, Sr. WR/RB//SS (15 rushes, 120 yards, 2 TDs); Evan Glynos, Soph. OT/DT.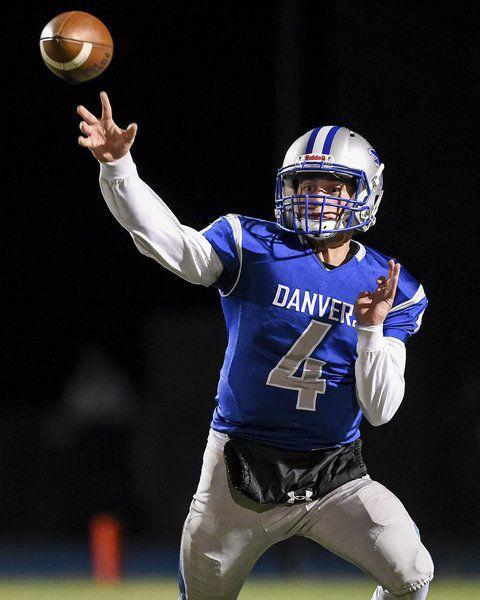 Gloucester's top players: Sam Ciolino, Sr. QB (44-for-98, 604 yards, 2 TDs); Ben Renales, Sr. TE/OLB (16 rec., 225 yards, TD); Lawrence Scola, Sr. LG/ILB; Daylon Lark, Sr. RB/S (62 carries, 206 yards; 7 rec., 152 yards, TD; 1 KO return TD); Harry Marshall, Sr. WB (42 carries, 232 yards; 5 rec., 75 yards); Zack Abbott, Jr. RG/DE.  
Danvers keys to victory: Motivation. The Falcons have plenty of it: they haven't won in Gloucester dating back to 1993, and a holiday victory wold allow them to tie their most wins in a season (9) in program history. Most of their key players who have been dealing with injuries in recent weeks are back and ready to go Thursday morning, which should only add to their strength on both sides of the ball. Nursing a two-game losing streak after winning their first eight contests this fall, the Blue-and-White want to end the season by playing smashmouth Falcons football. If they can control the football, they'll win the game.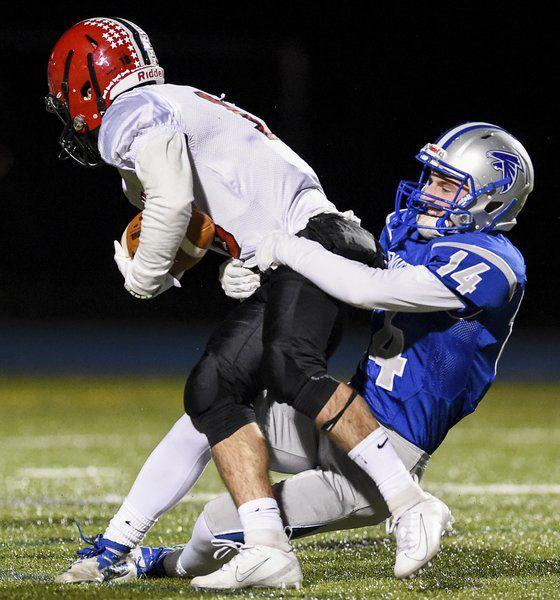 Gloucester keys to victory: The Fishermen are having one of their toughest seasons ever and have scored just 60 points the entire season, but a victory over their bitter rivals from the Oniontown on the holiday would cure a lot of ills. Still, they'd need to play almost a perfect game to do so. That would require winning the battle at the line of scrimmage against one of the biggest teams around; preventing Danvers' punishing run game from breaking off huge chunks of yardage; and putting points on the board whenever the scenario presents itself to the hosts. It's a tall task, but Gloucester will go in looking to pull one of the biggest upsets in series history.
Potential Unsung Heroes: We'd love to see Andrew Chronis, the hulking lineman-turned-tight end, suprass his season total of one catch with a couple in this game; a trip to the end zone would be a terrific way for him to end his junior campaign. 
Danvers seniors: Chad Abboud, OL/DT; Rich Canova, RB/S; Russ Canova, Kyle Ferreira, OL/DL; J.P. Kelter, WR/S; Ezra Lombardi, QB/S; Jacob Stone, LT/DT; FB/LB; Jack Strangie, FB/LB; Tom Walfield, C/LB.
Gloucester seniors: Patrick Broe, LT/DT; Toby Campbell, RB/LB; Sam Ciolino, QB; Jacob Enos, OL/OLB; Daylon Lark, RB/S; Justin Lavy, OT/DT; Harry Marshall, WB/DB; Cullin McCormack, OL/DT; Jared Mercado, OG/DE; Ben Renales, TE/OLB; Lawrence Scola, LG/ILB; Joseph Wilson, SE/DB.
DANVERS OFFENSE
No. Name Yr. Pos.
14 J.P. Kelter Sr. WR
65 Jacob Stone Sr. LT
77 Isaac Flores Jr. LG
55 Tom Walfield Sr. C
66 Ben Wilichoski Jr. RG
68 Evan Glynos So. RT
81 Andrew Chronis Jr. TE
 4 Ezra Lombardi Sr. QB
10 Russ Canova Sr. FB
33 Jack Strangie Sr. FB
21 Richie Canova Sr. TB
DANVERS DEFENSE
No. Name Yr. Pos.
81 Andrew Chronis Sr. DE
54 Chad Abboud Sr. DT
68 Evan Glynos So. DT
43 Aris Xerras Fr. DE
55 Tom Walfield Sr. LB
10 Russ Canova Sr. LB
46 Brad Wilichoski So. LB
 1 James Carmilia So. CB
12 Colin Kelter So. CB
14 J.P. Kelter Sr. SS
21 Richie Canova Sr. FS
GLOUCESTER OFFENSE
No. Name Yr. Pos.
 4 Brett Gaipo Jr. SE
59 Patrick Broe Sr. LT
63 Lawrence Scola Sr. LG
53 Kolby Bolcome So. C
70 Zach Abbott Jr. RG
72 Anthony Simonelli So. RT
87 Ben Renales Sr. TE
 6 Sam Ciolino Sr. QB
35 Jazayah Sainterling So. FB
22 Daylon Lark Sr. RB
21 Harry Marshall Sr. WB
GLOUCESTER DEFENSE
No. Name Yr. Pos.
70 Zach Abbott Jr. DE
66 Cullin McCormack Sr. DT
73 Justin Lavy Sr. DT
88 Jayden DelTorchio F. DE
87 Ben Renales Sr. OLB
63 Lawrence Scola Sr. ILB
12 Toby Campbell Sr. ILB
29 Jacob Enos Sr. OLB
19 Richard Wilson Jr. CB
13 Jeff Allen Jr. CB
22 Daylon Lark Sr. S
||||