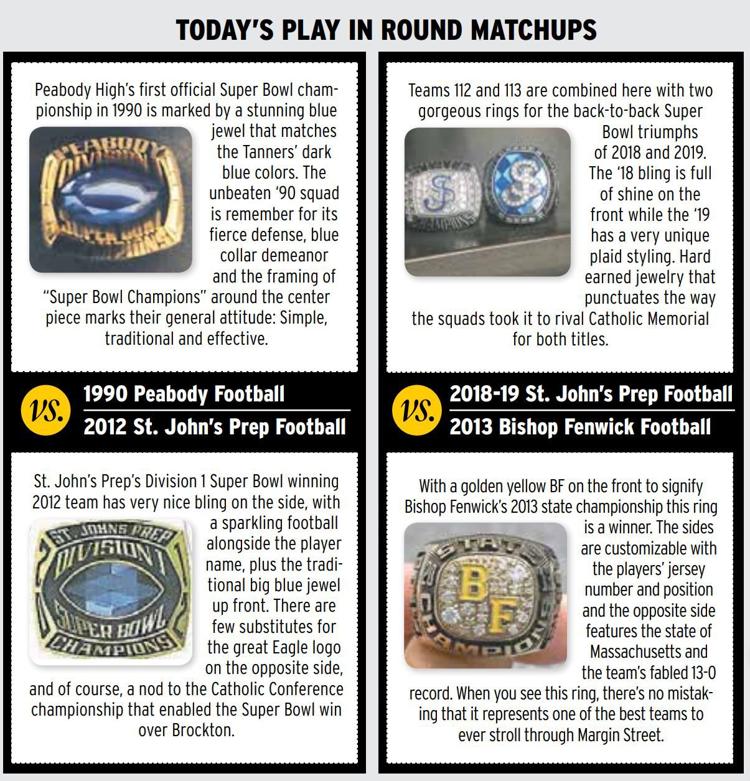 Vote for your favorite ring in our opening round of the best championship ring competition. Today's Play-in Round Matchups: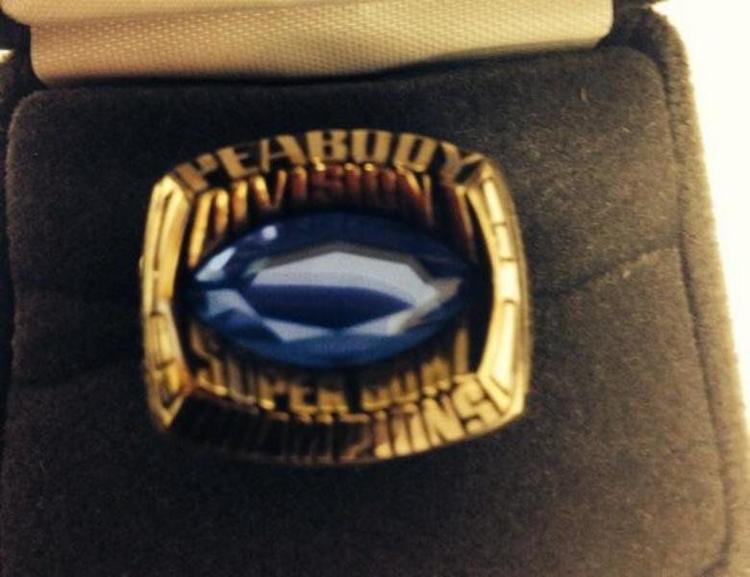 1990 Peabody Football
Peabody High's first official Super Bowl championship in 1990 is marked by a stunning blue jewel that matches the Tanners' dark blue colors. The unbeaten '90 squad is remember for its fierce defense, blue collar demeanor and the framing of "Super Bowl Champions" around the center piece marks their general attitude: Simple, traditional and effective.
VS.

2012 St. John's Prep Football
St. John's Prep's Division 1 Super Bowl winning 2012 team has very nice bling on the side, with a sparkling football alongside the player name, plus the traditional big blue jewel up front. There are few substitutes for the great Eagle logo on the opposite side, and of course, a nod to the Catholic Conference championship that enabled the Super Bowl win over Brockton.
2018-19 St. John's Prep Football
Teams 112 and 113 are combined here with two gorgeous rings for the back-to-back Super Bowl triumphs of 2018 and 2019. The '18 bling is full of shine on the front while the '19 has a very unique plaid styling. Hard earned jewelry that punctuates the way the squads took it to rival Catholic Memorial for both titles.
VS.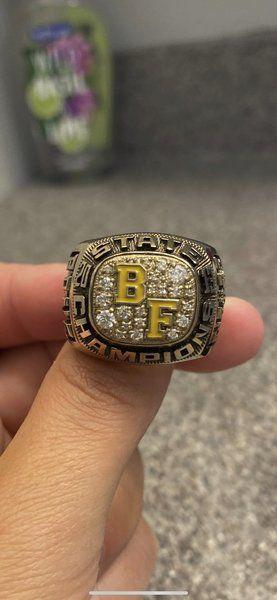 2013 Bishop Fenwick Football
With a golden yellow BF on the front to signify Bishop Fenwick's 2013 state championship this ring is a winner. The sides are customizable with the players' jersey number and position and the opposite side features the state of Massachusetts and the team's fabled 13-0 record. When you see this ring, there's no mistaking that it represents one of the best teams to ever stroll through Margin Street.