The Blue Line Report
Phil Stacey
With Swampscott High captain Drew Olivieri cracking the 100-point career scoring barrier over the weekend, it seems like a good time to delve into our extensive statistical database and see what the computer spits out.
A four-year varsity player who possesses soft hands, a quick release, is a deft passer and knows how to get to open spaces on the ice, Olivieri has 40 goals and 61 assists for 101 points heading into the Big Blue's game at Gloucester Wednesday night.
He becomes the 92nd boys hockey player in The Salem News coverage area to hit triple digits for his career — with plenty of time (12 regular season games remaining, plus playoffs) to add to his totals. He's also the second member of his family to do so; his older brother Louis Olivieri had 55 goals and 58 assists for 113 career points at Swampscott prior to his graduation in 2017.
He is not, however, the leading scorer among all current North Shore hockey players. That honor belongs to Brendan Driscoll of Pingree, who has 54 goals, 75 assists and 129 career points. The Middleton native played two years for Masconomet, putting up solid 16-22-38 numbers before transferring to Pingree and repeating his sophomore year. Now a senior, he'll have played five seasons of varsity hockey by the time he graduates.
Before he goes off to play lacrosse at Providence College, the 5-foot-9, 170-pound captain is likely to hit 100 points strictly as a Highlander, having put up 38-53-91 in 69 career games there.
So which player is next to top 100 points for his career?
A good bet would be another captain from Swampscott: senior center Conor Donovan. He's the proud owner of 88 career points (39 goals, 49 assists), and skating on a line with Olivieri certainly increases the likelihood he gets from double digits to triple digits before he hangs up his Big Blue blades.
But don't discount Ian Driscoll, Brendan's younger brother, a junior at Pingree. With six goals and 17 points through 12 games, Driscoll still has 20 regular season games to go for the South Hamilton prep school and, with 33 goals and 41 assists through three seasons with the Highlanders, could certainly reach that century mark.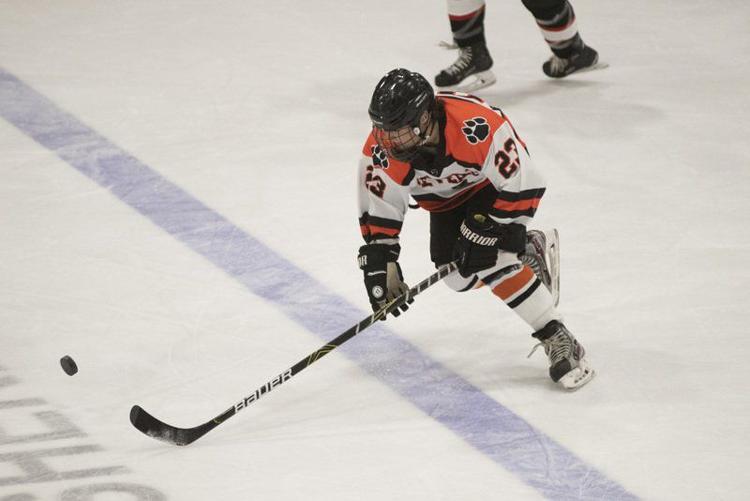 Two other local guys are good bets to hit or surpass 75 points this winter. Beverly senior captain and center Andrew Mezza is at 62 points (29 goals, 33 assists), while Marblehead left wing Will Shull, a junior captain, has 38-24-62 totals. Shull will miss the next few weeks with an injury, however.
There's quite a few skaters who should get to 50 points in the near future as well. Hamilton-Wenham senior Matt Dearborn (22-30-52) has already done so, and he should soon be joined by St. John's Prep senior captain Pat Moran (12 goals, 36 assists, 48 points), Masconomet junior Logan Campbell (24-22-46), Bishop Fenwick senior captain Ian Worthley (27-16-43) and Marblehead senior Collin Hart (12-28-40). 
Add to that list these four seniors: Masconomet defenseman/forward Shawn Callahan (15-21-36), Marblehead's Zach Piersol (22-13-35), Bishop Fenwick sniper Nick Muzi (18-17-35) and Danvers captain Cal Mansfield (19-16-35).
Strong offensive numbers over the last 2/3rds of the regular season and potential playoffs would push seniors Tyler Puska (17-12-29) of Danvers and Chris Grout (13-16-29) of Essex Tech into the 50-point career conversation.
Breaking down the dozen teams in our readership area (including Salem High) that have produced 100-point scorers for their hockey careers, Danvers has the most with 16, with Jeff McGonagle's 169 points at the top of the Falcons' list.
Four other schools have double digit 100-point scorers over the years. Marblehead, led by Don 'Toot' Cahoon's 174 points, have 15 players who fit this cagetory; Peabody, topped by Jimmy Geraghty's 152 points, is next with 13 skaters; Beverly (behind Connor Irving's 198 points) and Swampscott (where Nick Fagone scored 130 points) have both had 11 players do so; and St. John's Prep, with Mike Kelfer's 204 points the best among their ten 100-point marksmen.
The all-time best scorers for our other area schools include Greg LeColst of Masconomet (an area-best 233 career points), the late John Hanlon of Bishop Fenwick (206), Chris Higgins of Pingree (193, in just three seasons) Justin Gautreau of Salem (121), Steve Hamilton of Hamilton-Wenham (121) and Chris Masta of Essex Tech (105). 
¢¢¢
The Blue Line Report, a column on North Shore boys hockey, appears each week during the winter sports season in The Salem News. Contact Executive Sports Editor Phil Stacey at pstacey@salemnews.com and follow him at PhilStacey_SN
||||