It has been an absolutely wonderful decade of high school boys hockey on the North Shore.
Think about it. Three teams were crowned state champions: Marblehead in 2011, Beverly in 2014, and St. John's Prep as the improbable Super 8 champions in 2015. Three others (St. John's Prep in 2011 and 2016, and Swampscott in 2013) reached the state final.
We had 100 point scorers, 40-win goaltenders and defensemen put up big offensive numbers during their careers. Marblehead won 20 or more games three times over the last 10 seasons, including a North Shore record 24 victories three seasons ago. Six teams had 100 or more wins over the last decade. One team ceased playing, but two others sprung up and have had quicker-than-expected success.
And we've still got this year's playoffs to go before we can officially put a cap on the hockey happenings of the 2010s.
But we've had plenty of time to determine who the very best of the best North Shore high school boys hockey players in The Salem News coverage area have been during that time. It was a task that wasn't easy — but it shouldn't have been, either.
So here goes: a few ground rules to start. Players had to have played in at least two seasons during the 2010s, which rules out players such as Peabody's dynamic 'Three Amigos' from the 2009-10 season (Matt Rodgers, Andrew Bucci and Derek Pereira). That also meant one-year wonders such as St. John's Prep freshman phenom Shane Eiserman (52 points in 2011), Northeastern Conference MVP Paul Edson of Beverly (2018) and Salem High goalie Nick Holt (11 wins and a school record 4 shutouts in his only season wearing Red-and-Black) weren't eligible.
We chose players for our All-Decade team based not just on their outstanding ability, but also how important they were to their particular teams.
In our teams list we included Salem High, which played hockey for seven seasons this decade before disbanding the program, as well as Essex Tech and Hamilton-Wenham, which have each played varsity hockey for the last three campaigns.
We'll start with the Salem News All-Decade Team, which includes Player of the Decade, then move to each of the 11 public and parochial schools in the readership area, with their own sextet of best players (3 forwards, 2 defensemen and a goalie) from 2010-19. The years listed for each player are for the seasons they played on the varsity (i.e., 2010-13 would be the 2009-10 through 2012-13 seasons).
Choosing the best players from certain schools was relatively clear cut. Others were much more difficult to narrow down. How do you leave off any of the four Koopman brothers (Ben, Tom, Matt and Kyle Koopman) who each had splendid turns skating for the Headers? Do you go with Tony Cuzner or Ronan Cunningham in net? How do you leave out a 100-point scorer? There was some hand-wringing trying to whittle the list down.
For players whose careers are ongoing, an asterisk (*) is noted next to their up-to-date career totals
I'm no expert, believe me. But I have watched somewhere in the neighborhood of 350 games over the last decade and, as an unbiased chronicler of the game, feel this list best represents the area's elite since 2010.
The envelopes, please:
SALEM NEWS ALL-DECADE TEAM
F: Colin Blackwell, St. John's Prep: Pretty easy choice for Player of the Decade here. Blackwell made everyone around him better and dazzled with his speed, stickhandling and scoring. He had 33 goals and 66 points as a senior in 2011; finished with 70-62-132 career totals. His 1-on-5 goal in the Super 8 semifinals against Weymouth might've been the best individual play of the decade, too (a game in which he had 3 goals and 2 assists). Currently playing in the AHL for the Milwaukee Admirals after playing the first six games of his NHL career with the Nashville Predators earlier this year.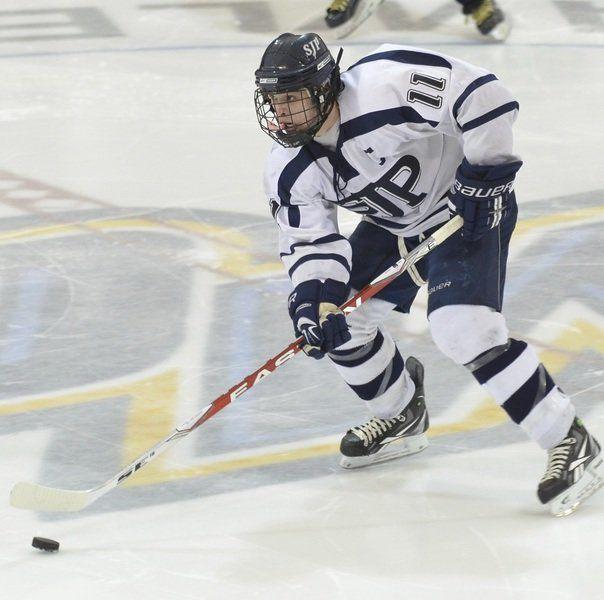 F: Connor Irving, Beverly: The Panthers' 2014 Division 2 state championship team was loaded with talented players, but Irving bore the brunt of coming up with the big play or goal in the most crucial situations — and seemingly always delivered. He shattered Beverly's career scoring record by finishing with 196 points (74 goals, 122 assists) and had the game-winning goal in the third period of his team's 2-1 state title triumph over Medfield. Currently finishing his senior year playing at Salem State University.
F: Sam Kurker, St. John's Prep: An absolute beast on skates, the 6-foot-3, 205-pounder created plenty of space for himself and his linemates during his time patrolling the wing for St. John's — and he had a cannon of a shot to go with it. The Eagles loved setting up the future second round draft pick of the St. Louis Blues on his off-wing circle to hammer one-timers on net. Had 63 points as a senior in 2012 and finished with 129 career points. Currently playing pro hockey, having laced 'em up for both the Ontario Reign (AHL) and Manchester Monarchs (ECHL) this winter.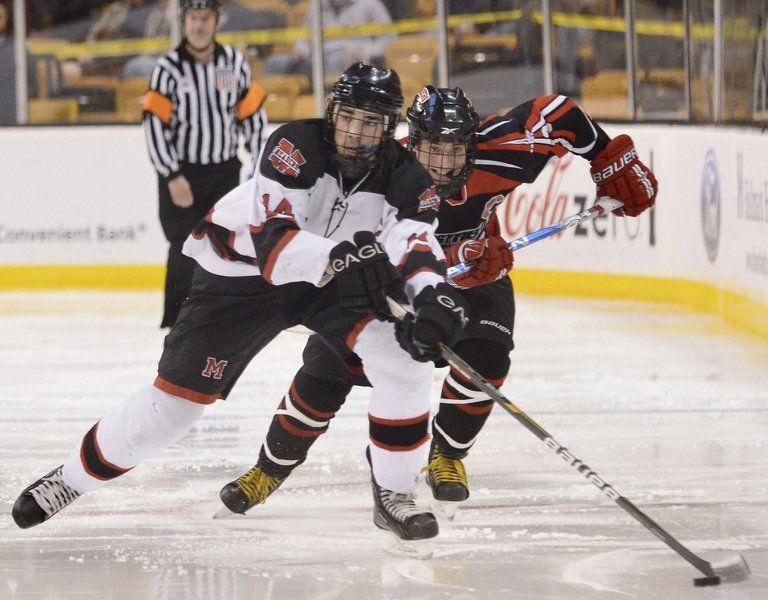 D: Jake Kulevich, Marblehead: A machine on the back end who never seemed to get tired no matter how many minutes he played. Could be a dominant shutdown force in his own end, with an innate ability to block shots, break up passes and deny entries into the zone. Offensively he was just as gifted; he had 32 points on the Headers' 2011 Division 3 state championship club, is his school's all-time assists leader among defensemen (57) and second in points for a blue liner (86). Currently playing for the Bakersfield (Calif.) Condors in the AHL.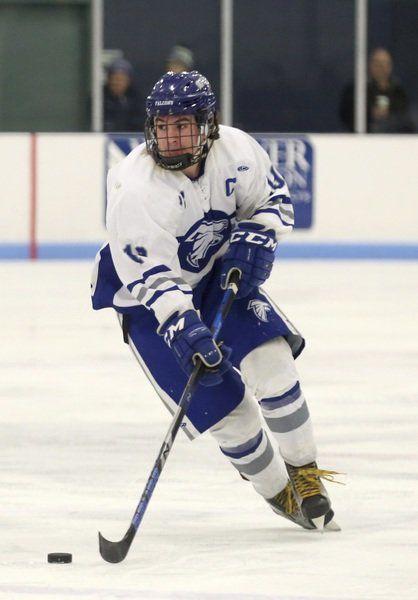 D: Matt Taylor, Danvers: Surprised? You shouldn't be if you watched No. 19 ply his trade for the Falcons from 2015-18. Smooth, steady and unflappable, Taylor was like a coach on the ice for the Falcons, anticipating not only the play in front of him but thinking two or three steps ahead of everyone else. Could deliver big hits when needed; strong his skates, in front of his own net and along the walls; and an fine contributor offensively (17 goals, 53 assists) to boot. Currently attending Westfield State University.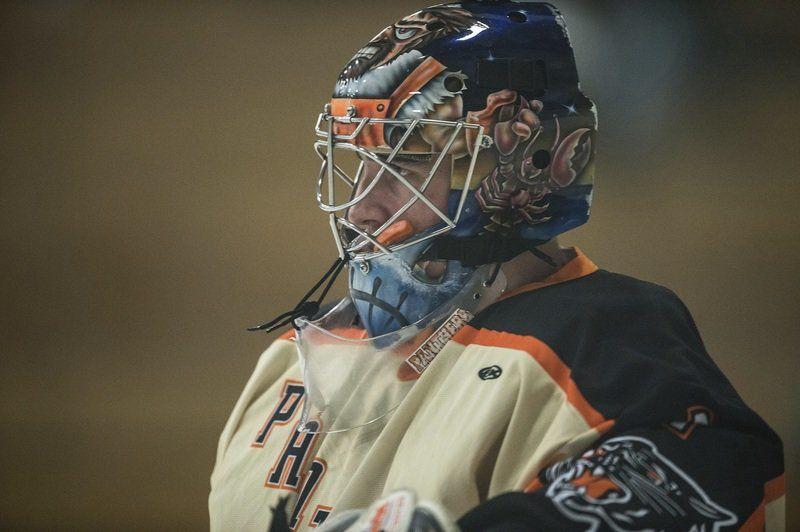 G: Tim Birarelli, Beverly: Let these numbers sink in for a minute: All-time BHS record holders in wins (46), wins in a season (20), goals against average (1.53), GAA for a season (1.26), save percentage (.921) and shutouts (14). In guiding the Panthers to their first state title in 2014, he surrendered one goal or fewer in 15 of his 22 starts, including all four playoff games. Went on to two seasons of prep school greatness at Loomis-Chaffee, earning All-New England honors and several Division 1 scholarship offers. Currently running his family's lobster business in Beverly.
BEVERLY
F: Connor Irving, 2011-14, 74 goals, 122 assists, 198 points
F: Brenden Mitchell, 2010-12, 32 goals, 48 assists, 80 points
F: Graham Doherty, 2011-14, 42 goals, 29 assists, 71 points
D: Nick Albano, 2012-14, 19 goals, 66 assists, 85 points
D: Andrew Irving, 2010-13, 47 goals, 77 assists, 121 points (played forward last 1 1/2 seasons)
G: Tim Birarelli, 2012-14, 46 wins, 1.53 GAA, .921 save pct., 14 shutouts
BISHOP FENWICK
F: Rob Murphy, 2014-17, 34 goals, 26 assists, 60 assists
F: Kasey O'Brien, 2016-18, 29 goals, 33 assists, 62 points
F: Derek DelVecchio, 2016-19, 28 goals, 33 assists, 61 points * 
D: Tyler Layton, 2015-18, 5 goals, 11 assists, 16 points
D: Trey Deloury, 2017-19, 2 goals, 14 assists, 16 points * 
G: Brad Rocheville, 2010-11, 19 wins, 2.15 GAA, .901 save pct., 7 shutouts
DANVERS
F: Joe Strangie, 2015-18, 54 goals, 60 assists, 114 points 
F: Conor Purtell, 2015-18, 42 goals, 77 assists, 119 points
F: Tom Mento, 2015-18, 79 goals, 58 assists, 137 points
D: Matt Taylor, 2015-18, 17 goals, 53 assists, 70 points
D: Chris Milne, 2009-11, 2 goals, 11 assists, 13 points
G: Alex Taylor, 2013-15, 35 wins, 2.25 GAA, .894 save pct., 9 shutouts 
ESSEX TECH
F: Chris Masta, 2017-19, 58 goals, 44 assists, 102 points * 
F: Colin Levesque, 2017-19, 29 goals, 32 assists, 61 points * 
F: Brandon Swaczyk, 2017-18, 10 goals, 18 assists, 28 points
D: Bryce Marquis, 2017-19, 2 goals, 3 assists, 5 points * 
D: Jacob Krajeski, 2017-19, 4 goals, 12 assists, 16 points * 
G: Shane Ahlin, 2017-19, 17 wins, 8 shutouts *  
HAMILTON-WENHAM
F: Aidan Daly, 2017-19, 37 goals, 18 assists, 55 points *
F: Matt Dearborn, 2017-19, 13 goals, 24 assists, 37 points * 
F: Cam Vautour, 2017-18, 20 goals, 22 assists, 42 points
D: Luke McClintock, 2017-19, 5 goals, 16 assists, 21 points *
D: Clint Gourdeau, 4 goals, 13 assists, 17 points *
G: Finn Brophy, 2017-19, 13 wins, 5 shutouts *
MARBLEHEAD
F: Ryan Dempsey, 2008-11, 49 goals, 61 assists, 110 points
F: Tim Kalinowski, 2013-16, 56 goals, 60 assists, 116 points
F: Braden Haley, 2014-17, 81 goals, 85 assists, 166 points
D: Jake Kulevich, 2008-11, 29 goals, 57 assists, 86 points
D: Ben Koopman, 2008-11, 13 goals, 48 assists, 61 points
G: Tony Cuzner, 2009-11, 36 wins, 1.44 GAA, .909 save pct., 12 shutouts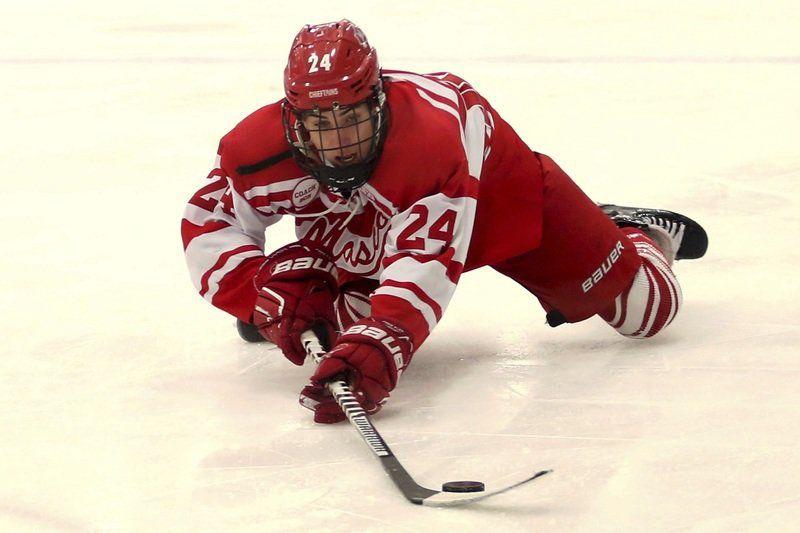 MASCONOMET
F: Andrew Gotts, 2016-19, 61 goals, 58 assists, 119 points *
F: Brandon Lafata, 2015-17, 19 goals, 32 assists, 51 points
F: Pat Crosby, 2009-11, 32 goals, 50 assists, 82 points
D: Nick Pease, 2013-16, 8 goals, 25 assists, 33 points
D: Fil Scarfo, 2017-19, 6 goals, 25 assists, 31 points *
G: Tucker Hanson, 2017-20, 29 wins, 2.13 GAA, .899 save pct., 7 shutouts *
PEABODY
F: Chris Gillen, 2014-17, 31 goals, 30 assists, 61 points
F: Mike Chiappini, 2010-12, 28 goals, 34 assists, 62 points
F: Mike Vadala, 2011-14, 17 goals, 27 assists, 44 points
D: Eric Muise, 2009-11, 11 goals, 47 assists, 58 points
D: Donnie Shaw, 2012-16, 7 goals, 21 assists, 28 points
G: Aaron McDonnell, 2014-17, 24 wins, 2.74 GAA, .899 save pct., 8 shutouts
SALEM
F: Spencer Bergholtz, 2011-13, 25 goals, 21 assists, 46 points
F: Sam Petri, 2012-15, 27 goals, 37 assists, 64 points
F: Mike Gillis, 2014-15, 21 goals, 16 assists, 37 points
D: Eamon Williamson, 2013-16, 4 goals, 9 assists, 13 points
D: Ishmael Telemaco, 2013-16, 11 goals, 2 assists, 13 points
G: Brett Harring, 2011-14, 13 wins, 4 shutouts
ST. JOHN'S PREP
F: Colin Blackwell, 2008-11, 66 goals, 66 assists, 132 points
F: Sam Kurker, 2009-12, 66 goals, 63 assists, 129 points
F: Brian Pinho, 2010-13, 35 goals, 66 assists, 101 points 
D: Nick Pandelena, 2009-12, 13 goals, 37 assists, 50 points
D: Tim Usalis, 2015-18, 12 goals, 38 assists, 50 points
G: Kyle Martin, 2015-16, 29 wins, 1.68 GAA, .930 save pct., 8 shutouts
SWAMPSCOTT
F: Mike Johnson, 2014-17, 52 goals, 75 assists, 127 points
F: Gino Cresta, 2009-12, 71 goals, 51 assists, 122 points
F: Louis Olivieri, 2013-16, 55 goals, 58 assists, 113 points
D: Dom Codispoti, 2015-18, 27 goals, 36 assists, 63 points
D: Trevor Massey, 2010-13, 16 goals, 41 assists, 57 points
G: Dan Johnson, 2015-18, 41 wins, 2.46 GAA, .894 save pct, 11 shutouts
###
The Blue Line Report, a column on North Shore high school boys hockey, appears each Wednesday during the winter sports season in The Salem News. Contact Executive Sports Editor Phil Stacey at pstacey@salemnews.com and follow him on Twitter @PhilStacey_SN
||||