There have been somewhere in the neighborhood of 1,800 boys high school hockey players to suit up for one of our area teams since the 21st century began.
So who are the best 21?
From the hundreds of league all-stars, five state championship squads, dozens of guys who went on to the college hockey ranks and a few handfuls who have gone on to play professionally, it's a thankless task to pare them down to just twenty-one. Cutting 100-point scorers, exceptional defensemen and elite goaltenders was both arduous and agonizing.
But having covered hockey on the North Shore for more than three full decades, we feel we're up to the task.
So let's set a few ground rules. First, anyone under consideration has to have played at least two years for a local high school; that rules out guys like future NHL goaltender Cory Schneider (one year at Marblehead) and freshman phenom Shane Eiserman (St. John's Prep).
Second, we're not basing this purely on sheer talent — were that the case, a school such as St. John's Prep, already predominantly represented, would dominate this list. It's also not a list of who scored the most points. Rather, we're looking at a player's importance to their particular team, how vital they were in their overall success, individual and team awards and titles, the legacy they left, and so on.
Third, future hockey success helps build a case, but does not determine whether or not a player is necessarily ranked on our list. Our focus here is what they did when they skated in high school any time between the 2000-01 season and the present time.
Lastly, and most important, this list includes skaters and goalies who played for a team in The Salem News coverage area only. That means you won't see the names of any of the greats from Gloucester, St. Mary's of Lynn, Malden Catholic, Saugus, or Winthrop, among others, here.
If you like our ranking, great. Don't like it? That's great, too. Part of what makes this sport so wonderful is that we can agree (or disagree) on what makes a player so iconic and how they match up against their peers. Let me know your thoughts; I'm always happy to talk shop.
So, starting at No. 21 and counting backward, here's our list of the Top 21 Players of the 21st Century (so far), with their school and years on the varsity.
21. Brendan Fullerton, Beverly (2002-05): A perfect package of skill, size and brawn, he possessed a terrific shot and worked wonders around the net. Skillful passer (73 assists) finished career with 143 total points.
20. Aidan Holland, St. John's Prep (2021-23). The only current player on our list, Holland is a do-it-all and more type defenseman who can control a game from the back end, jump up and contribute mightily up front, and the tone with a thundering bodycheck or blocked shot. Should become an exceptional defender at an ace academic college in the near future.
19. Andrew Bucci, Peabody (2007-10). Effortless skater with a knack for doing his best work in big moments was part of the famed 'Three Amigos' Line that led his team to greatness in the late 2000's. Before heading off to play at Salem State, he wrapped up his career in Tanner blue with 63 goals and 130 points.
18. Jack Gilligan, St. John's Prep (2018-20). Noteworthy 6-foot-3 defenseman not only for what he could do on the ice, but the way he piloted his squad on and off the ice was noticeable by many who follow the high school game. Two-year captain had 32 points and is now patrolling the blue line at Bowdoin College.
17. Tucker Hanson, Masconomet (2017-20). An extremely rare four-year starting goaltender, Hanson led the Chieftains to back-to-back CAL crowns his final two seasons and was Salem News Player of the Year as a senior. Went 44-21-8 in his four years with a 2.53 GAA and 1,340 saves to go with nine shutouts.
16. Matt Rodgers, Peabody (2007-10). Another of the 'Three Amigos' and one of the Tanners' best-ever passers, this generational talent guided his squad to a Northeastern Conference Large title as a senior and finished second all-time in program scoring with 149 points (63 goals, 86 assists).
15. Dan Gordon, Pingree (2001-04). Owner of 173 points while playing for some of legendary coach Buddy Taft's best Highlander squads earns Pingree's current bench boss a spot on our squad.
14. Nick Albano, Beverly (2013-14). Playing for his hometown squad as a sophomore and junior, this uber-talented defenseman made it look easy, gliding up and down all three zones to chase down opponents and add to a potent Panther offense up in the offensive zone. Had a sublime 45 points (8-37) for the 2014 state champs and combined for 16 goals, 53 assists and 69 points in his two seasons in Orange-and-Black. Became All-American blue liner at Division 3 UMass Boston.
13. Braden Haley, Marblehead (2014-17). Potent as a soda can that's been used in a paint shaker, Haley could score from anywhere on the ice at any time. In the Headers' long and rich puck history, he stands second all-time with 166 points (81 goals, 85 assists).
13. Kyle McCullough, Danvers (2000-02). Never met an offensive zone he didn't like and could do things with the puck on his stick that even top end talent could only dream of doing. Even an injury that cost him half of his senior season didn't stop this centerman from putting up terrific career numbers (81-70-151).
12. Kyle Martin, St. John's Prep (2015-16). After coming to the Eagles for his junior season, Martin merely went 29-6-5 in two seasons with a 1.53 GAA and .935 save percentage. But what really puts the 2015 Salem News Player of the Year over the top is his extraordinary postseason that winter, in which he beat BC High twice, previously unbeaten Springfield Cathedral and, in the Super 8 title game, four-time reigning champion Malden Catholic, stopping 121 of 128 shots.
11. Brian Pinho, St. John's Prep (2011-13). Great on-ice intelligence and a classic example of a player who made those around him better. Led team in scoring as a senior and finished with 101 career points, but numbers just scratched at the surface of what he meant for St. John's. Currently in the AHL with Utica Comets.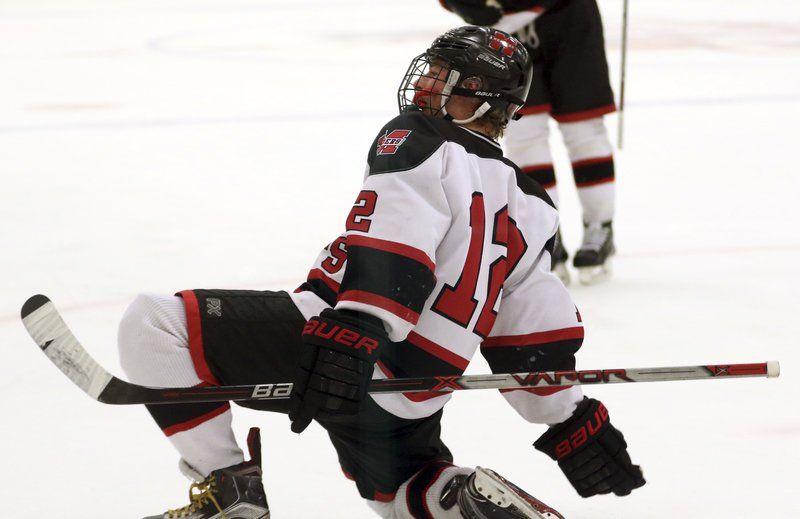 10. Tim Kalinowski, Marblehead (2013-16): The speedy right wing certainly had the offensive chops, with 116 career points and leading the region in scoring (55 points) as a senior. But the captain was just as much of an emotional leader for the Headers, who won a school record 24 games his senior season.
9. Sam Kurker, St. John's Prep (2009-12). Physically imposing with a bomb of a slot coming down down the left wing, Kurker also had soft hands and keen sense of where his linemates were at all times. Second round pick of the St. Louis Blues lit the lamp 66 times and graduated with 129 points.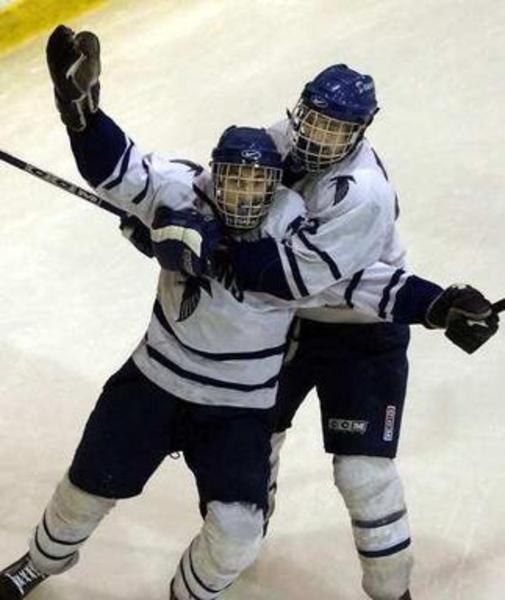 8. Ryan Hayes, Danvers (2000-03). A powerfully built speedster who could tear up and down the wing for the Falcons with both grace and ferocity. Didn't come into the offensive zone as much as he attacked it. Second all-time leading scorer in DHS hockey annals (77-83-160) who won state titles in hockey and baseball his sophomore season.
7. Jake Kulevich, Marblehead (2008-11). It seemed only fitting that one of the North Shore's best ever defensemen played at TD Garden in his final high school game, guiding the Headers to their first ever state crown. Strong, mobile and with an abundance of skill, he is the program's all-time leader among D-men in assists (57) and points (86).
6. John McCarthy, St. John's Prep (2001-04). McCarthy's leadership qualities were evident from the first practice of his freshman season on. He wasn't flashy or a 'me guy', but rather gave everything he had on every shift while possessing terrific offensive skills. Had 51-56-107 career totals with the Eagles before going on to captain Boston University to the 2009 NCAA championship. Played in the NHL with San Jose and now serves as head coach of their AHL affiliate.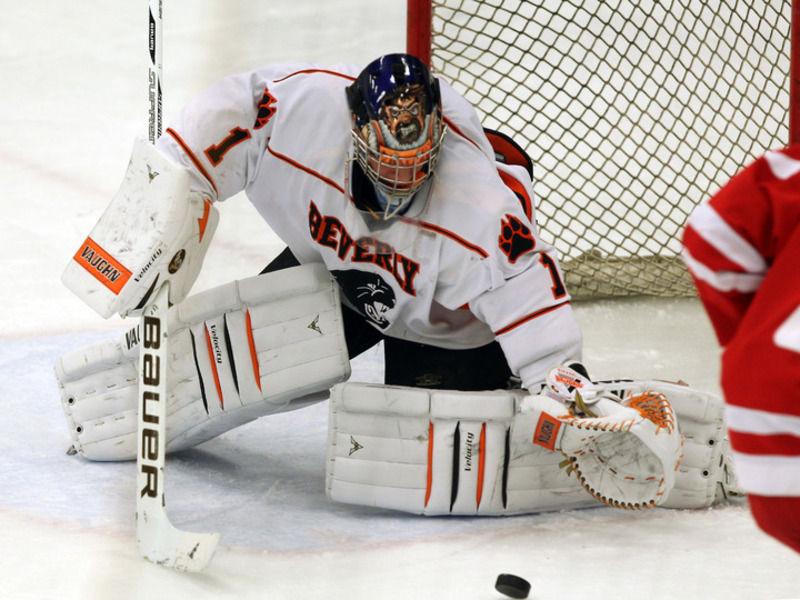 5. Tim Birarelli, Beverly (2012-14). Bar none the greatest goaltender in Beverly hockey history ... and one of the region's best of all time. He went a combined 46-7-3 in three seasons with a 1.53 GAA, .921 save percentage, and 14 shutouts while guiding Beverly to a Division 2 state championship in 2014. His final two seasons in Orange-and-Black are simply absurd: 34-2-2, 1.15 GAA and 12 shutouts to go with a .935 save percentage.
4. Chris Kreider, Masconomet (2006-07): A solid freshman season told us that Kreider could be special, but an explosive sophomore campaign, in which he scored 28 goals (with four hat tricks) and 41 points while earning both Cape Ann League and Salem News Player of the Year, drew the attention of everyone. A decade-and-a-half later, the 6-3, 225-pound former first round draft pick and NCAA champion with Boston College is coming off a 52-goal season with the New York Rangers.
3. Chris Higgins, Pingree (2002-04). Crazy-fast skater with singular scoring touch had an absolutely comical 193 points (with 121 goals!) in just three seasons for the Highlanders. Together with linemate and fellow Top 21'er Dan Gordon, they formed a 1-2 punch that continually frustrated opposing coaches on how to slow them down. Scored more than 130 points at BU and won the 2009 title (with McCarthy) before playing professionally in the states and Europe.
2. Connor Irving, Beverly (2011-14). Transcendent player who led the Panthers in scoring for three straight seasons and graduated as the program's all-time leading scorer with 198 points (76 goals, 122 assists). Played his best when it mattered most, such as the 2014 playoffs when he had eight goals and a pair of assists in four games, including the game-winning goal in Beverly's 2-1 Division 2 state championship win over Medfield.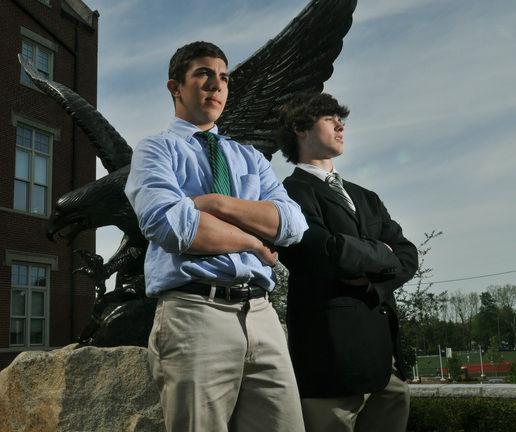 1. Colin Blackwell, St. John's Prep (2008-11). The ultimate gamer, competitor and singular force who helped sow the seeds for the Prep dynasty as we know it today. Graduated with 66 goals and 66 assists, including a 64-point senior season in which he led St. John's Prep to overtime of the Super 8 finals. Had an otherworldly 7-9-16 totals in five Super 8 games as a senior. Currently playing for the Chicago Blackhawks.
The Blue Line Report, a column on North Shore high school boys hockey, appears each Wednesday during the winter season in The Salem News. Contact Phil Stacey at pstacey@salemnews.com or @PhilStacey_SN