SAUGUS — As the Peabody High football team aims to improve at the art of making plays in the clutch, there's a lot they could learn from one of this year's senior captains.
Colby Therrien proved once and for all that he has that elusive clutch-gene, hauling in a 30-yard touchdown pass with 9:10 to play in a tie game and propelling his Tanners by Saugus, 21-7, Thanksgiving morning.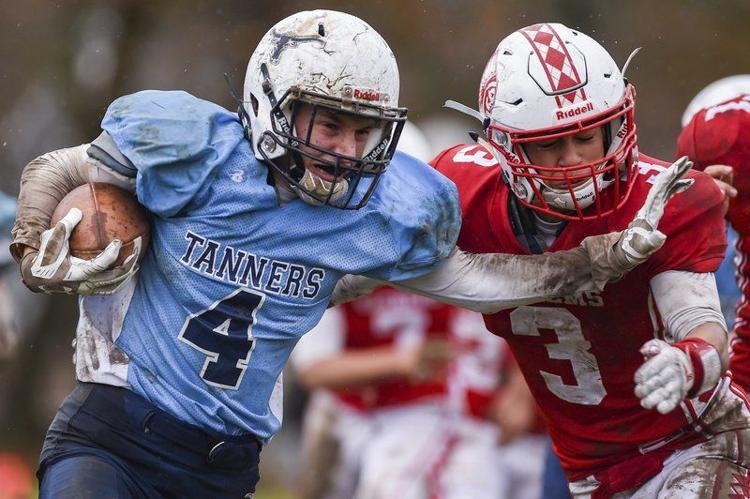 On a muddy, rain-soaked Stackpole Field big plays were few and far between. Tough Saugus defense and untimely Peabody penalties kept this 70th holiday meeting close until the late stages. The Tanners nearly let another chance to take the lead go by the boards, but on 4th-and-6 junior Alex DeNisco threw a strike to Therrien on a post pattern for the go-ahead points.
"It's a great feeling. This one game is about more than just our team: It's about the alumni, the city ... It's probably the most special game of the year," said Therrien, who had 145 yards from scrimmage and two touchdowns in his last game wearing the Tanner bull.
Peabody (4-7) was forced to punt with 1:38 to play nursing a one touchdown lead. Saugus (3-8) had to go 87 yards to tie the game but the Tanner defense didn't even allow a first down, turning the ball over four snaps later with a combination of good pass coverage by Brandon Pszenny and a solid pass rush from Chris Faraca and Phil Makoci.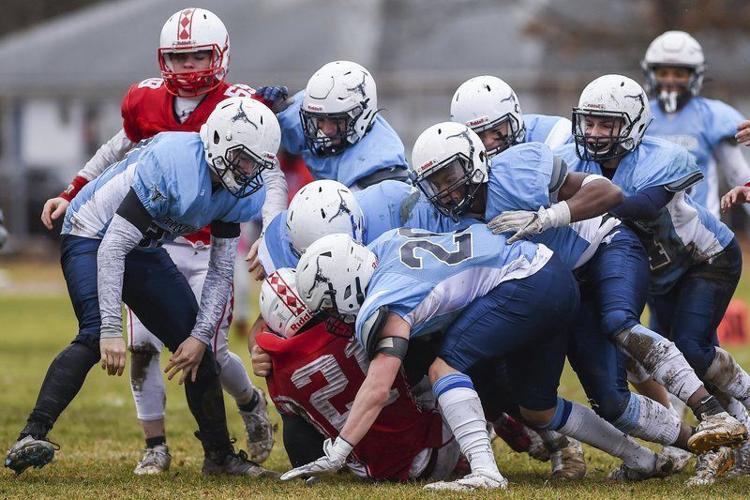 "We really fed off each other late in the game. We knew if we could do that, we'd have it," said senior linebacker Joe Casey, his team's leading tackler. "We read our keys, trusted the calls and we made some big stops out there on defense."
Senior Calvin Scribner capped this sixth straight Thanksgiving win for Peabody by rumbling 20 yards for a touchdown with 20 seconds remaining. It was the first career varsity carry for the undersized senior, whose teammates pushed him rugby-style for the final 10 yards of the score he'll long remember.
"I told him last night, 'If you get the ball, you're going to score.' That meant a lot to us," said Therrien. "Calvin doesn't get to play a lot on varsity and the way it happened, with everybody pushing, was like a movie. It was awesome."
It was a near perfect start for the Tanners, who got tackles-for-loss from Faraca and Casey on Saugus' first two plays from scrimmage. Therrien then took the first Peabody offensive play 69-yards to the house for a 7-0 lead after less than 100 seconds of game action.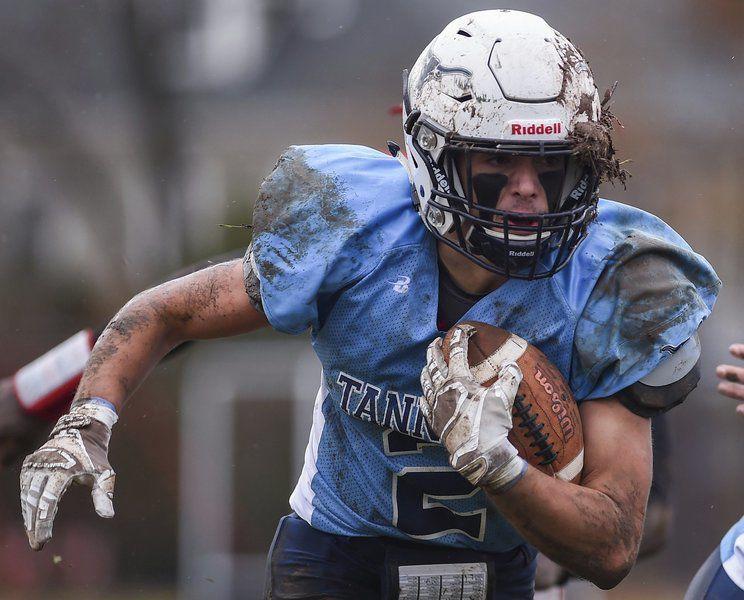 "Colby is the kind of kid you want to build your program around," said Peabody head coach Mark Bettencourt, whose senior captain ran for 115 yards on 10 jaunts. "He gives everything he has in practice and in games. When a kid like that comes through the program and has success, you feel like you're doing something right as a coach."
The Sachems had a chance to tie it in the first quarter after recovering a fumble deep in Peabody territory, but Makoci recovered a fumble to end that threat. After the Tanner offense stumbled a bit, Saugus drew even on Javier Martinez' 24-yard TD catch from Christian Correia (which went through the hands of a defender before being corralled by Martinez).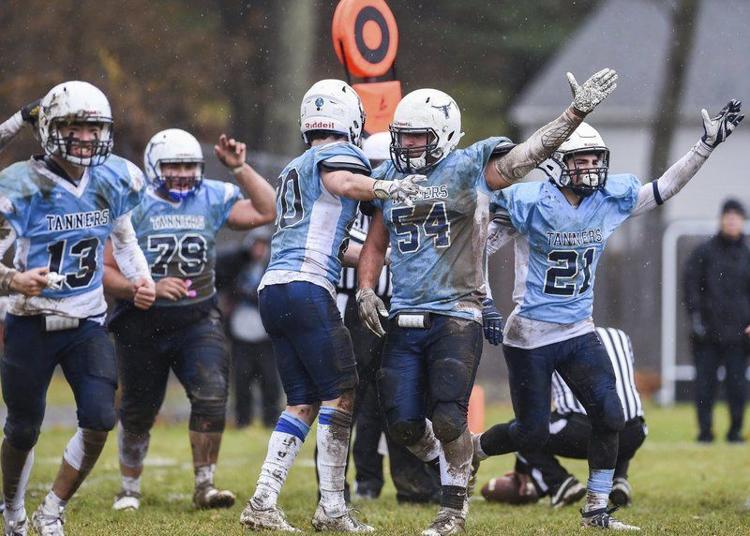 Neither team could do much the rest of the first half. Peabody's opening drive of the third nearly delivered the lead, but senior Declan Russell's would-be TD catch was wiped out by holding and the Tanners turned it over on downs.
"Too many penalties," said Bettencourt. "Every time we had a big play, we put ourselves behind the sticks. We made our offense work harder than it should have had to work."
Saugus' Marvens Jean ripped off a 41-yard gain to put his team in Tanner territory looking for its first Thanksgiving Day lead since 2013. The Tanner defense, which was without starters Kyle Maglione, Dylan Peluso and Brandon Glass due to injury, rose to the occasion and got the stop led by Casey.
"Joe had to step it up without his right hand man, Mags. That's a gaping hole in our defense and Case hit hard, made his reads and made some big plays. He had a great game," said Bettencourt, also highlighting sophomore Michael Perez and senior JoJo Kashilla on the defensive side.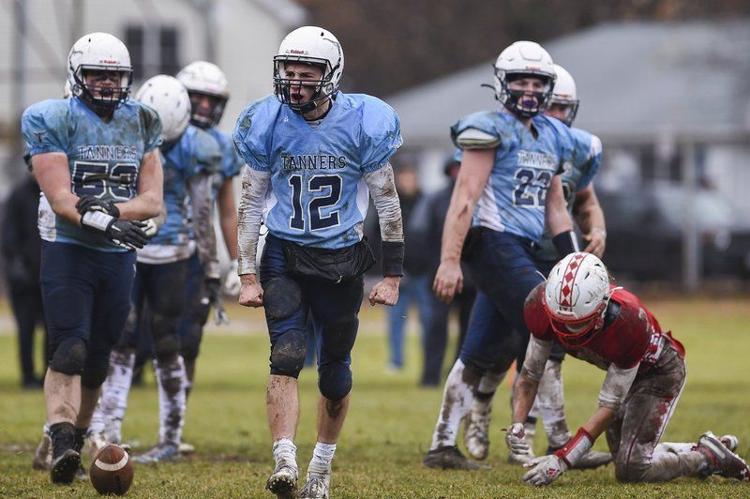 The ensuing go-ahead TD drive by Peabody covered 87 yards with a 40-yard burst of speed around the end by Fred Koffi putting them in position for Therrien's score.
With senior captain Angel Paulino hobbled by an ankle injury, the Tanners used nine ball carriers. Cam Cuzzi had 59 yards behind Therrien and senior QB Kris Miralca picked up a key late first down to help Peabody salt off valuable time.
"We did what we wanted to do on offense. We executed the game plan," said Therrien. "We wanted to come away with a win and with how hard we practiced, we put ourselves in a good spot."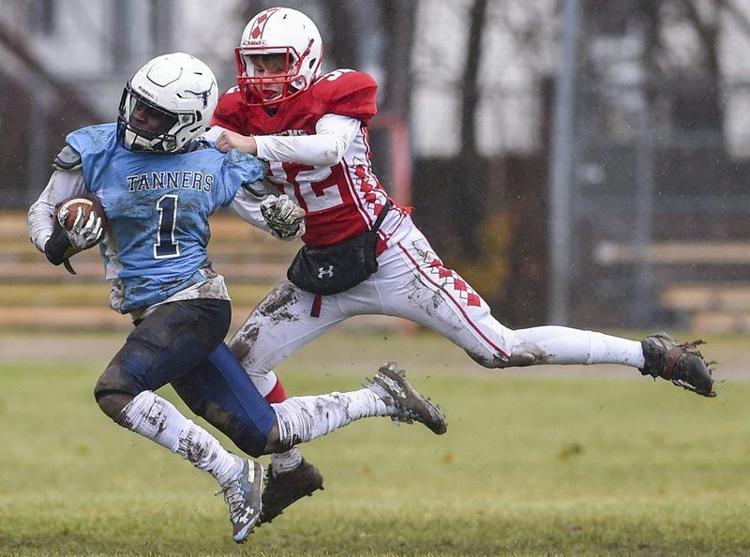 Peabody had a 339-214 edge in yards from scrimmage which was a dominant 115-20 after the first quarter despite it being a 7-0 game. Martinez had 78 receiving yards to help Saugus get back in it while Peabody got two grabs and 34 yards from senior Jack Flaherty as well as tackles-for-loss from Faraca (3), Casey (3), Makoci and Nick Vecchio.
The sixth straight Thanksgiving win by Peabody is the second-longest streak in the series, which began in 1947. It was the sixth straight time the Tanner defense held Saugus to one TD or fewer and coach Greg Haberland's unit gave up 173 points on the year, a 45-point improvement on 2018 and third-fewest of the last 15 years.
But by going 4-7, the Tanners had a second straight losing season for the first time in Bettencourt's seven years, something that left the Blue-and-White wanting more beginning next August.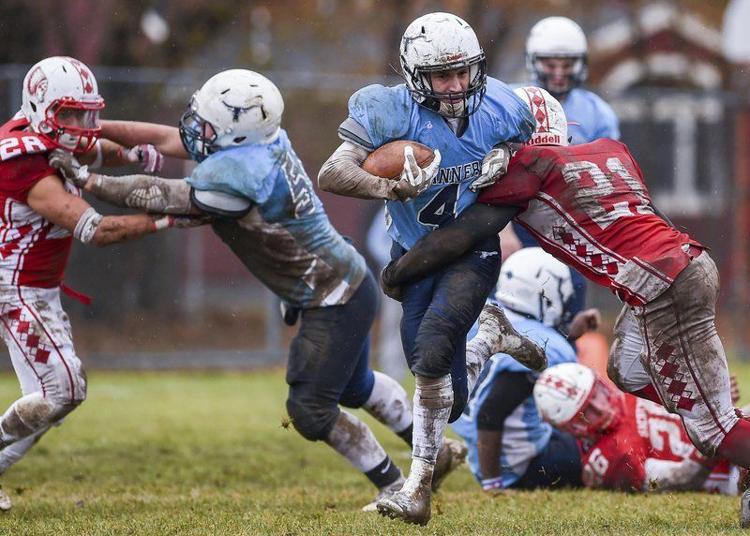 "There are a lot of positives we can take from this team, but there's an undisciplined element we need to get rid of," Bettencourt said. "It's a culture thing that we must build from the ground up. It's back to basics for discipline and mental toughness, not just in football, but in the classroom, the community and all aspects of their lives."