2010: After falling behind by two touchdowns following one quarter of play, Salem methodically came back and found the end zone in each of the next three quarters to claim a 21-13 road win at Marblehead. Kyle Hardy got the scoring started for the Witches by taking in a 7-yard touchdown pass from quarterback Brad Skeffington in the second quarter, followed by an Antonio Reyes kick. Chris Bozarjian's 4-yard scoring jaunt in the third quarter tied the game, and a 6-yard Bozarjian scamper in the fourth quarter, followed by a Skeffington 2-point conversion rush, gave Salem the victory. Skeffington and Bozarjian both rushed for 59 yards for the winners, while Skeffington hit four different receivers for 75 yards through the air.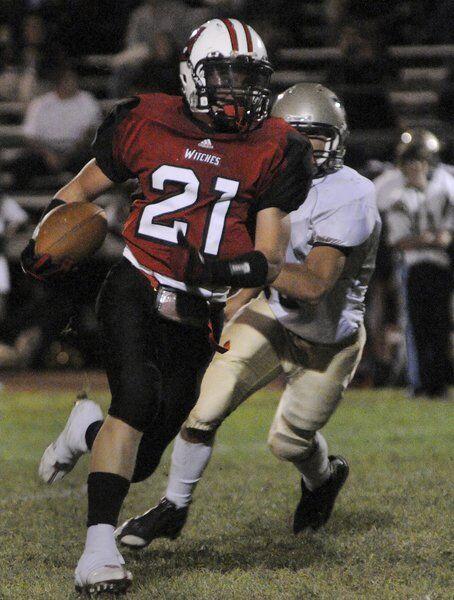 Marblehead was led by Will Quigley's 115 yards on the ground via 35 carries, including an 8-yard TD run. Matt Perlow also got himself six points after collecting a 15-yard TD toss from Dan Colbert.
1994: Brian Toner's first quarter touchdown run, a 6-yard gallop, and the ensuing extra point by David Sozanski proved to be enough offense for St. John's Prep to shade BC High, 7-6, in a Catholic Conference clash. In improving to 3-2, the Eagles got 123 yards rushing from Rob Konrad on 24 carries while their defense limited the visitors to just 17 yards on the ground. The Prep picked off two passes from their visitors from Dorchester and also recovered five fumbles. 
1983: Peabody enjoyed a banner day on the gridiron by shellacking Greater Boston League foe Everett, 46-0. Masconomet also visited the end zone often on this day, pasting Amesbury, 44-8, in Cape Ann League action. Ipswich was also victorious, pinning a 21-0 shutout on host North Andover. In Northeastern Conference action, Swampscott shaded Lynn English, 22-18, while Danvers got the better of Salem, 17-7, and Beverly rolled all over host Marblehead, 43-6.
||||