PEABODY — There wasn't a dry eye in the house Friday night at Coley Lee Field.
Freshman Will Pinto scored his first varsity touchdown at the end of a game that his Peabody High football team had dedicated to the memory of his mom, Evelyn, who was killed in a car accident just two weeks ago.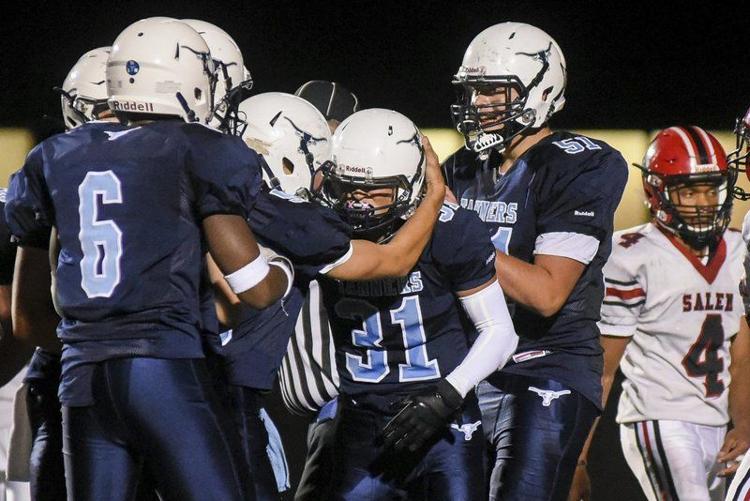 When the young running back wearing No. 31 checked in for the first time late in the fourth quarter with the Tanners leading Salem by six touchdowns, Peabody's sideline and the 1,500 or so fans in the stadium came alive as if the entire season were on the line.
Four handoffs later, Pinto crashed into the end zone from six yards out to put an emotional stamp on a 52-0 opening night victory for his Tanners.
"It didn't feel real. It felt like a movie," said Pinto. "I saw the QB's hands, saw the line, saw the turf when I fell into the end zone and it was like virtual reality. I was shaking. I almost couldn't stand up, but my boys hugged me and got me up.
"I don't know how to thank my team enough. I did it all for my parents, for my family."
Pinto and his older sister Bianca, a Peabody High cheerleader, were honorary captains for the 99th meeting between the Witches and Tanners. Peabody head coach Mark Bettencourt didn't plan for Pinto to see the field, but since his Tanners (1-0) had a big lead late, he knew exactly who his team needed to feed.
"When something tragic happens, people need to rise up. I think our kids, our coaches and our school tried to rise up as best we could," said Bettencourt, pointing out how impressed he was at how his seniors felt it was their duty to give their young teammate his moment.
"When I knew (Pinto) was in that backfield, I knew I wasn't stopping. I was bringing him all the way to the end zone," senior offensive guard Phil Makoci said.
"Will has the heart of a lion. It's a tragedy, what happened, but this team has got his back. We love that kid."
Peabody's dominant performance over the first three quarters set the stage for the contest's Hollywood ending.
In beating the rival Witches (0-1) for the third straight time while playing them for the first time in five years, the Tanners had a 423-49 edge in offensive yardage and built a 31-0 lead by halftime.
Junior Nick Vecchio took a jet sweep 50 yards to the house on Peabody's first offensive snap, and it was more of the same the rest of the evening.
Captain Angel Paulino ran for 90 yards on six carries with scores of 28 and 43 yards. After a somewhat slow start junior QB Alex DeNisco threw for 128 yards, with scoring strikes to captains Dylan Peluso (16 yards) and Colby Therrien (28 yards) as well as junior Jonathan Teixeira (12 yards).
Kicker Joe Swanton made all seven of his extra points and also booted a 37-yard field goal with room to spare in the second quarter. Peabody spread the ball around to six ballcarriers in the first half (10 in all), and DeNisco completed 10 passes to six receivers. 
"Our older kids played well," Bettencourt said. "It was a very emotional day. They stepped up at a time when we needed it, which says a lot about their maturity level."
Without starting QB Wayne Holloway, Salem was limited offensively. The Witches gained a first down on the opening drive and didn't earn another for the rest of the game.
Shifty Jayzel Pena took the majority of the snaps in a Wildcat role and broke at least a dozen tackles at various times before being swarmed by the Tanners' defense.
"He's been a quarterback for three days. Our packages were limited, and we tried to play to what strengths we had," said Salem head coach Matt Bouchard. "We started three freshmen. We're very young and we learned a lot. I appreciated how we fought to get better on every play."
Radhlen Pena also took some snaps under center for Salem. Connor McRae churned out some yardage on the ground and Dante Roper had a pass breakup from his linebacker spot.
"It was a tough night, no question about it," Bouchard said. "We can get better as players and as coaches."
For the Tanners, senior Brandon Caniff had an interception to set up one of DeNisco's TD passes. Chris Faraca had a great outing at defensive end with two sacks and Shay Palmer, Kyle Maglione, Brandon Glass and Michael Perez all came up with tackles-for-loss.
Makoci also blocked a punt in the second half, which he returned back to the Salem 12-yard line to set up another score.
"There's no better way to start the season," Makoci said. "We're going to try our best to keep it going."
When Peabody got the ball back late in the fourth, backup QB Krisli Miraka broke free for a 43-yard gain. That set the stage for Pinto to gain the last 24 yards and earn his first varsity points.
"I'll never forget this night. I wouldn't want to be part of any other team but the Tanners," Pinto said. "It's a family."