The awards haven't stopped rolling in for the Division 1 state champion St. John's Prep lacrosse team.
Three Eagles have been selected by the Eastern Massachusetts Lacrosse Coaches Association (EMLCA) as First Team All-Americans for the 2021 season: senior long stick midfielder Michael Ayers; his brother, sophomore attack Jimmy Ayers; and senior midfielder Michael Kelly. All three players were also Catholic Conference all-stars.
Michael Ayers, who will continue his academic and athletic career at Tufts University, finished the season with 61 ground balls and 27 caused turnovers. The Hamilton resident also scored a pair of goals and dished out five assists as St John's won its first state title in 11 years.
In his first high school season, Jimmy Ayers led the Eagles in both goals (46) and total points (68) while tying for the team lead in assists (22). He was also tops among all North Shore players in playoff scoring with 11 goals, five assists and 16 points in five games.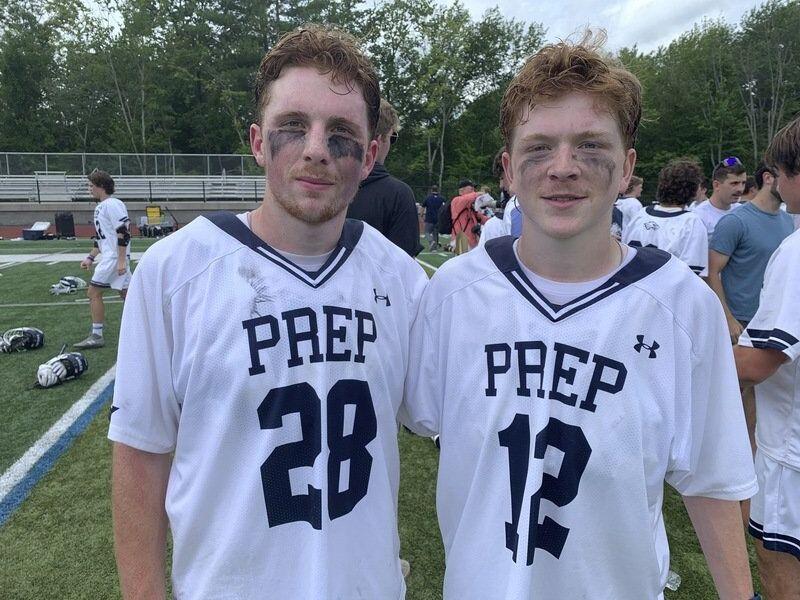 Kelly, who like Michael Ayers was a team captain, tied for second on the squad with 53 points.  The Marblehead native scored 35 goals and finished his high school career with 69 to go along with 35 helpers for 104 points. He will continue his career at Princeton University.
Marblehead High captain Will Shull was chosen as a Second Team All-American by the EMLCA. The Wesleyan-bound midfielder paced the Magicians in goals (46) and total points (66) while guiding his team to its third straight Northeastern Conference title and its first unbeaten regular season (13-0). Shull graduates with 121 goals, 63 assists and 184 points.
In addition, three local players were picked by the EMLCA as Academic All-Americans for their excellence in the classroom and on the lacrosse field. They were senior midfielder Charlie Danis of St. John's Prep (8 goals, 3 assists), senior faceoff specialist and midfielder Trent Bunker of Masconomet (5 goals, 2 assists), and all-star goaltender Grant Landon of Hamilton-Wenham (135 saves and a .714 save percentage). 
||||