BOYS CROSS COUNTRY
Beverly 27, Masconomet 29: The Panthers got key victories out of the top two spots from Liam Ouellette (16:26) and fellow captain David DiPietro (17:35) to pull out the victory over the Chieftains at Bradley Palmer State Park. T.J. Betts, a junior, outkicked a pair of Masco runners with only a few yards remaining to finish in fifth place, while sophomore Ryan Whiting took eighth place and senior Drew Fessenden 11th (18:35).
Masconomet had a slew of personal best times, including senior captain (17:48. 3rd place), junior Drew Bartram (18:01, 7th), and sophomores Cooper Ogden (18:12, 9th) and Miles Darling (18:34, 10th). Senior captains Tim McGinley (17:51, 4th) and Ian Darling (17:52, 6th) also ran strong races for Masco.
Hamilton-Wenham 17, Amesbury 42: Eli Labelle shot out to a lead and finished first in 18:32 over 3.1 miles to pace the Generals past their Cape Ann League rivals. Cooper Blatz finished close behind in second place, followed by teammates Clark Glidden (3rd), James Regan (5th), Ryan Gillis (6th), Isaac Jones (9th) and Luke McMahon (10th).
Bishop Fenwick splits: Declan Smith's second place finish (17:11) helped lift the Crusaders to a win over Cardinal Spellman (20-38), but they fell to St. Mary's of Lynn (25-31) in this tri-meet. Andre Santos was fifth (17:36), Ethan Henshaw seventh (18:33), Matt Cinelli 11th (18:54) and Matt Szpak 16th (21:54) for Fenwick.
GIRLS CROSS COUNTRY
Beverly 17, Masconomet 43: Mia Kasperowicz came in first place as the Panthers (2-0) remained perfect on the year. Olivia Young and Emily Young were next across the line, Hannah McCarthy finished fifth and Mary Hauck was sixth.
Fenwick sweeps: Shannon Bresnahan set a course record, finishing in 20:43 over the 2.9 mile course in Brockton to lift Fenwick past St. Mary's of Lynn (20-40) and host Cardinal Spellman (15-50). Maria Ryan took third place (22:08) for the winners, followed by Catherine Carter in fourth (22:24), Natalia Kay in fifth (23:46) and Norah Pasquarelli in seventh (24:12).
Hamilton-Wenham 21, Amesbury 35: Ava Cote finished first in 21:15 over the 5K distance to guide the Generals to victory. Alexis Donovan (2nd place), Sofia Happel (4th), Claire Kurja (6th), Charlotte Madden (8th) and Sadie Condon (10th) also ran strong races for H-W.
GIRLS SOCCER
Marblehead 2, Swampscott 1: Senior Anne Sheridan buried a penalty kick with 19 minutes to play to help the Magicians (2-0) down the rival Big Blue. Sheridan had both goals for Marblehead, which got strong play from Ella Kramer and Talia Selby. Mia Schena had the tally for Swampscott (0-1).
Essex Tech 4, Shawsheen 0: Senior captain Deanna DelBene, senior Brianna Berube, sophomore Carrie Martinez and junior Miabella Caballaro had the goals for the Hawks (1-4) who earned their first win. Assists went to freshman Reese Lizotte, Chelsea Martinez and Hope McCarthy while keeper Haley Guilmet made nine stops for her first shutout.
Masconomet 5, Saugus 0: Taylor Bovardi had a goal and an assist, Amanda Schneider scored her first varsity goal and Kendall Skulley netted her first of the year for the Chieftains (2-1). Keeper Charlotte Hill earned the shutout and captain Elena Lindonen also scored.
Peabody 5, Salem 0: A goal and an assist each from freshman Connie Paterulli, sophomore Logan Lomasney and junior Branae Craveiro powered the Tanners (1-1-1). Emma Bloom and Madison Murphy shared the clean sheet and Sam Simmons and Taylor Bettencourt also scored.
Beverly 6, Winthrop 0: Kayleigh Crowell had a pair of goals while Madeleine Young had a goal and an assist to help the Panthers (1-1) earn their first win. Anna Carbone and Grace Fitzgerald also scored and Sami Fogarty had her first varsity goal. Isaballa Jiminez had an assist, junior Grace Gonzalez had an outstanding all-around game and Kayla Cimon shared the shutout with Heidi Schultz.
Landmark 4, Covenant Christian 3: Liza Minogue had all three goals for CCA in a Monday setback.
Danvers 7, Gloucester 0: The unbeaten Falcons (3-0) cruised at home. Seven players scored goals including Arianna Bezanson, Ellie Anderson and Georgia Prouty.
BOYS SOCCER
Beverly 3, Winthrop 1: Wilson de Leon got the scoring started for the Panthers (2-0) at the nine-minute mark, followed by strikes from Nick Braganca (penalty kick at 17:28) and Teo Berbic (69 minutes, from Juan Williams).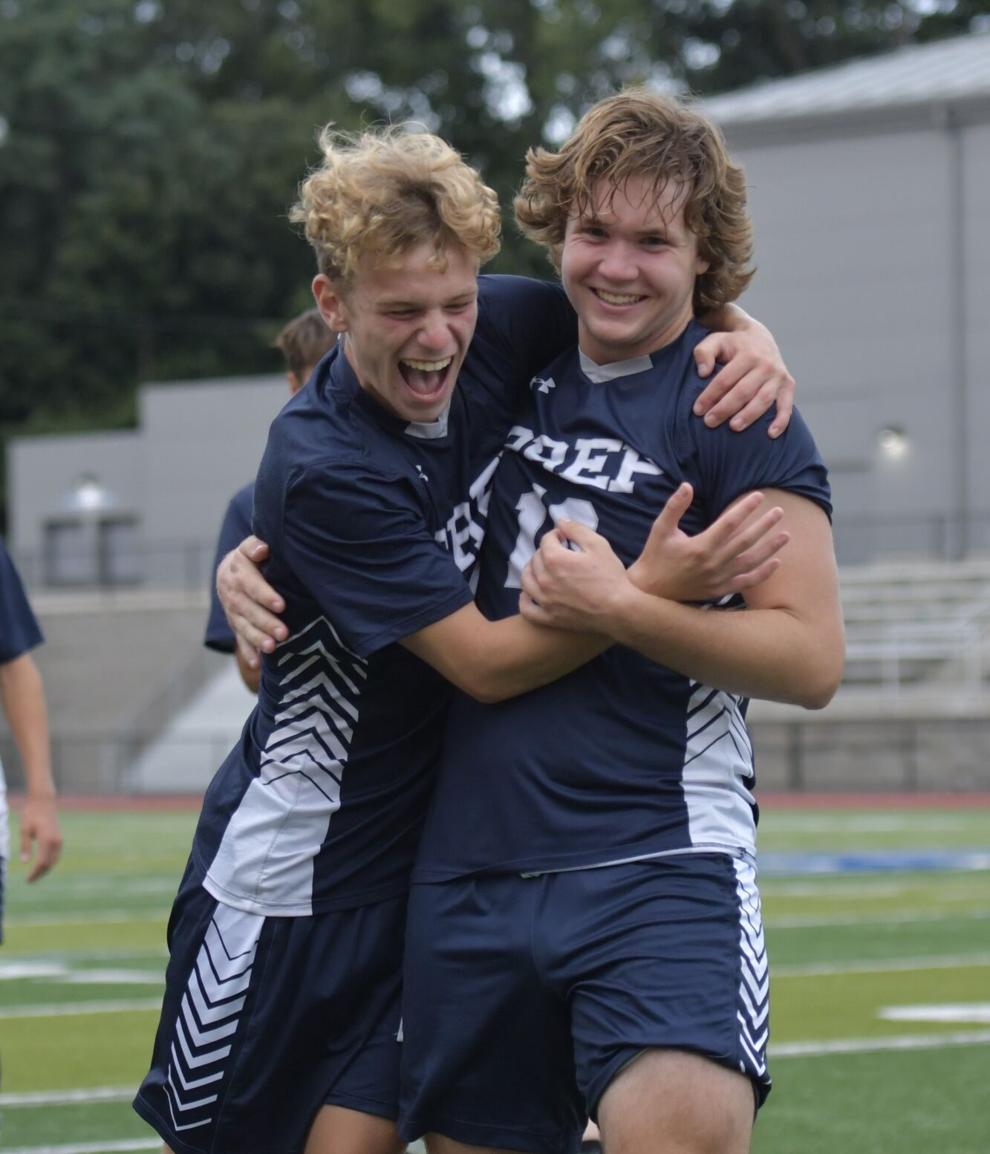 St. John's Prep 2, Xaverian 0: Junior Calvin Massaro netted his first varsity goal directly off a corner kick and senior Ryder Vigsnes later converted a pass from sophomore Mark Ghiu to give the Eagles a season opening victory. Joey Waterman, a senior, stopped three shots for the shutout, while sophomore midfielder Jake Vana and junior center back Will Minor were other standouts.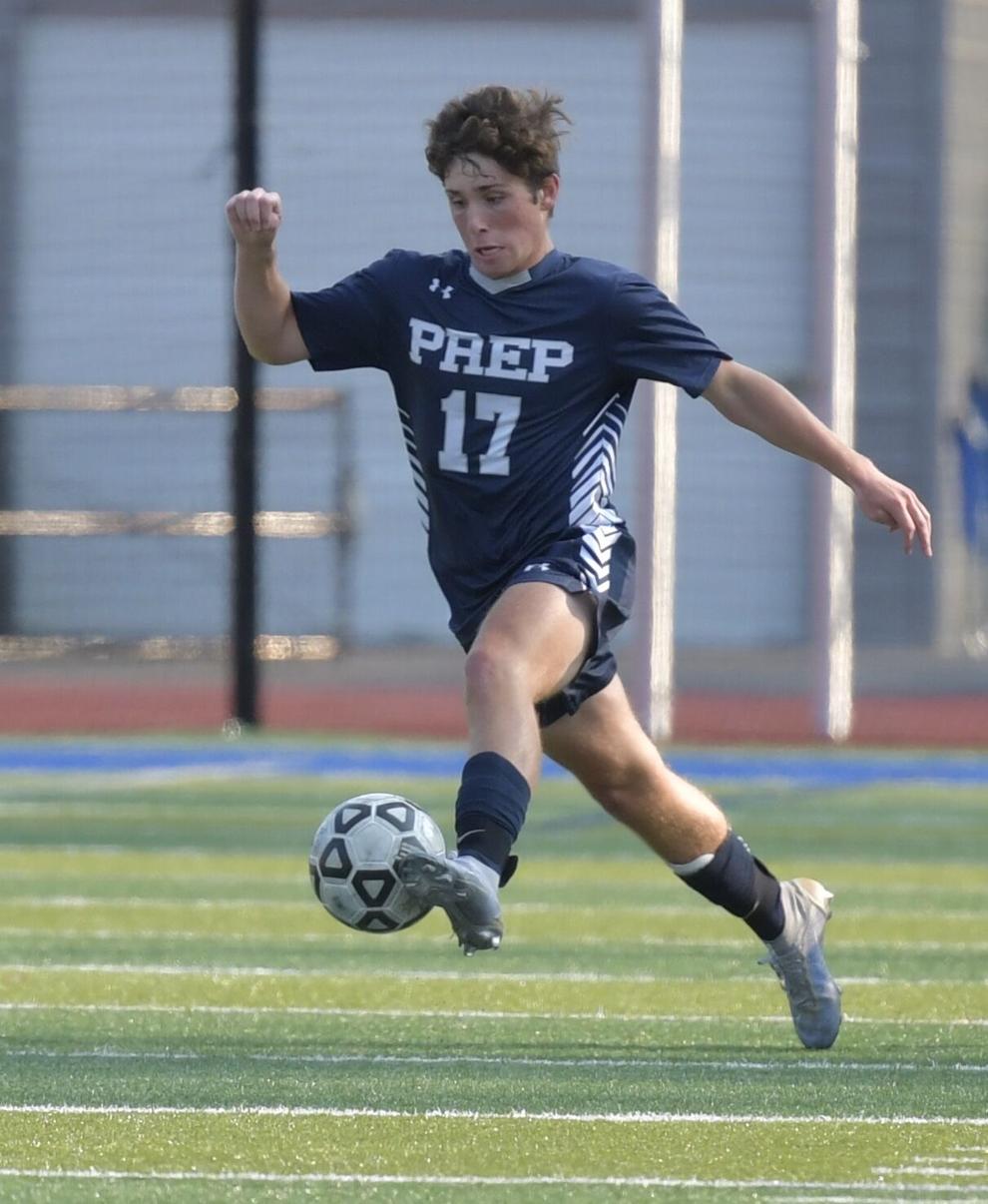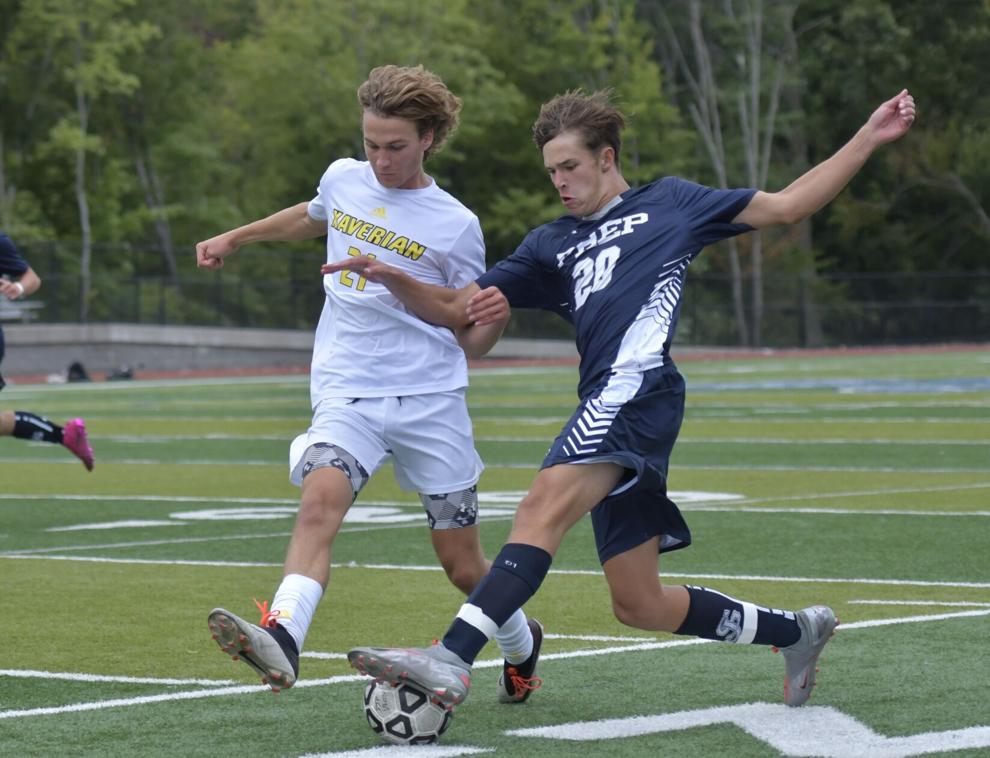 Gloucester 2, Danvers 1: A goal by junior Chance Prouty gave the Falcons an early lead, but the host Fishermen battled back to tie it, then got the game-winning goal with six minutes remaining. Junior Daniel Vatousious played well at center back for Danvers (now 1-2) while Sean Ouellette stopped 13 shots.
Essex Tech 1, Shawsheen 1: Junior attacker Ryan Lovasco beat two defenders before nailing a shot from 22 yards out far post with under five minutes to play to earn the Hawks (1-0-1) a point. Senior midfielder Peter Tsoutsouris and senior captain and defenseman Austin Medico were other standouts in the stalemate.
Masconomet 10, Saugus 0: The Chieftains cruised to improve to 3-0 on the season.
Marblehead 1, Swampscott 0: Oliver Buckhoff's free kick found the left side of the net midway through the second half for the game's only goal, giving Marblehead a tight win over their NEC rivals. Midfielder Brogan McGorray took control of the midfield in the second half for the Magicians, defender Schuyler Schmitt played well with some nice balls through the air, and goalie Hayden Leveroni kept his team in the game with some beautiful saves in net.
VOLLEYBALL
Salem 3, Pioneer Charter 0: The Witches improved to 3-0 on the season after a 25-19, 25-14, 25-16 over their foes from Everett. Middle blocker Anna Cantone had five kills while teammate Grace Milano, an opposite hitter, added a pair of aces and 12 points for the Witches.
Hamilton-Wenham 3, Pentucket 0: Senior Mia Flynn had seven kills while junior setter Amber Scanlon served up three aces to help the Generals win 25-7, 25-16, 25-14. Grace Roebuck added five aces and four kills in a solid showing.
Peabody 3, Marblehead 0: The Tanners won their Northeastern Conference opener in impressive fashion with Allie Flewelling and Sarah Broughton combining for 27 serving points with four kills each. Isabel Bettencourt had six kills with five aces, Abby Bettencourt had 13 assists and Lauryn Mendoca had four kills as Peabody won 25-6, 25-20, 25-23.
Marblehead was led by Lilah Thompson (8 kills), Keira Sweetnam (7) and libero Caitlin Parkman (12 assists).
Beverly 3, Saugus 0: Mya Perron had seven aces and Natalie Reynolds served up 10 of her own to help the Panthers roll 25-15, 25-11 and 25-23. Junior Abby Ruggieri added some big-time kills in the decisive third set.
Hamilton-Wenham 3, Pentucket 0: Mia Flynn, a senior outside hitter, had seven kills while Amber Scanlon, a junior setter, had three aces from the service line in the Generals' 25-7, 25-16, 25-14 win on Monday. Grace Roebuck, a junior outside hitter, added five aces and four kills.
FIELD HOCKEY
Ipswich 2, Hamilton-Wenham 0: Lexi James' first goal of the season, coming just before the half, gave the unbeaten Tigers (3-0) all the scoring they'd need, but teammate Chloe Pszenny added an insurance marker with three minutes to go (on an assist from James) for good measure. Morgan Bodwell earned her second shutout of the year, making a pair of saves, while Natalie Whitten assisted on James' tally.
The Generals (now 1-1) got 10 saves from netminder Maeve Clark and a strong game offensively from Ava Vantour.
Bishop Fenwick 2, Central Catholic 1: Emma Perry and Rayne Millett had the goals while Sedona Lawson made a half dozen saves to power the Crusaders (3-0-1) to victory. Arianna Costello and Millett both had assists for Fenwick, which also got strong play from Emily McPhail, Grace Morey, and Zoe Elwell.
GOLF
Marblehead 59, Saugus 13: All eight players were victorious for the Magicians (now 2-0) at Tedesco, with Matt Weed (37) finishing as medalist after winning his match, 6-3. Teammates Charlie Grenier (5-3), Chris Locke (8 1/2 — 1/2), Jacob Hershfield (6 1/2 — 2 1/2), Jacob Aizanman (9-0), Adrian Baron (7 1/2 — 1 1/2), Chris Cannusci (8-1) and Jack Sontz (8-1) were also victorious.
Beverly 46 1/2, Masconomet 25 1/2: In a battle of two of the Northeastern Conference's best players, Beverly's No. 1 player, Aidan LeBlanc, went birdie-birdie on the final two holes to pull away from Masconomet's Chris O'Grady to help propel his team to victory. LeBlanc shot a 35.
O'Grady finished with a 39 for Masco, while No. 2 player Jack Mertz stayed unbeaten with a 5-4 win, shooting a 40. Anthony Achille, a senior, was the team's other winner at the No. 8 spot.
Rockport 121, Ipswich 79: Senior captain Evan Stein's 21 points paced the Tigers (now 1-2).
Lynnfield 114, Hamilton-Wenham 99: Peter Gordeau had 19 points while Jack Bial and Cooper Miller each had 17 points to lead the Generals (1-3).
WOMEN'S COLLEGE VOLLEYBALL
Salem State 3, Mass. Maritime 1: The Vikings won their first game of the year in their conference debut. Abigail O'Connor, Miranda Quinlan and Genevieve Kempster had nine kills each to lead a balanced attack and Eva Haralabatos had 30 assists.
COLLEGE FIELD HOCKEY
Endicott 2, Conn. College 1: The Gulls (2-2) stopped a two-game mini skid with a shutout victory. Jenna Seibold and Abby Carter took care of the scoring and Taylor Farrin earned the shutout in net.
WOMEN'S COLLEGE SOCCER
Worcester State 2, Gordon 0: The Scots (2-1) took their first loss of the year despite putting four shots on net.
MEN'S COLLEGE SOCCER
Colby 2, Gordon 0: Masconomet graduate Josh Rubin had a goal for the Mules and Gordon dipped to 2-2.