BOYS SOCCER
St. John's Prep 6, Malden Catholic 0: The Eagles (7-2-3) dominated thanks to sophomore Aithan Bezanson's first two varsity goals. Fellow sophomore Mark Ghiu also scored his first varsity goal, while seniors Mark Patturelli, Ryder Vigsnes and Alex Borkland also scored. Assists went to Declan Kelley, Callum Rigby and Mike Bertinato, while Yianni Andrikopoulos made two saves for the shutout.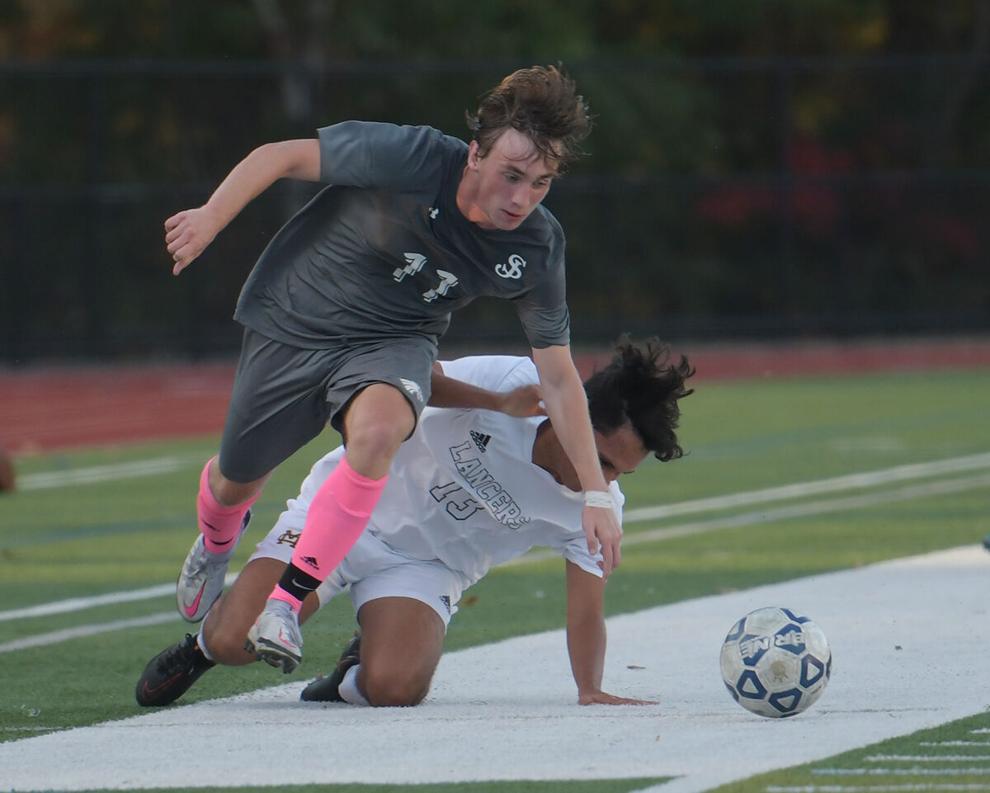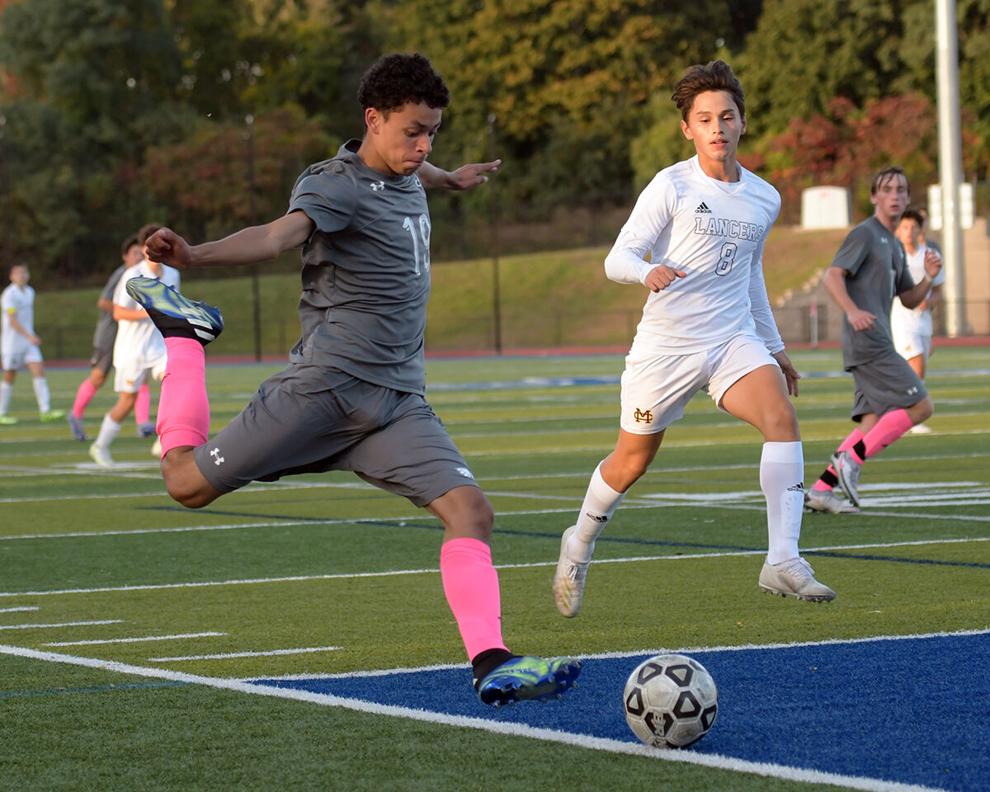 Marblehead 2, Manchester Essex 2: The Magicians got two goals from Sebastian Pantzer en route to a tightly contested draw.
Salem Academy 3, Pioneer Charter II 0: Henry Shehaj scored all three goals for the Navigators (now 5-5-1), with Blaise Nkwetta and Ryan Brown earning assists. Ivan Paredes stopped two shots to earn the shutout.
Lynnfield 2, Ipswich 0: Sam Sirois had a great game defensively for the Tigers, along with Spencer Johnson and Efram Johanson. Ipswich keeper Nate Kobuszewski also played well.
Hamilton-Wenham 2, Pentucket 1: Lucas Groberio scored in the final five minutes of regulation to help the Generals (4-3-3) outlast their Cape Ann League rivals. Liam Heney played well in net and had to come off his line three times to force shots wide, while Victor Miantte and Keenan Maguire played well in the win. Ethan Minster added a goal and an assist as well.
GIRLS SOCCER
Hamilton-Wenham 1, Pentucket 1: Freshman defender Maddie Wood scored the tying goal in the first off from an assist from classmate Annie Moynihan and the Generals (8-1-1) extended their unbeaten streak to seven. Senior defenders Libby Collins, Jackie Chapdelaine and Nora Gamber played very well in the back for H-W.
Essex Tech 2, Shawsheen 1: Sofia Varga netted the game-winner goal and keeper Hailey Guilmet had an immense effort in net with nine stops as the Hawks improved to 6-7 overall with the Commonwealth Conference win.
Salem Academy 4, Pioneer II 0: Cindy Shehu scored twice and Cynthhia Esterlin made two saves to pitch a shutout for the Navigators (now 7-5). Grace Thomas and Kyle Lundin also scored while Mackenzie Russell had two assists and Evie Cabot one.
Lynnfield 1, Ipswich 0: On Monday, the Tigers (2-7-2) Izzy Wetter and Victoria Harper had strong games defensively, as did Pia Stewart, Ava Broglino and Lucy Harmon at midfield.
Danvers 2, Andover 0: Senior captain Arianna Bezanson scored both goals with two assists from freshman Georgia Prouty as the Falcons (9-1-2) earned a quality non-league road win. Gabby Chisholm, Emma Dunn, Ryley Crosby and Mikayla Shaffaval led a stout defensive effort.
FIELD HOCKEY
Bishop Fenwick 5, Bedford 0: The Crusaders got a pair of goals from Emma Perry and singles from Grace Morey, Arianna Costello and Rayne Millett, with Zoe Elwell dishing out three assists and Tess Keenan one. Sedona Lawson was busy, making 18 saves in the shutout, and Emily McPhail had a strong game at midfield for Fenwick (now 8-2-2).
Triton 2, Swampscott 1: Chloe Rakauskas had seven saves and Sydney Marshall scored the goal for the Big Blue (7-4-2), with Olivia Baran and Brooke Waters assisting.
GOLF
Bishop Fenwick 202, Cardinal Spellman 120: Tony Novak's 34 points led the Crusaders (6-6) to a road win at D.W. Field in Brockton. Jacob Doren added 32 points with Louis Spychalski scoring 30 and Conor Cunningham and Leo Schroeder getting 28 each.
Swampscott 47, Peabody 25: The Big Blue (8-5) picked up a conference win behind Lou Spellios' best round of the season, a one-under par 35. Spellios won his match, 6.5-2.5, while Jason Bouffard (5-4), Will Roddy (6-3), Ben O'Brien (6-3), Dawson DiBarri (5.5-3.5), Connor Correnti (7.5-1.5) and Quinn Fitzpatrick (7-2) also won.
Salem 42, Winthrop 30: The Witches (5-8) earned a sound win behind match play triumphs from Brady Tremblay (6-3), Jack Doyle (5.5-3.5), Riley Finnerty (8.5-0.5), Owen Warner Streff (5.5-3.5) and Jayren Romero (5-4).
Gloucester 42, Danvers 30: Bobby Fish (6-3), Trevor McNeil (5-4) and Brendan Glowik (5-4) all won their matches for the Falcons in the team defeat.
Marblehead 58.5, Saugus 13.5: The Magicians moved to 10-4 on the season with a convincing win at The Meadow in Peabody. Charlie Grenier was the medalist with a 36, while Matt Weed and Chris Cannuscio both shot 37. Jacob Aizanman added a 38 in the win.
Ipswich drops two: Playing in the Olde Cape Ann Classic at Rockport Country Club, the Tigers fell to both Manchester Essex (109-97) and the host Vikings (149-97). Sophomore Charlie Jespen had 22 points to lead Ipswich.
BOYS CROSS COUNTRY
Danvers 25 Marblehead 30: Mekonen Eon set a new course record at Danvers High, finishing the 2.9 mile course in 15:24 to give the Falcons (4-1) a share of the Northeastern Conference crown while knocking the Magicians from the unbeaten ranks. Kevin Rogers (15:39) placed second, Luke Llewellyn (15:45) third, Will Conklin (17:04) was ninth, and Evan Laws (17:06) placed 10th.
The Magicians took spots 4-through-8 led by Will Lamb (16:04) and Isaac Gross (16:19).
Prep wins two: The unbeaten Eagles (5-0) topped BC High by a single point, 27-28, while also topping Catholic Memorial, 22-32, in a double dual at Franklin Park. Race winner Charlie Tuttle, a senior captain, led the way with a 16:03 and some pack running by Felix Rogovin, Jack Stein and Luc Santos helped St. John's secure the win.
GIRLS CROSS COUNTRY
Marblehead 24, Danvers 36: For the Falcons (1-4), Emma Eagan set a new course record on the 2.9 mile DHS course in a first place time of 19:26. Shea Nemeskal (19:49) placed third, while Jordan Ortins had a PR while placing ninth.
VOLLEYBALL
Beverly 3, Saugus 0: The first place Panthers continued to roll in the Northeastern Conference as junior middle blocker Natalie Reynolds had a dozen kills and four aces. Senior captain and libero Carolyn Ploszay added seven saces while senior setter and fellow captain Beatrice Lesser had 21 assists in Beverly's 25-18, 25-7, 25-14 triumph.
Ipswich 3, Pentucket 0: Grace Sorenson had six kills without an error to help the Tigers (11-1) sweep 25-14, 25-9, 25-23. Senior captain Claire O'Flynn had five kills and a solo block, Rachel Alleve had three assists, three kills and five digs, Kendra Brown had 14 assists with six aces and Elizabeth Linkletter served very well while picking up six digs.
COLLEGE FIELD HOCKEY
Plymouth State 2, Salem State 1: Julia Paulino's second goal of the year assisted by Allison Couillard gave Salem State an early lead but the Panthers scored the last two to drop the Vikings to 6-6. Kelli McCarthy was excellent in net with 16 saves.
COLLEGE VOLLEYBALL
Framingham State 3, Salem State 0: Genveive Kempster's seven kills were the high water mark for Salem State (4-14) despite the straight set loss. Kempster also had a team-high 25 digs and Eva Haralabatos had a double-double with 23 assists and 12 digs.
WOMEN'S COLLEGE SOCCER
Endicott 3, Salve Regina 0: Swampscott's Jaymie Caponigro scored her third and fourth goals of the year to help the Gulls improve to 6-3-2. Megan Smith also scored, Hannah Lederman had two assists and Rosalina Caliri recorded the shutout in net.
Salem State 2, Rivier 1 (2 OT): Jasmine Moran scored both Vikings (3-8) goals, including one in double overtime to send her team to victory. Sydney Durkin added an assist on Moran's game-winner.
WOMEN'S COLLEGE TENNIS
Merrimack 7, Endicott 2: The team of Justin Hoover and Fernanda Trevino won a tiebreaker at second doubled and Endicott's other triumph came from Ashley Keaveney in singles play.
Bridgewater State 8, Salem State 1: The team of Anastasia Startseva and Alexandria Floyd started the match with an 8-3 first double win, but the Bears won the rest of the bouts to emerge victorious.
MEN'S COLLEGE SOCCER
Gordon 1, Western New England 1: Chase Gwynn's 13th goal of the year leveled the score in the 60th minute and enabled the Scots (6-4-2) to earn a valuable road point.
Salve Regina 2, Endicott 1 (OT): Joe Mepham leveled the score early in the second half with his seventh goal of the year but Salve got the winner seven minutes into overtime. Endicott (4-6-2) was outshot 10-5 while holding on to force overtime.