SWAMPSCOTT -- It's an axiom that's been true for as long as the football has been made of brown leather: multiple turnovers are bound to come back to haunt a team.
Visiting Danvers lost a fumble on a center/quarterback exchange and had two passes intercepted, all before halftime. 
Host Swampscott was more than happy to take these unexpected gifts and turn them into touchdowns.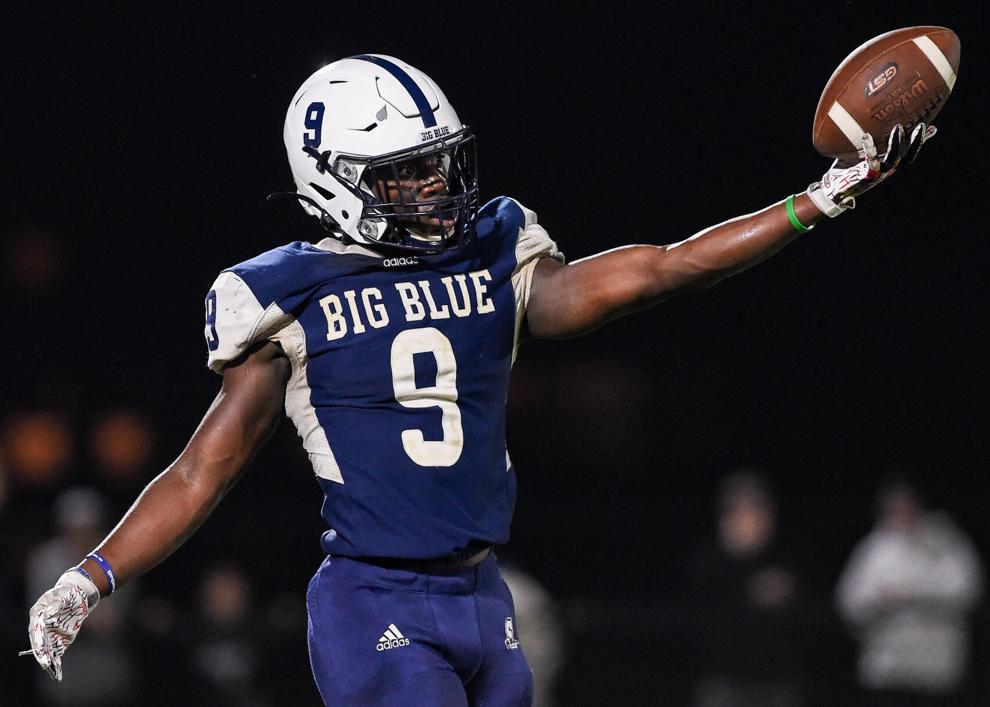 The Big Blue scored four touchdowns in the second quarter to turn a scoreless contest into a runaway victory as they remained undefeated with a 34-7 decision over the Falcons Friday night at Blocksidge Field.
"We won in all three phases of the game, and that's what we look to do every game," said Swampscott head coach Bob Serino, whose team had 258 yards of offense on 19 first half plays. "The defense had a great game plan, our offense had a great game plan, and the special teams worked out ... everyone came to play."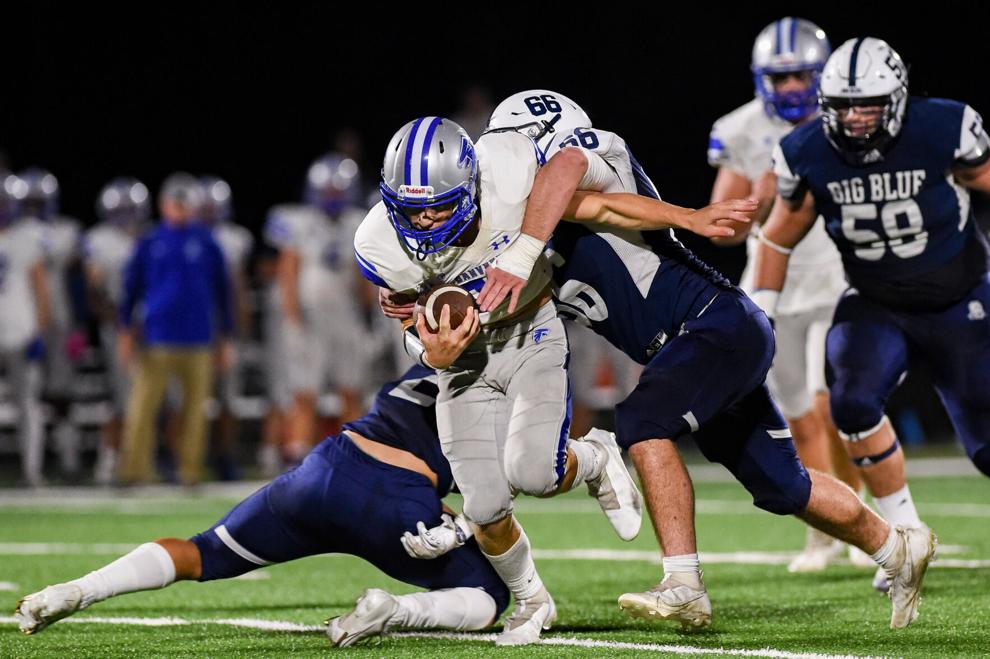 The win, however, came at a price for the Big Blue. Senior quarterback and linebacker Cam O'Brien was ejected from the game after he was called for 'targeting' on the final play of the first half, after he delivered a jarring tackle to Danvers receiver Colin Kelter on a pass play. From the press box the play appeared to be unintentional -- though Kelter did return for a bit in the third quarter before exiting the game again -- but by the rules, O'Brien was kicked out of not only the rest of Friday's contest, but will also next Saturday's Northeastern Conference North tilt at Beverly.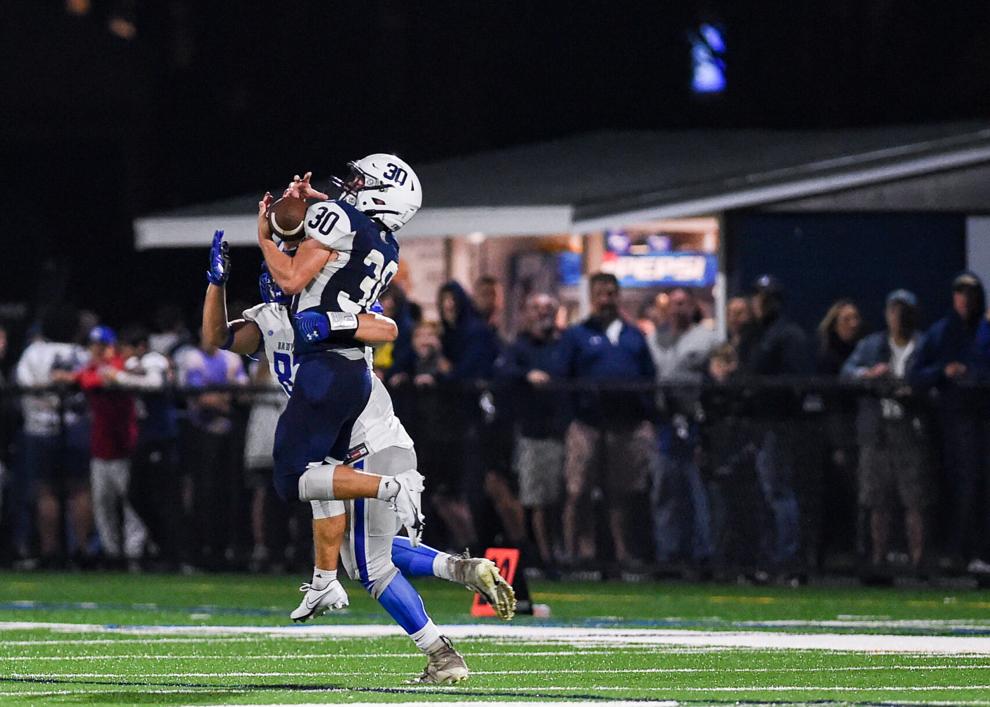 "Five years ago that (call) would've been different, but I don't disagree with it at all with the rules now," said Serino. "If it was back when we played football, it wouldn't have been a penalty. But that's (changed)."
Danvers (3-3), which lost its second straight game, never seemed to get untracked despite finishing with 195 rushing yards. Not only did the turnovers hurt, but their inability to tackle in the open field -- particularly when Swampscott's Elijah Burns turned a slant pass into an 81-yard touchdown scamper against a Cover 3 defense -- really hampered them.
"It seemed like any time we had some momentum going, something bad happened and it just compounded from there," said Falcons head coach Ryan Nolan. "It was basic fundamentals, conditioning and tackling."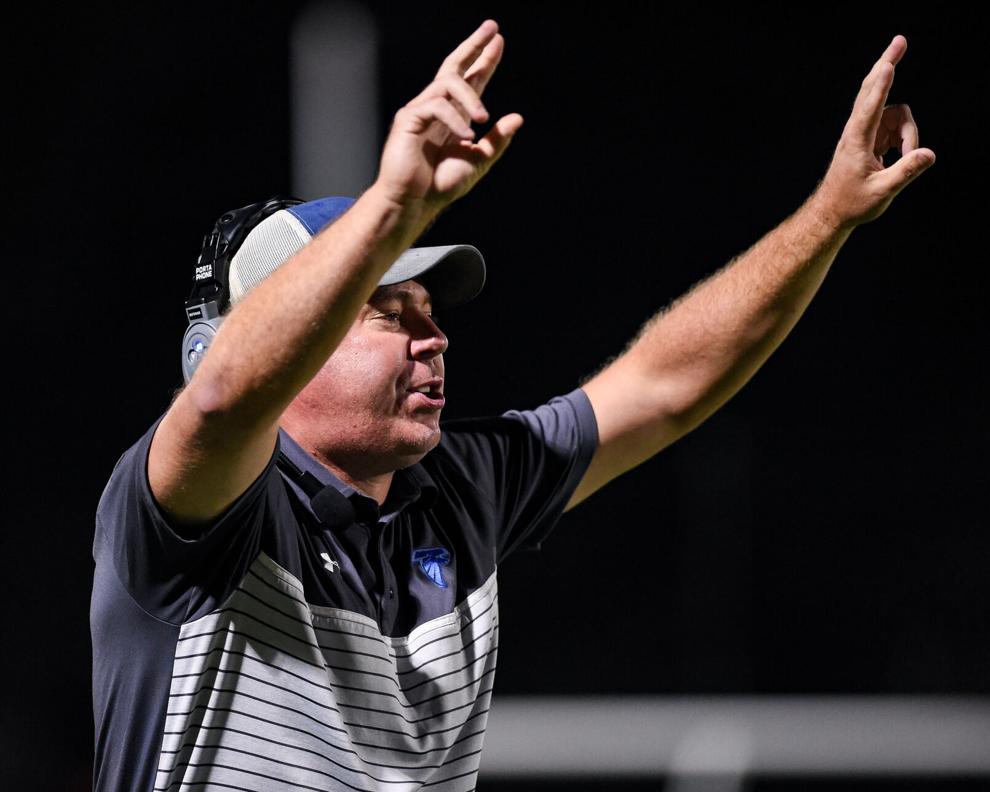 O'Brien completed 7-of-12 passes in just one half of play, not only finding Burns for a touchdown but also throwing an 18-yard laser to Cole Hamernick in the back right corner of the end zone to make it 28-0 at the break. O'Brien also started the scoring with a 2-run run of his own, following a fumble recovery by teammate Nakaree Davis at the Falcons' 19-yard line.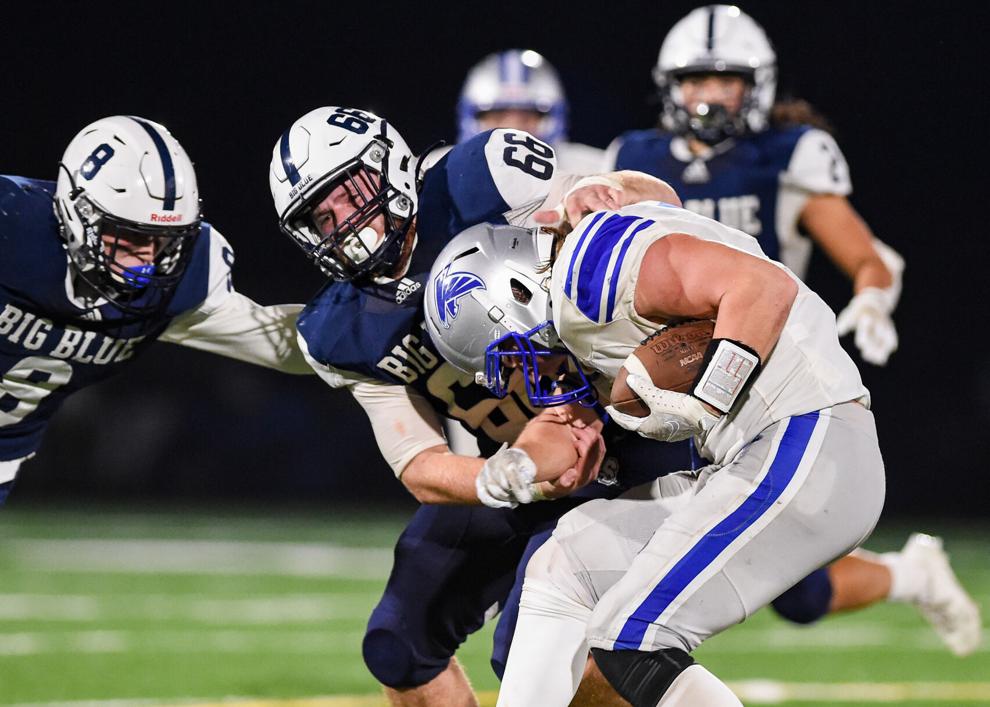 Senior tailback Xaviah Bascon had another big day out of the Big Blue backfield, running for 130 yards and a score on 19 carries. He turned a simple toss left into a scintillating 57-yard score, and like Burns before him took it down the left sidelines in front of the Danvers bench. He also had one of his team's two interceptions (Hamernick had the other).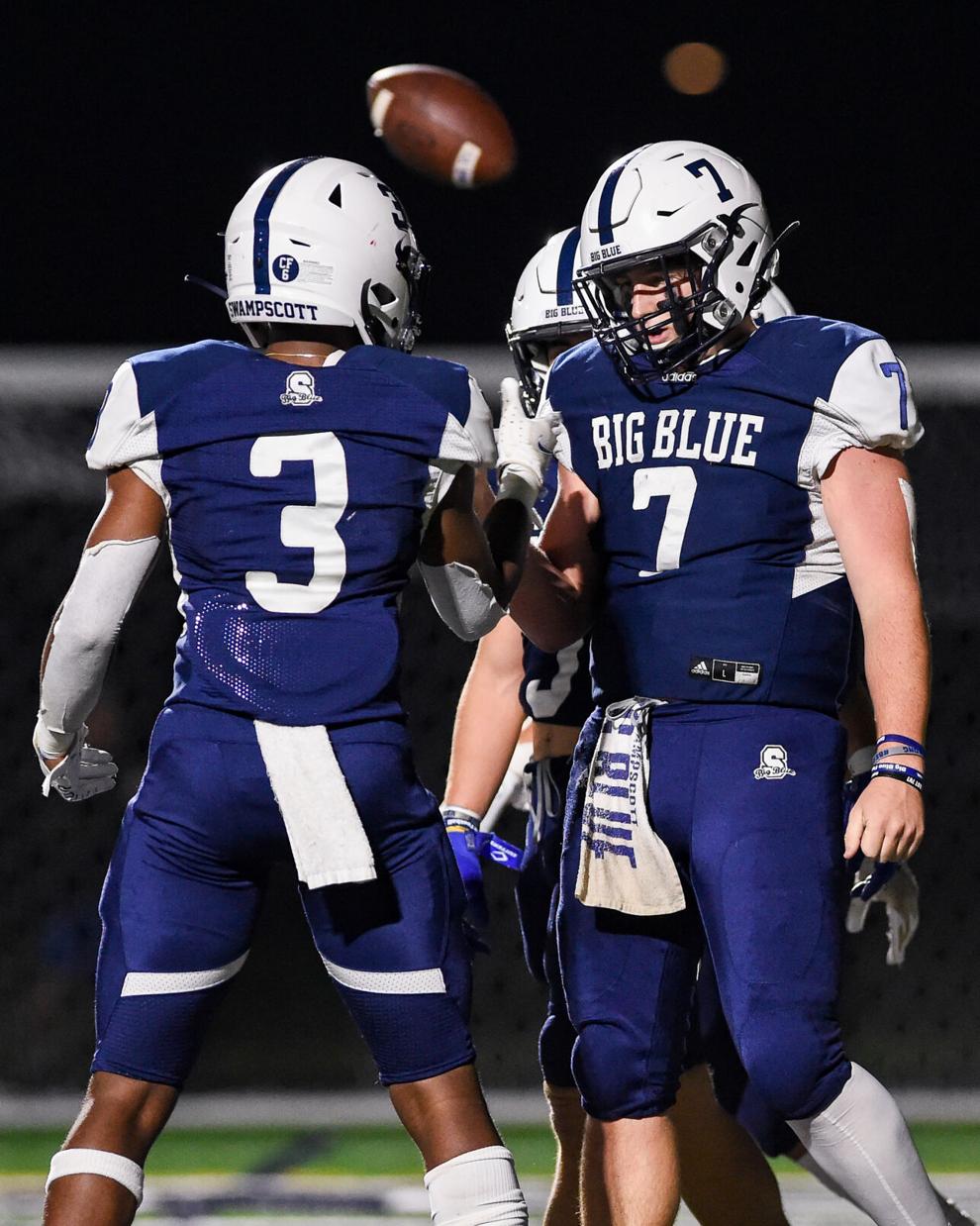 Danvers got on the board on its first series of the third quarter when fullback Steve Reardon (team-high 72 yards on 11 carries) finished off an 82-yard drive by plunging into the end zone from five yards out. But Swampscott got it back before the quarter ended when backup QB Zach Ryan flipped an underhand shuffle pass to Burns, who zig-zagged his way past the Falcons' defense for an 11-yard visit to the end zone.
"He's a beast," Serino said of Burns.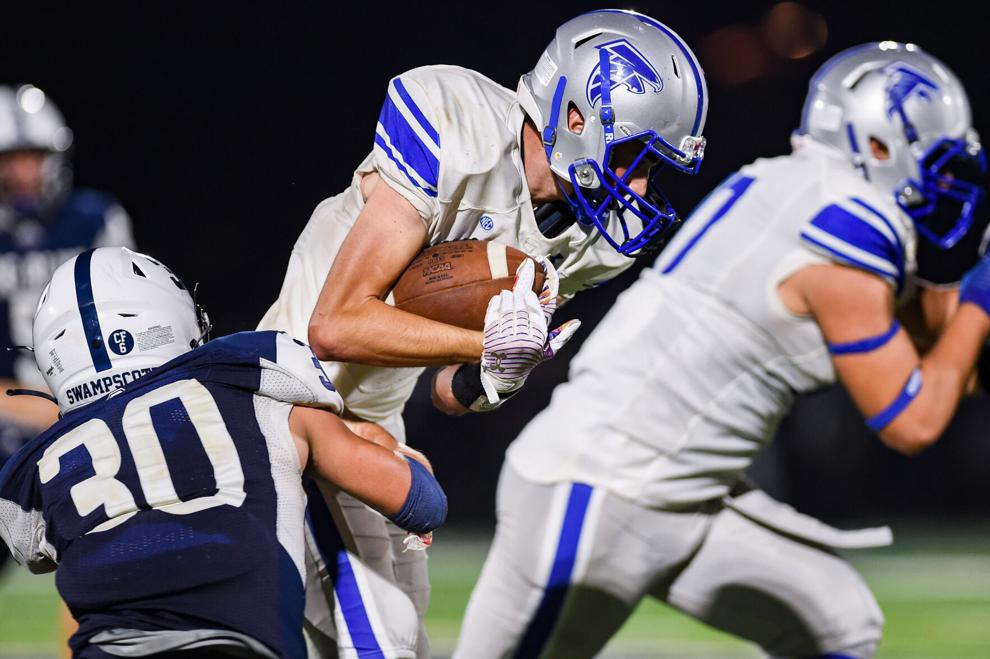 Sophomore Brady Plaza saw his first extended time on offense for Danvers, finishing with 44 yards on nine carries. Sophomore Owen Gasinowski added 47 yards via the ground for the Falcons, who take on 5-1 Masconomet next Friday.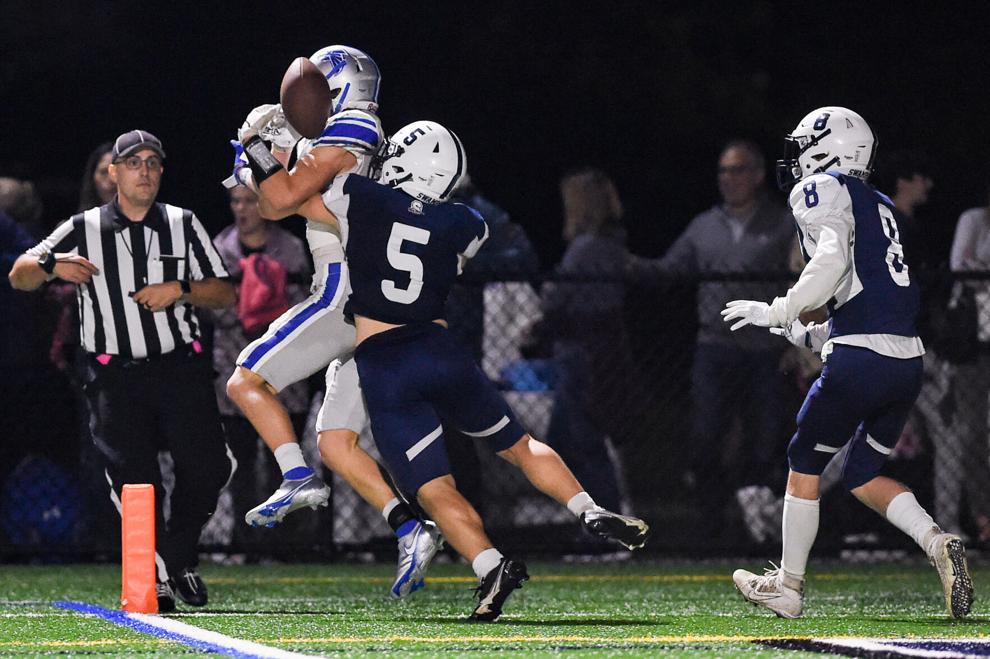 Serino said his squad will get Ryan ready to handle the duties under center next Saturday at Hurd Stadium (1 p.m) against host Beverly.
"We'll figure it out," said the veteran coach "We've got a couple of good running backs and (Ryan) got his feet wet tonight."
---
Swampscott 34, Danvers 7
at Blocksidge Field, Swampscott
Danvers (3-3);0;0;7;0;7
Swampscott (6-0);0;28;6;0;34
Scoring summary
S-Cam O'Brien 2 run (Ayden Wulf kick)
S-Elijah Burns 81 pass from O'Brien (Wulf kick)
S-Xaviah Bascon 57 run (Wulf kick)
S-Cole Hamernick 18 pass from O'Brien (Wulf kick)
D-Steve Reardon 5 run (Aidan Smith kick)
S-Burns 11 pass from Zach Ryan (kick blocked)
Individual Statistics
RUSHING: Danvers — Steve Reardon 11-72, Owen Gasinowski 12-47, Brady Plaza 9-44, Colin Kelter 6-34, Dominic Baez 1-0, Travis Voisine 3-(-2); Swampscott — Xaviah Bascon 19-130, Cam O'Brien 4-29, Elijah Burns 1-6, Zach Ryan 2-(-2).
PASSING: Danvers — Voisine 6-21-78-0-2;  Swampscott — O'Brien 7-12-150-2-0; Ryan 2-3-15-1-0. 
RECEIVING: Danvers — Max Gasinowski 1-38 Reardon 3-28, O. Gasinowski 2-12;  Swampscott — Burns 2-92, Bascon 2-32, Cole Hamernick 3-30, Jason Codispoti 2-11.