Before Marblehead and Swampscott go on to play in their respective Super Bowls next week at Gillette Stadium in Foxborough, the two unbeaten titans and arch rivals have some business to take care of Thanksgiving morning.
For the first time in North Shore history, two local unbeaten squads who will be playing for state championships will first face off on the holiday as the Magicians (10-0) cross town lines to face the Big Blue (11-0) at Blocksidge Field at 10 a.m. 
The winner of this history making clash will win the Northeastern Conference Dunn title. 
This will mark the 118th all-time gridiron battle between the Magicians and Big Blue dating back to their first in 1909, and 112th on Thanksgiving morning (they faced one another twice in 1910, 1911, 1912, 2013 and 2014, as well as this past April during the 'Fall 2' season). Marblehead, which has beaten the Big Blue 10 straight times, leads both the all-time series (59-51-7) and the holiday rivalry (56-49-7).
There have been several instances over the years in which a league title lay in the balance for the winner of a Thanksgiving game. There was also an epic clash of the state's two best teams in 1997, when 10-0 St. John's Prep hosted 10-0 Xaverian, and the winner would capture not only the Catholic Conference crown by also earn its Division 1 Super Bowl berth.
But never have two unbeatens played with a league title on the line and with both guaranteed of playing in a Super Bowl.
Swampscott, which defeated Bishop Fenwick last Friday, 20-6, in the Division 5 semifinals, will meet North Reading in the Division 5 Super Bowl on Wednesday, December 1 at 8 p.m. That means they'll be playing three games in 13 days to close out their season. So will Marblehead, which blasted Westfield Saturday, 40-7, in the Division 3 semifinals and will square off against North Attleboro in the Division 3 title bout on Thursday, December 2 at 3 p.m.
If you are of the mindset that either squad might ease up on the gas pedal Thursday because each has state title aspirations, think again.
"The absolute only thing I'm thinking about now is Marblehead. That's all that matters," said Swampscott head coach Bob Serino following his team's win over Fenwick. Now in his seventh season on the Big Blue sidelines, his teams have never beaten the Magicians and they are hell bent on changing that.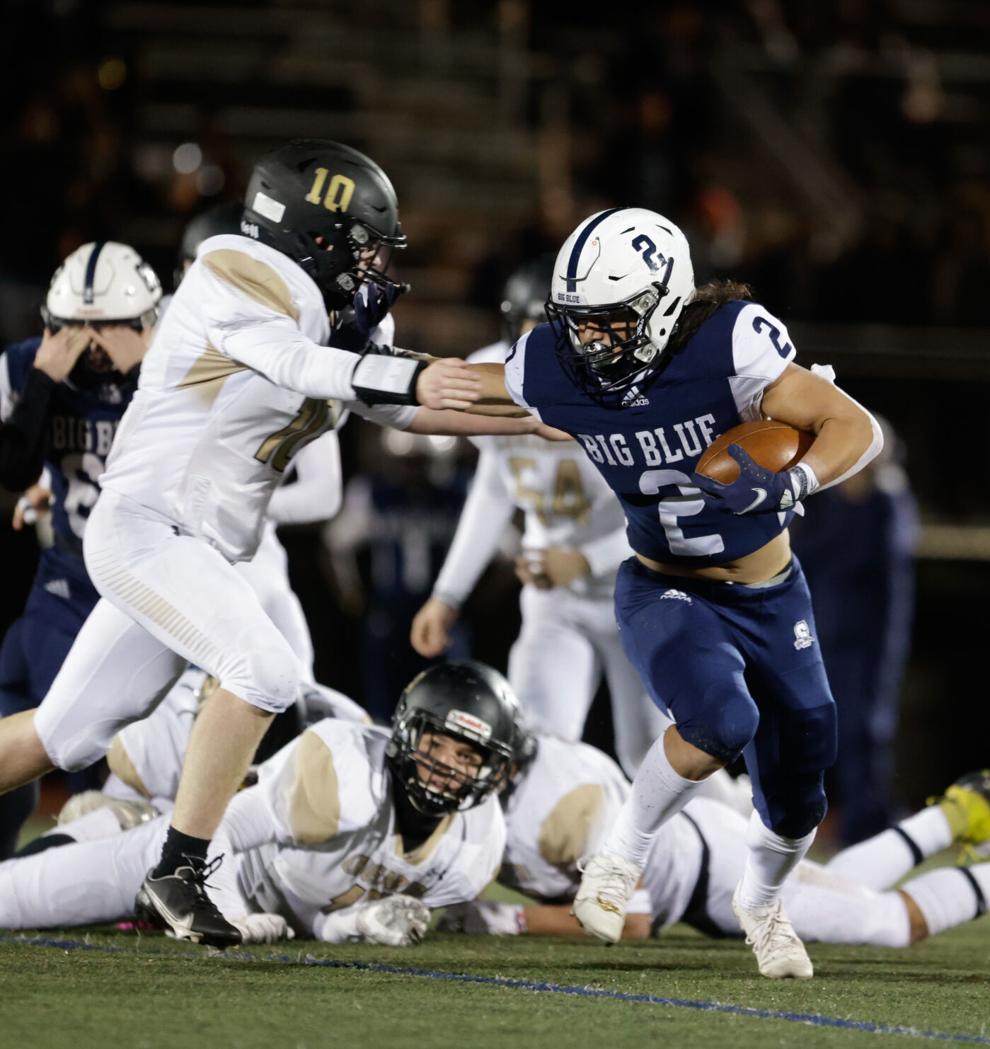 Swampscott has outscored its opponents by more than 225 points this fall (360 PF, 134 PA) and has a hard hitting defense that, Serino says, "plays with anger". The offense is paced by senior tailback Xaviah Bascon, who leads the North Shore in both touchdowns (22) and total points (132) as well as rushing yards (1,332). Quarterback Cam O'Brien has run for 352 yards and eight scores of his own while completing 91-of-150 passes for 1,625 yards, 19 TDs and just three interceptions. Speedy Elijah Burns (32 receptions, 649 yards, 8 TD) has been his most prolific receiver.
"We're not worried about the Super bowl. We're focused on Marblehead right now," said defensive star Dylan Dubiel "We'll worry about everything else later on."
Marblehead has been nearly as prolific scoring-wise (350 points) and even stingier defensively (109 points allowed). En route to the Super Bowl it gave up just seven points in each of their three playoff games while scoring 102.
The Magicians like to spread to the ball around to their wealth of skill players, meaning that no one individual has any eye-popping stats with the exception of senior quarterback Josh Robertson (145-for-204 passing, 2,098 yards and 26 TD with 6 INT, plus 536 rushing yards and 8 more TD).
Head coach Jim Rudloff, whose teams have won 12 of 14 meetings with Swampscott since he was hired in 2009, touched on that after Saturday's win, saying "You look at the area leaders (in The Salem News), and we're not going to have any of them. We have too many players, too many players who need to touch the ball ... as a coach I don't say that in a cocky way; I say that in a blessed way."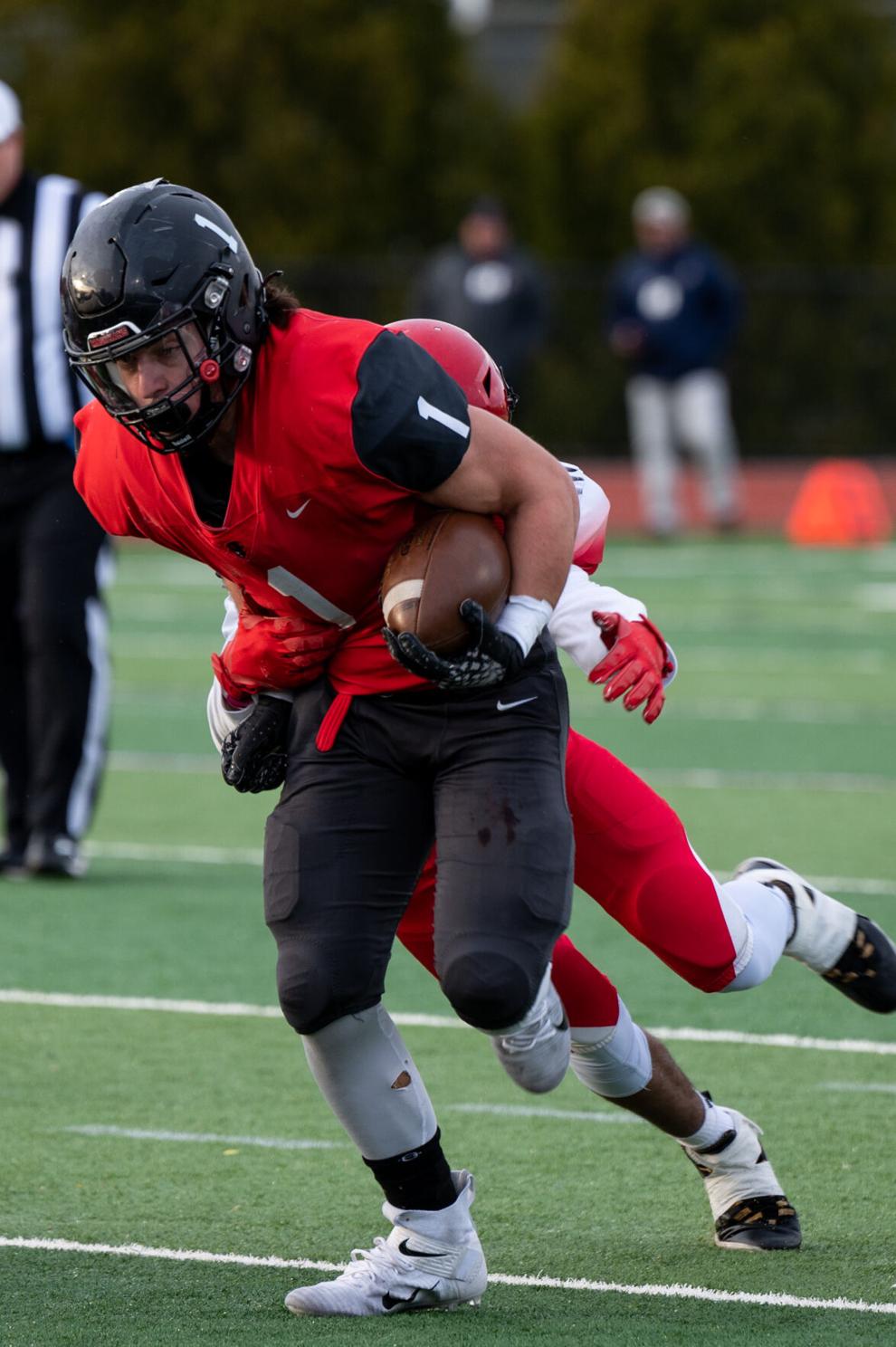 Those players include junior Connor Cronin, who caught three touchdown passes Saturday and has 58 catches for 713 yards and seven scores in addition to 511 rushing yards and a half-dozen more visits to the end zone; senior running back George Percy (90 carries, 515 yards, 5 TDs), senior wideouts James Doody (28 rec, 611 yards, 7 TD) and Craig Michalowski (22 rec., 325 yards, 2 TD), and so forth.
When asked after their victory over Westfield if they were friendly with any of the Swampscott players, several Marblehead standouts said they certainly respected the entire Big Blue team, but as is to be expected between two bordering towns with a 100-plus year rivalry, weren't exactly simpatico with them.
Call it a mutual respect between the lines, one that'll be played out for 48 minutes on the Blocksidge Field turf Saturday morning.