MIDDLETON — The Mount St. Charles hockey team came all the way up from Rhode Island Wednesday night ... only to be caught in a Webb.
Ryan Webb, St. John's Prep's senior winger, scored a pair of early goals and assisted on his team's other two tallies as the Eagles took care of business, shutting down the Mounties, 4-1, at the Essex Sports Center.
Now with 13 points this winter, Webb equalled his season goal total before the game was six minutes old.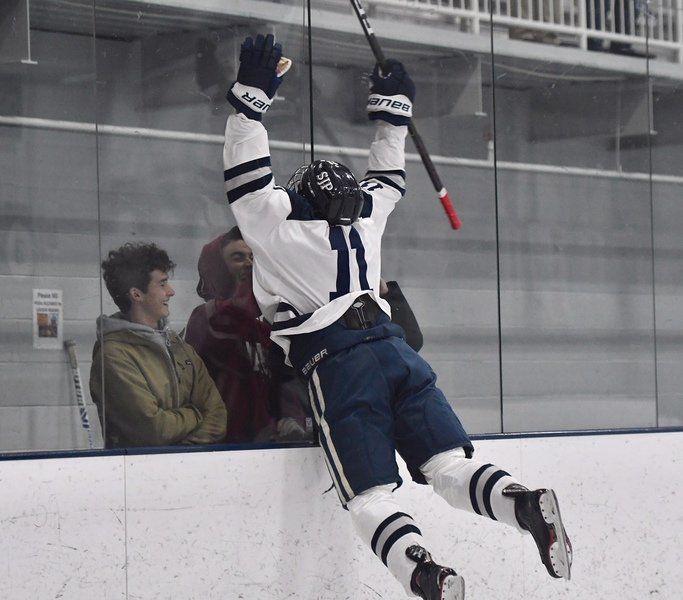 After a strong opening shift in which he put a puck off the post, he knocked in a rebound out front on his next shift to give St. John's the lead less than five minutes in.
On his next time over the boards, the Rockport resident roofed a high backhand over goaltender Sean Trottier for a two-goal advantage.
"We were a bit stationary that first 30 second of the period, but from that point forward we controlled the play," head coach Kristian Hanson said of his Eagles (now 9-4-5).
"Our Red Line (Webb with center Ned Malolepszy and Jake DiNapoli) was really flying, scoring twice on one shift.
We put 15 shots on net that period."
Mont St. Charles (12-7) had won three straight games and nine of its previous 10 coming into the contest.
But they were behind the 8-ball virtually from the get-go as St. John's had one of its best periods of the season over the opening 15 minutes, skating with a purpose and attacking the net shift after shift.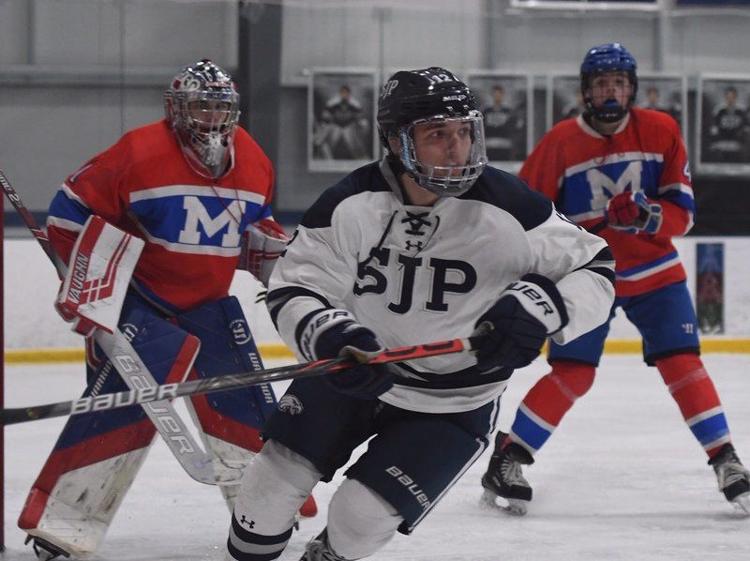 Even after the Mounties' had sliced their deficit to one following a Matt Badeau rebound putback nine minutes in, the Eagles kept flying and got their two-goal lead back when Malolepszy converted a pretty cross-crease feed from Webb at the far post. That made it 3-1 going into the first intermission.
St. John's, which killed off all four penalties it was assessed, delivered a body blow to their Rhode Island visitors when DiNapoli (3 assists) took a pass from Webb and beat Trottier with a wrist shot over his glove hand while the Mounties were on a major power play.
"We've been so strong defensively all year. It's really where we take care of business," said Hanson.
"It felt like half of that period we were shorthanded, including a 5-on-3 they had for a minute and 30 seconds, but we had a great kill and blocked a lot of shots.
"(Senior captain and defenseman) Jack Gilligan did a great job on the PK.
He's a big, strong kid who's not afraid to play the body, has a long stick and gets in lanes.
But he's not alone; we had a handful of guys step up on the PK and do very well, such as (fellow senior D-man) Will Perry."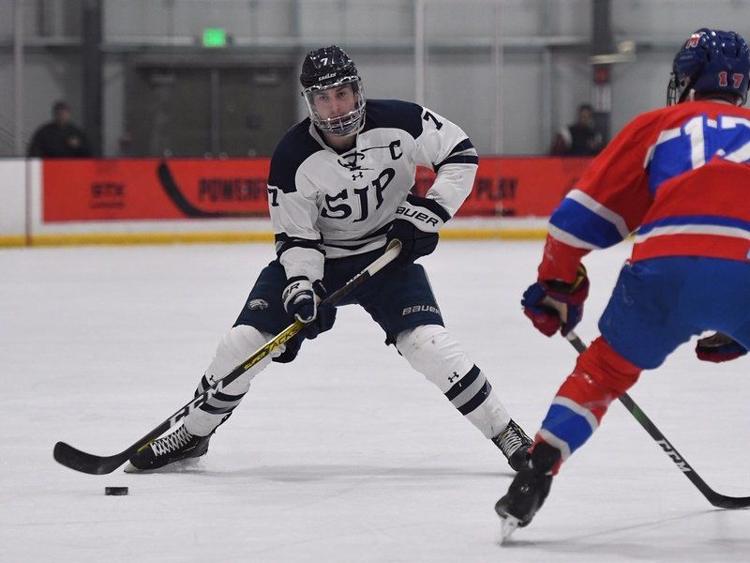 Noah Dorsey-Sorofman took care of business in the Eagles' goal, stopping 19 of 20 shots.
While he wasn't tested often, many of his saves came in bunches after an initial shot and follow-up chances by Mount St. Charles.
The Eagles, shooting for a top six Super 8 bid, close out the regular season with games against Billerica on the road Saturday and its home finale next Wednesday afternoon against Needham.
St. John's Prep 4, Mount St. Charles 1
at Essex Sports Center
Mount St. Charles 1 0 0 — 1
St. John's Prep 3 1 0 — 4
First period: SJP, Ryan Webb (Ned Malolepszy, Jake DiNapoli), 4:56; SJP, Webb (Nick Townshend, DiNapoli), 5:44; MSC, Matt Badeau (Miciah Bascombe), 9:02; SJP, Malolepszy (DiNapoli, Webb), 11:43.
Second period: SJP, DiNapoli (Webb), shg, 7:36.
Third period: No scoring.
Saves: MSC, Sean Trottier 30; SJP, Noah Dorsey-Sorofman 19.
Records: SJP, 9-4-5; MSC, 12-7-0.