BOYS CROSS COUNTRY
Ipswich 27, Hamilton-Wenham 28: Sophomore Will Harrington sealed the CAL title for the Tigers (4-0) by coming across just ahead of an H-W runner to seal the narrow meet win. Finn Russell clocked 19:01 in second for Ipswich, Keith Townsend was fourth and captain Paul Wertz fifth. Fellow captain Dan Buletza also ran a strong race.
For the Generals, senior captain Eli Labelle won the race in 18:55 with captain Cooper Blatz third, Clark Glidden sixth and captain Matt Gillis eighth.
Essex Tech 23, Shawsheen 32: Race winner Nathan Hammerschmitt clocked a 19:55 to help the Hawks prevail. Dennis Downing finished third in 20:20 followed by Ryan MacDonald in fifth (20:26), Hadden Amico in sixth (20:36) and Ben Titus in eighth (21:10).
Peabody 22, Beverly 33: Logan Tracia was first across the line to help the Tanners (4-1) remain in a three-way tie atop the NEC with one dual meet to go. Ryan Faletra came in third with Dylan Faletra in fourth, Josh Trelegan in sixth and Gabe Gitonga in seventh.
Liam Ouellette was second in 16:10 for the Panthers (3-3) while David DiPietro clocked 17:41, T.J. Bette ran 18:11 and Ryan Whiting clocked 18:12.
GIRLS CROSS COUNTRY
Hamilton-Wenham 20, Ipswich 35: Senior captain Ava Cote cruised to a 21:07 win to help the Generals (4-0) secure their 17th straight Cape Ann League title. Fellow captain Alexis Donovan came in third, Charlotte Madden was fourth, Mira Flemming was fifth and senior captain Sadie Condon finished seventh.
Junior Amelia Stacy was the top finisher for Ipswich in second (22:34) while seniors Amelia Cormier and Chloe Doonan ran well.
Essex Tech 19, Shawsheen 44: Emily Ernst won the race in 22:38 with Makayla Vigneaux in third in 22:58 to lead the Hawks. Cyndi Encarnacion was fourth in 24:21, Sophia Visconti came in fifth in 24:32 and Ella Manninen was sixth in 24:42.
Beverly 20, Peabody 40: The Panthers used their superior depth to improve to 6-0 with Mia Kasperowicz leading a pack that finished 2nd-through-7th. Emily Young, Olivia Young, Hannah McCarthy, Allison Prasse and Mary Hauck also ran well. For Peabody, Sarah DiVasta won the race in 19:37 with Ava Buckley and Leah O'Neill rounding out the top nine.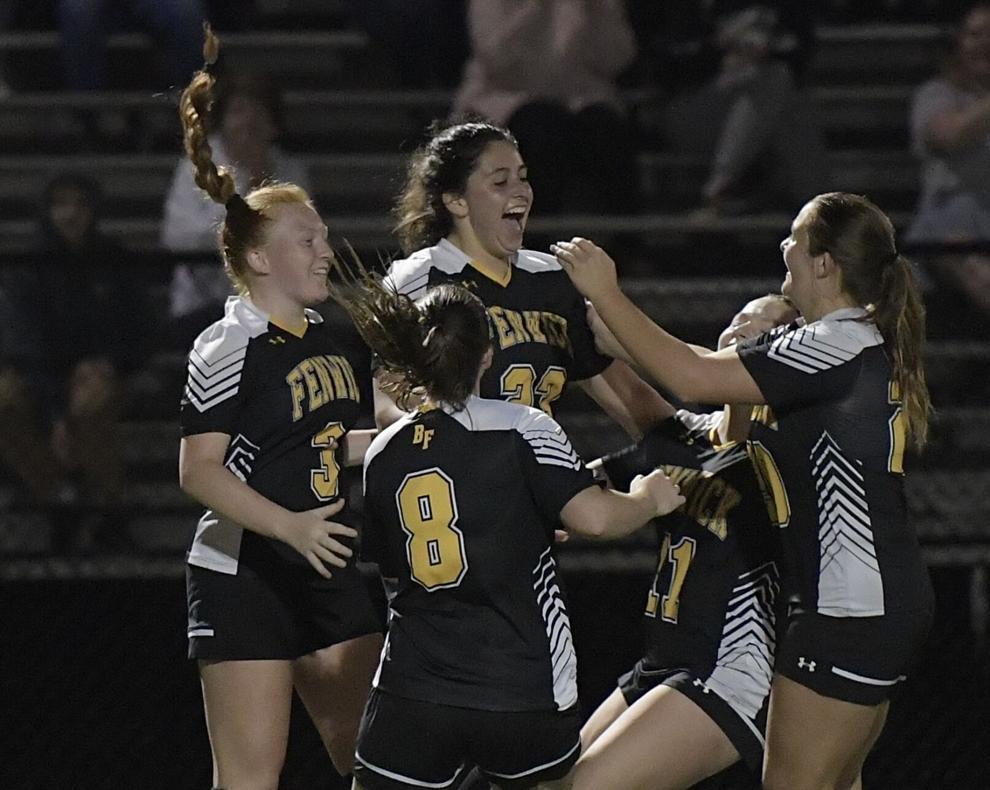 FIELD HOCKEY
Masconomet 3, Beverly 0: The Chieftains ran their record to 12-0-1 as Maggie Sturgis scored her 29th and 30th goals of the season and picked up an assist. Kenzie Carey also scored, with captain Lily Conway earning an assist and Ainsley Gruener (1 save) snaring her ninth shutout.
Danvers 6, Peabody 1: Six different scorers found the back of the net for the Falcons (10-2-1), with Malana Moy, Sadie Papamechail, Abby Sher, Shea DiGilio, Ashley Clark and Lauren Auciello all cashing in. Megan McGinnity turned in a 5-save effort, and Grace Brinkley and Bobby Serino picked up assists in the win.
Pingree 3, Phillips Exeter 2: Allie Small, Annie Smith and Grace Mullaney all had goals while netminder Sadie Canelli stopped nine shots as the Highlanders (6-1-1) picked up a strong road win. Nina Husak had a pair of assists for Pingree while Caroline Lemos earned one helper.
Hamilton-Wenham 0, Amesbury 0: Maeve Clark earned her third shutout of the season with her stellar play in net to give the Generals (2-8-1) a well-earned point. Brynn McKechnie an Sophie Zerilli were standouts in the field for H-W as well.
Swampscott 4, Saugus 1: Brooke Waters had a goal and two assists, Isabella Modica had a goal and an assist and Sydney Marshall also had a goal and an assist in the Big Blue (8-4-2) win. Olivia Baran added a goal while Lucy Brown had an assist.
Gloucester 2, Marblehead 1: Grace MacLean's goal, coming off a pass from Jane O'Neil, was the only marker for the Magicians (5-5-1). LIllie Salisbury and Mia Carr both played well in the setback.
GOLF
Ipswich 94, Hamilton-Wenham 88: The Tigers(7-8) captured their final match of the season as sophomore Charlie Jespen had 25 points at Myopia Hunt Club to pace his squad.
For Hamilton-Wenham (now 7-5), Morgan Glovsky had 23 points, Cooper Miller 20 and Peter Gourdeau 14.
St. John's Prep 231, Xaverian 245: The Eagles wrapped up the regular season with a sound win thanks to a 36 from Alex Landry, a 37 from Nick DeVito and a 38 from Emmet Phelan. Ian Rourke and Terry Manning added 39s while Brendan O'Holleran rounded out the scoring with a 42.
Salem 56.5, Revere 15.5: Brady Tremblay shot a 38 to earn medalist honors for Salem (7-8), which won seven of its eight individual matches. Those other winners included Jon Wasserman, Jack Doyle, Diego Acuna, Owen Warner Streff, Jayren Romero and Harry Devoe.
Essex Tech 165, Lowell Catholic 142: Luke Thibodeau exploded for 33 points while Alex Kesterson had 30 to help the Hawks to victory.
Masconomet 36.5, Marblehead 35.5: The Chieftains (8-4) wrapped up the regular season with a down-to-the-wire win. Tyler Feldberg carded a 37 and won his match, Tommy Sacco shot a 38 and won his match, and Anthony Cerbone also came out on top. Max DeMayo earned a draw as well.
For Marblehead (10-5), four players broke 40: Matt Weed (35), Charlie Grenier (36), Christopher Locke (39) and Jacob Aizanman (39). Weed, Grenier and Aizanman all won their matches, as did Jack Sontz.
Beverly 61, Saugus 11: The Panthers moved to 13-0 thanks to a 35 from Ian Paddock, a 38 from Cam Cook, a 38 from Dylan Hunter and 39s from Jack Ryan, Will Ryan and Jake Pierce.
Danvers 45.5, Peabody 26.5: Bobby Fish (5-4), John Curran (6.5-2.5), Jack Murphy (5.5-3.5), Brendan Glowik (5.5-3.5), Connor Horn (5.5-3.5), Bryson Clark (7-2) and Connor Harvey all won their matches for Danvers in the victory.
BOYS SOCCER
Masconomet 3, Peabody 0: Brennan Johnston, Sam Brockelman and Ara Scarpaci had the goals for the unbeaten Chieftains (13-0), with Jason Karas picking up an assist. Kevin Pelletier was terrific in net, as were Ross O'Brien, Eion O'Brien and Zack Peterson in the back and Nate Collins up top.
For Peabody, which played much better in the second half after allowing the three goals in the first half, Nick Soper, Cam Collins and Ryan Alves all played well, while keeper Paul Drilon was solid in net.
Essex Tech 5, Minuteman 1: Mateus Lima scored two goals while Peter Tsoutsouras, Josh Berube and Matheus Medina each scored once to power the Hawks (12-0-1). Austin Medico, Pat Todisco, Kyle Heckman and Jhosel St. Pierre each added assists in the win.
Danvers 0, Swampscott 0: The two Northeastern Conference rivals battled to a scoreless draw on Wednesday evening.
GIRLS SOCCER
Marblehead 6, Gloucester 0: Senior captain Annika Haley had a hat trick to help the Magicians improve to 9-2-1. Catherine Comstock earned her seventh shutout of the year with goals coming from Cait Mullin, Lily Gerson and Stella Monaco. Sophomore Samantha Dormer also had two assists.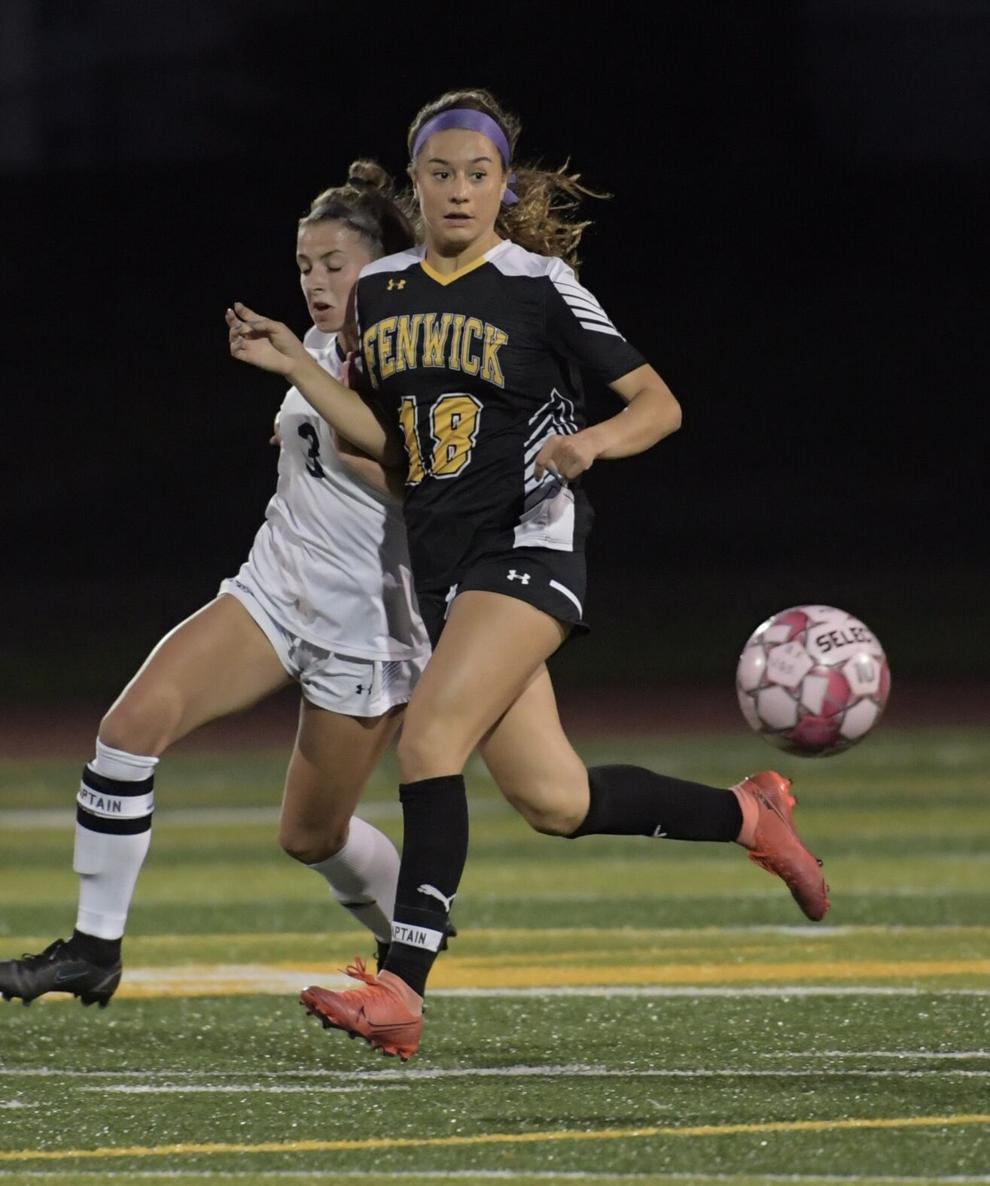 Bishop Fenwick 3, Arlington Catholic 0: The unbeaten Crusaders (6-0-4) celebrated Senior Night with goals by Molly Jenkins, Ella Morgan and McKenna Gilligan. Ally Mitchell had an assist, Bella DelVecchio, Amy Hatfield and Kate Dunne played very well and senior Claudia Keith earned her ninth shutout in ten games.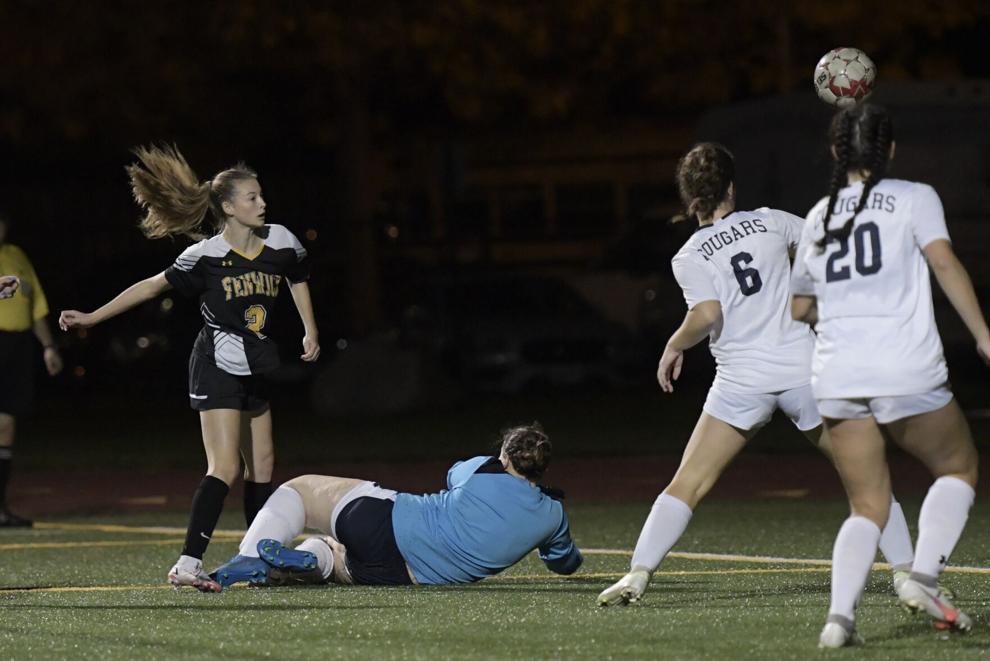 Saugus 4, Salem 0: Defenders Isabella Cunha and Samantha Agno had strong games for the Witches, as did forward Lilana Marfongelli.
Phillips Exeter 3, Pingree 0: The Highlanders dipped to 6-2-1 against a strong opponent. Maggie Warner, Avery DePiero and Cat Watrous had strong performances for Pingree.
VOLLEYBALL
Beverly 3, Salem 0: The Panthers (9-3) won their fifth straight match as junior outside hitter Mya Perron had 11 kills and seven aes while fellow junior Natalie Reynolds, a middle blocker, had four kills in her team's 25-19, 25-8, 25-11 triumph.
Peabody 3, Masconomet 0: Allison Flewelling and Sarah Broughton each had six digs to help the Tanners (10-3) punch their ticket to the D1 playoffs. Kristina Cardello had 19 digs, Abby Bettencourt handed out 20 assists with five aces, Isabel Bettencourt had eight kills with three aces and Lauryn Mandoca picked up three kills with two blocks.
Marblehead 3, Danvers 0: Keira Sweetnam had 11 kills and setter Julia Potvin was phenomenal with 31 assists as the Magicians (9-3) swept 25-23, 25-25, 25-20. Lilah Thompson added eight kills and recorded six solo blocks.
WOMEN'S COLLEGE TENNIS
Endicott 8, Curry 1: Kaitlin Fitzgibbons won in singles and doubles action (with Shelby Henry) to lead the Gulls. Angelina Ciardi, Ana Mar Molina, Brittany Dupuis and Isabella Miani also won at singles.
Roger Williams 7, Gordon 2: The Scots dipped to 4-3 on the season.
WOMEN'S COLLEGE SOCCER
Western New England 3, Gordon 2: Kendra Wentling got Gordon within a goal with ten minutes to play but the tying marker never came. Shelby Jones also scored but Gordon fell to 9-3 overall.
MEN'S COLLEGE SOCCER
Salem State 3, New England College 2: Kendy Prince scored twice and added an assist while Aaron O'Toole had a goal and an assist to help the Vikings improve to 8-5 on the season. Keepers Leith Khan and Adal Barragan each made six saves in net.
COLLEGE VOLLEYBALL
Gordon 3, Curry 0: Valerie Nilan had 14 kills and two blocks in the sweet as Gordon (10-7) hit double digits in wins. Annie Murphy added 10 kills with three blocks and Kate Howe handed out 33 assists.
Endicott 3, University of New England 1: The Gulls (13-7) picked up a 25-6, 26-13, 20-25, 25-19 triumph behind 10 kills and nine digs from Amanda Gilbert. Lauren McGrath added a team-best 19 assists and 10 digs, while Emma Ruel had 12 digs.