GIRLS BASKETBALL
Peabody 58, Marblehead 52 (OT): Lauryn Mendonca scored three of her 13 points in overtime as the Tanners rallied to finish their season at 9-3. Mendonca had nine rebounds and four assists to lead Peabody, which saw nearly every player score, while Amber Kiricoples had a phenomenal defensive game with 20 rebounds. Junior Emma Bloom added 11 points along with four assists and six boards.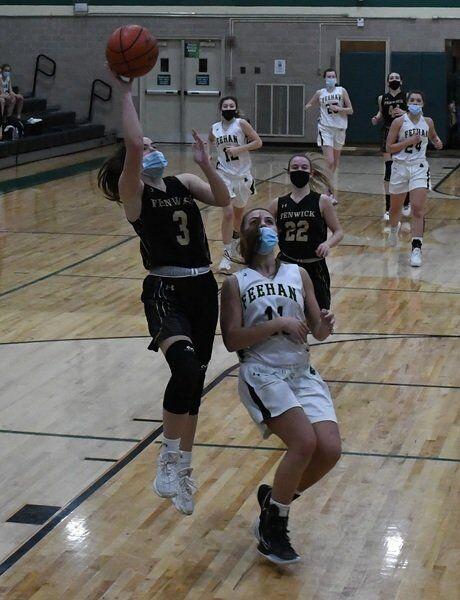 Bishop Fenwick 57, Bishop Feehan 47: Junior Nasha Arnold had a big night with 21 points and nine rebounds to lead the No. 3 seed Crusaders into the finals of the CCL Cup tournament. Junior Olivia Found added 17 points with seven assists and seven steals, and the Crusaders (11-4) played great team defense down the stretch to hold off No. 2 Feehan.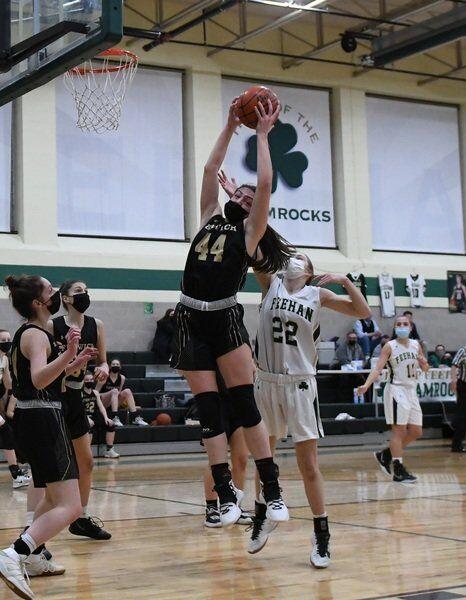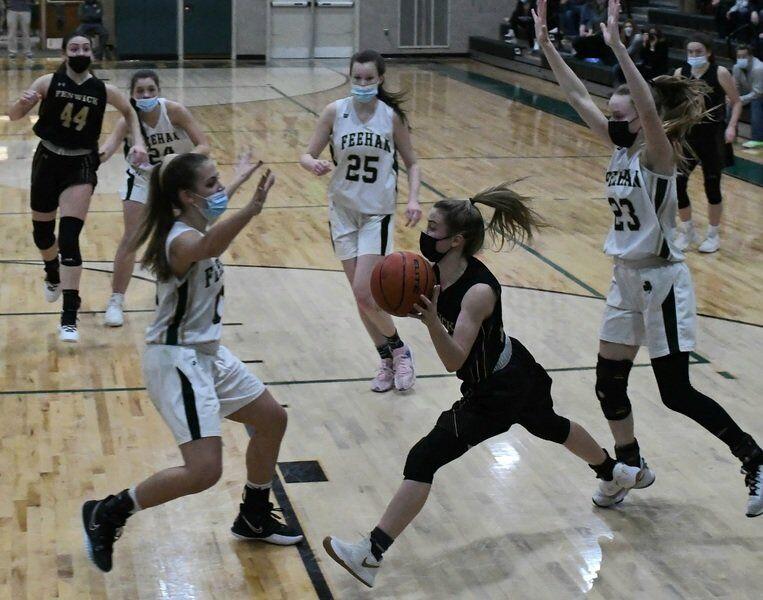 Amesbury 59, Hamilton-Wenham 32: In the opening round of the CAL vs. Cancer Baker playoffs, the Generals (3-9) hung tough until the late stages of the third quarter against the top seeded Indians. Hamilton-Wenham seniors Sarah Cooke, Charlene Fibbe and Olivia Baker all played well and Tess Whalen, Jane Maguire and Nora Gamber added six points each.
BOYS BASKETBALL
Salem 78, Gloucester 72 (2 OT): The Witches (12-2) were playing from behind for the majority of the contest, but a huge three late in action by Guillermo Pimentel helped them force overtime. The two teams remained even after one overtime period, before Salem pulled away down the stretch of overtime No. 2 to secure the win. Pimentel had an all-around great game, coming up clutch in crunch time and finishing with 15 points, seven rebounds, eight assists and four steals. Jorge Guerrero was also huge, scoring a team-high 24 points with 15 rebounds and two blocks, while Bobby Jellison canned six 3-balls en route to 20 points to go with six rebounds and three assists. Jack Doyle had a terrific first half, scoring all 11 of his points before halftime to help keep his team in it. 
Hamilton-Wenham 50, Amesbury 42: The Generals trailed after each of the first three quarters but were able to rally down the stretch to secure the win. Carter Coffey finished with 13 points and 16 boards, Ryan Hutchinson had 18 points and Ryan Monahan had 14 points with 15 rebounds. Hamilton-Wenham moves on to face Ipswich in the CAL Baker tourney title game on Friday (6 p.m.).  
GIRLS HOCKEY
Beverly 2, Winthrop 1: Senior captain Emma Knott's shorthanded goal assisted by fellow captain Cayla Greenleaf with 3:01 on the clock lifted the Panthers (3-8-2) to their biggest win of the season. Knott scored both goals for Beverly with Madison Delano having a big game in net and defensemen Abby Sullivan, Kaylee Rich and Sadie Papamechail also shining.
Peabody 2, Medford 0: Lily Piscatelli netted the game-winner and Audrey Buckley posted her second career shutout as Peabody (11-1) extended its program all-time best win streak to nine. Jenna DiNapoli added a goal and an assist and Paige Thibedeau and Ella Chase had the other helpers.
Marblehead 7, Masconomet 2: The Lady Headers (4-3-2) erupted for seven goals, nearly equaling their season total to this point, behind two goals and an assist from sophomore Hannah Tsouvalas and two scores from eighth grader Elsa Wood. Eighth grader Abigail Amigo had a goal with two helpers and Riley Campbell and Hadley Wales scored as well. Freshman Lily Francoeur extended her unbeaten streak to four in another solid effort.
Masconomet (2-11-1) got goals from Maddie Kenney and Sage Smith and defenseman Bella Flinn assisting on both tallies.
BOYS HOCKEY
Marblehead 3, Danvers 2: First period tallies from Connor Jalbert, captain Charlie Titus and Eli Feingold, all coming within a span of 2 minutes 15 seconds, was enough to push the Headers (8-2-1) to victory. Aidan Ryan had a pair of assists for the winners, who got solo helpers from Will Shull, Chris Locke and Jalbert. Nate Samuels picked up the 'W' in net, stopping 25 shots.
Danvers (now 3-7) got a goal from Trevor McNeill, assisted by Christian Harvey and Brady Plaza, midway through the third period, then added a 6-on-4 power play goal with their own netminder pulled in the final minute of play from Connor Horn (with captains Michael Papamechail and Brian Taylor assisting). Adam Bridgeo finished with 26 saves in net.
Saugus 4, Swampscott 0: The Big Blue (0-11-1) put 24 shots on the Saugus net, but couldn't get one into the twine. Senior goaltender Ian Roddie turned aside 18 shots.
SWIMMING
Beverly 82, Salem 69: Raegan Redmond, Hannah McCarthy and Ryan McFadden were all double winners as the Panthers prevailed in the pool. Redmond was tops in the 100 butterfly and 100 breaststroke; McCarthy won the 100 freestyle and 100 backstroke; and McFadden hit the wall first in both the 200 and 500 free. Other winners for the Orange-and-Black included Andriy Kurt in the 200 IM, Zach DaSilva-Grondin in the 50 free, and Meredith Luther in the 1 meter diving. In addition, McCarthy, Krut, Redmond and DaSilva-Gronding won the 200 medley relay; McFadden, Sierra Sadoski, Callie Marticio and Eli Younger captured the 200 free relay; and DaSilva-Grondin, McFadden, Younger and Krut swam to a first place in the 400 free relay. 
GYMNASTICS
Hamilton-Wenham 132.9, Essex Tech 131.75: The Hawks got strong performances from sophomore Mia Finn (8.8) and junior Jillian Mumley (8.7) on vault, as well as juniors Alyssa (8.6) and Brooke (8.2) Billert on bars. In addition, senior captain Taylor Howard scored an 8.5 on beam and 8.35 on floor.