SOUTH HAMILTON — Pingree School head football coach Mike Flynn says that his sophomore quarterback, Hudson Weidman, is one of the best football players on the North Shore.
The slick passing, smooth running 10th grader from Boxford did nothing to dispel that theory Saturday evening against Tilton Academy.
Showing poise, accuracy and toughness, Weidman ran for a game-high 127 yards and two touchdowns while throwing for another 167 yards and two more scores as Pingree took down the visiting Rams, 28-6, in a battle of early season prep school unbeatens.
On a skill-based team that relies on its 16-man sophomore class as a large part of its overall talent, Pingree (now 3-0) overcame a pair of fumbles to scored twice in the first quarter and once more before halftime to take a comfortable lead, one they were never in serious jeopardy of losing.
Using a half-dozen or more RPO's (run pass options), Weidman is one of the team's key cogs offensively. Having transferred to Pingree following his freshman year at Masconomet Regional, the young quarterback's athleticism was on display all evening.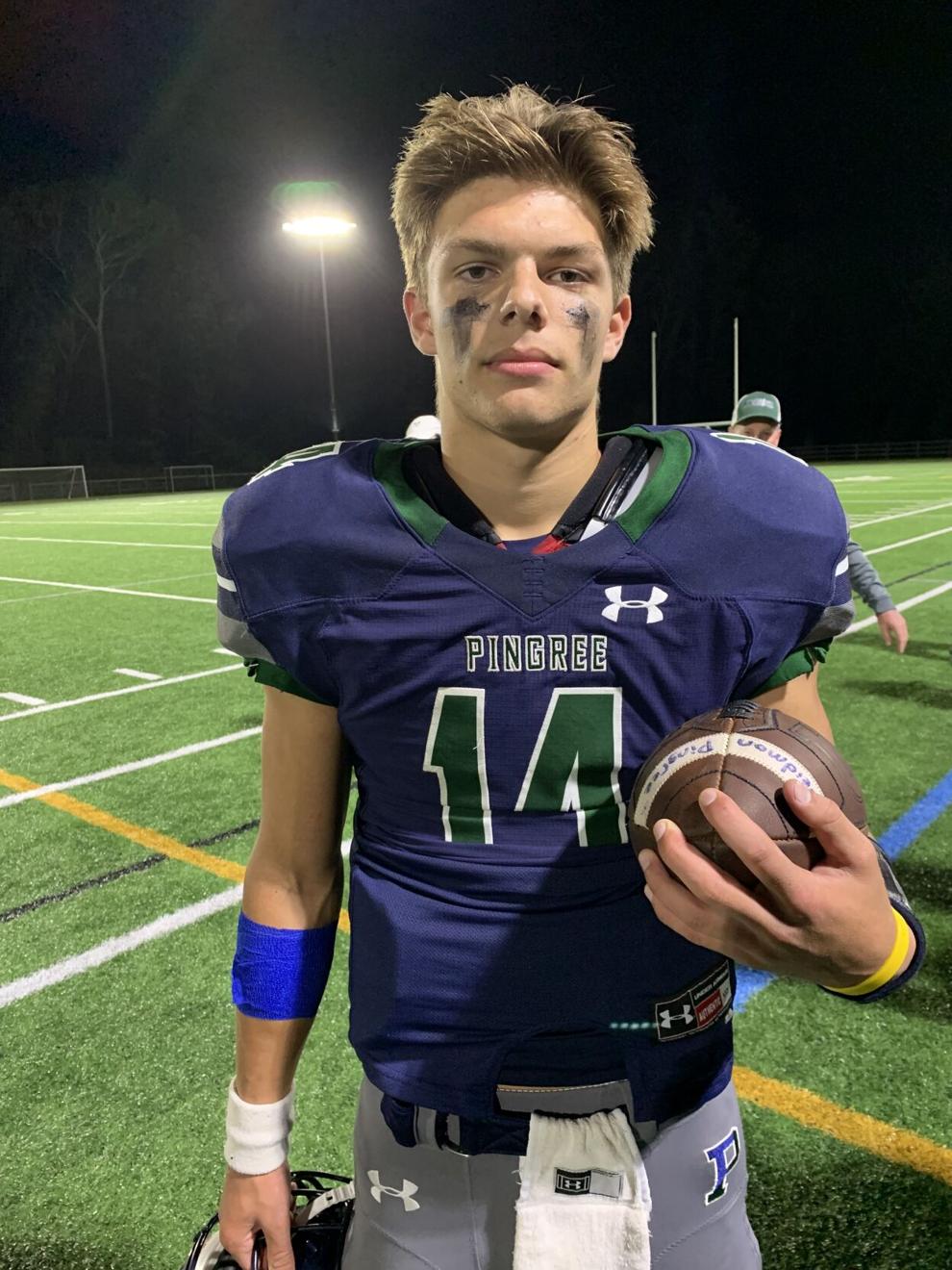 "I like the RPOs we have, because my legs are one of the best parts of my game," said Weidman, the son of former Lynnfield High football coach Neal Weidman. "We've got a lot of great athletes here who can make plays."
"He's even better than advertised," Flynn said of his signal caller. "Hudson's something else when it comes to intelligence and football IQ. Plus, he's a hell of an athlete. He knows how to make things happen."
Perhaps the best example came after Tilton's only score — a 1-yard run from 225-pound halfback Jackson Paradis (57 yards on 16 carries) following a red zone turnover by the Highlanders that made it 14-6 in the second quarter.
Wanting to atone for his own fumble on the previous series, Weidman came up to the line, read the Rams' defense and went to a read run play. He faked a dive up the middle to his halfback and instead tucked it and sprinted out to the right side, catching the edge and flying down the sidelines from 60 yards out for his second rushing score of the contest. Just like that, he turned an 8-point lead into a 15-point edge just before halftime.
"Quinn (Glencross, the team's 255-pound center) made a great back block and Chris (Colby, a sophomore wideout) had another great block along the edge to seal it off," said Weidman. "The whole sideline was wide open for me to run down."
Earlier, Weidman — who transferred to Pingree following his freshman year at Masconomet — had capped off his team's first scoring drive with a 9-yard scamper (again around right end) less than five minutes into the contest.
Facing a Tilton team down five players and with only 10 reserves, the Highlanders took an early lead and never relinquished it. Pingree never put the Rams away ("we left some points on the board, certainly," admitted Flynn), they were never in real danger of losing their advantage at any time.
Defensively, the Highlanders harassed UMass Amherst bound quarterback Chase Brewster into a 6-for-17 afternoon for only 58 yards, no touchdowns and two interceptions (by Jack Feeks and Mekhi Taylor). Cam Dick came off the edge to make a number of big stops and sniffed out a few plays before they got untracked; the same was true of uber-talented sophomore defensive end Jayden DelTorchio (sack, 3 tackles for loss) of Gloucester.
Feeks, a star on the lacrosse field, also showed off his gridiron wares when Pingree had the football. The senior doubled his team's lead in the first quarter when, on 4th-and-2 from his own 42-yard line, he caught a slant pass from Weidman and scampered all the way to the end zone for a 58-yard score.
Weidman's favorite target was Colby, whom he found seven times for 90 yards, including a 10-yard fade pass to the back corner of the end zone. Colby also booted all four of his team's extra points.
Flynn, whose team will face a pair of spread offenses the next two weeks against Wilbraham & Monson on the road and at home against Worcester Academy, was pleased with how his squad responded Saturday when faced with some hardship early on.
"We're a young team that missed all of last season and have nothing to hang our hats on in terms of dealing with adversity," he said. "So when we fumbled on our second play against a good team (Saturday), I turned to my assistant coaches and said, 'How are we going to respond?' Thankfully, they handled it well against a big, strong team. I'm proud of the way they responded."
Contact Phil Stacey
@PhilStacey_SN