It started out as a class project, but turned into something much larger than he ever envisioned.
Cam Segal, a junior at Connecticut College who grew up in Marblehead and now lives in Wenham, started a Learn To Skate program for new arrivals from a number of different countries to the city of New London. Segal grew up playing hockey; he was on the Pingree JV squad and is currently a member of the Camels club hockey team. His passion for the game prompted him to start his Cities and Schools Pathway innovative program assignment by questioning why hockey is considered a white sport.
From that question the idea blossomed into introducing a group of immigrant children to the sport he loves, and it took off like wildfire with some help from a lot of people.
Before long the club hockey and figure skating teams joined in along with a couple of Spanish speaking college students, who served as translators. Soon 30 new arrivals and dual language middle schoolers from Conn. College graduate Rocio Tinoco's class at Bennie Dover Jackson Middle School were having a lot of fun skating around Dayton Arena.
Segal, who also played soccer for the Highlanders, is an American studies major pursuing a secondary teaching certificate. After becoming involved in the Cities and Schools Pathway program he began to look into inequalities in sports. An incident in childhood spurred him on.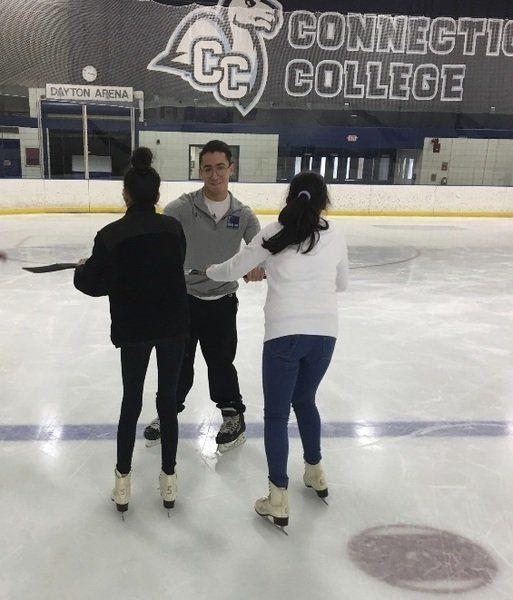 "My first exposure to anything like that was being called an insulting name because someone thought I was Mexican," said Segal, who is not of Mexican decent but has an olive completion. "I never forgot it. And then last year in Chicago, Devante Smith-Pelly of the Washington Capitals had fans yell racial taunts and "basketball" at him because he is African-American.
"That helped to inspire me. I love hockey, and it is not just for white people, but everyone should be able to enjoy being on the ice."
Last fall Segal got the ball rolling with five skating sessions for kids in grades six through eight who are new arrivals. Most of them had never seen snow or ice before, never mind putting on skates. Segal loved it as much as the youngsters did.
"They're all English language learners, and when we started we used orange traffic cones to help with balance. They also held hands with college students, who came to help us. I really loved working with the kids.
"Less than one percent of the residents of New London have access to the ice, and it was great to see them progress. By the end the kids were skating backward and having a blast. Hockey is for everyone, and I felt horrible that there are still a few people thinking it's only for white people."
Segal was pleasantly surprised about the amount of help he received from translators, residential education fellows, and teachers.
"My education professor Dana Wright brought her whole class," said Segal. "There's a lot of work involved with scheduling and getting enough volunteers. Everyone was great, and we're going to run a spring program with five more sessions coming up. We had about 30 kids come each time; all from countries like Costa Rico, Honduras, Ecuador, Dominican Republic, and other places. At the last one we'll have a slide show to show how much they've progressed."
"I feel like a kid out there," he added. "I never expected the program to take off the way it did, and everyone has been so helpful. I feel like a lot of what I am doing education-wise is bringing all the different worlds together in one place. One thing that helps me is having small college classes which allow you to get really close to the professors and allow programs like this to happen."
Segal's story is inspiring; one student-athlete starting with a simple question and making something happen to bring joy to a lot of youngsters lives.
||||