LYNN — People that don't understand the dynamic of athletic competition can't begin to fathom what momentum, passion and hunger can do to fuel an athlete or a team in a particular contest.
The Danvers High hockey team brought all of those intangibles to Connery Rink with them Friday afternoon, and the end result was their most satisfying performance of the truncated 2020-21 season.
With head coach Steve Baldassare and his top assistant, Ryan Hayes, reinstated behind the bench less than 24 hours beforehand, the Blue-and-White scored an emotional 4-1 triumph over first place Marblehead. The victory was fueled by a hat trick from senior winger Tyler Robinson and a 28-save performance in net from senior goaltender Adam Bridgeo.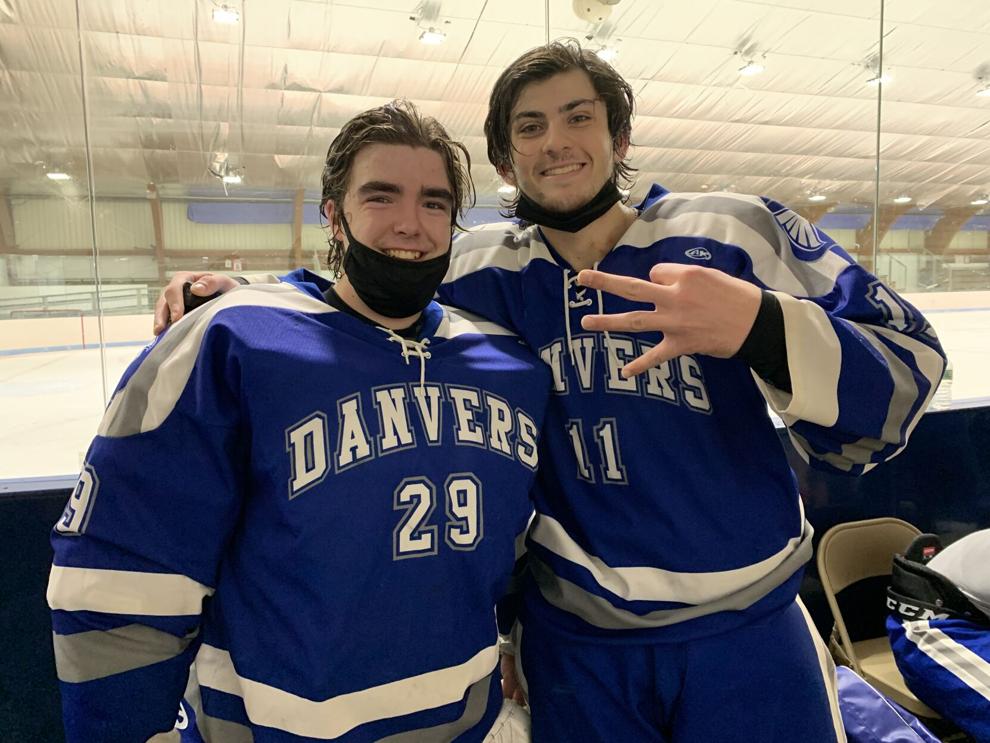 Baldassare, Hayes and the DHS hockey staff were technically still employed as coaches by the school, but not allowed to actually coach the team while an independent investigation into the program took place at the behest of school administrators. In their absence, Andrew O'Neill (who served as an assistant coach Friday) took over as 'acting head coach' and guided the Falcons through their first 10 games this winter.
With them back running the show Friday, the Danvers players were clearly energized ("we absolutely knew that'd be the case," said head coach Chris Wells of Marblehead) and were rewarded for their efforts, scoring three times over the game's final seven-and-a-half minutes to pull off the upset win.
"I'm happy we're even here. Back in December, we didn't even if we'd ever put this jersey on again," said Bridgeo. "Then Coach O'Neill took the job and we're so, so thankful that he did. He did a great job. Now Coach Baldassare and Hayes are back; they're like second fathers to a lot of us. We've had them since we were freshmen and we have their backs."
After the game, an emotional Baldassare addressed his team in their dressing quarters at Connery, situated next to their bench.
"I'm proud of you boys," he said. "Proud of your effort, proud of your energy, proud for you seniors."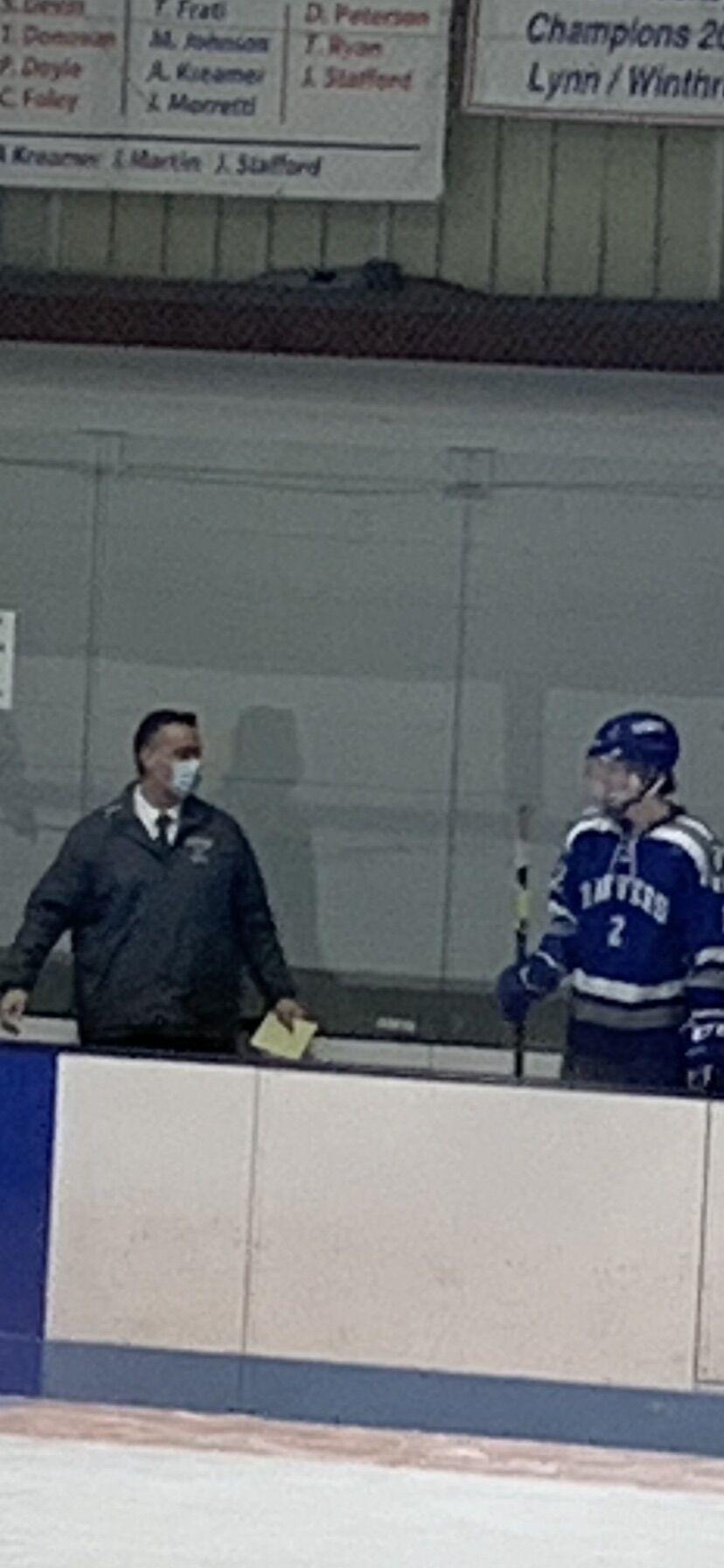 Danvers has two games remaining this weekend, both at Talbot Rink in Gloucester: Saturday against Saugus and Sunday vs. Gloucester. Baldassare and Hayes will be there guiding the squad for both.
"Coach O'Neill stepped up for us, without knowing any of us beforehand, when he didn't have to. None of us will ever forget that," added Robinson after his first career hatty. "He kept us together and as a hockey family. And now that Coaches Baldy and Hayesy are here again, it feels really great to have them back with us."
The setback was an important one for Marblehead (8-3-1), which is in a fight with Masconomet (8-2-1) and Winthrop (7-2-3) for the Northeastern Conference title. Each team has 17 points with one game left this season, all on Saturday: Winthrop hosts Beverly at 12:40 p.m., while Masconomet hosts the Headers at the Essex Sports Center (7:30 p.m.). 
"The effort was there, but we made some mistakes that cost us," said Wells. "Sometimes you can get away with those; other times they wind up in the back of your net. 
"Danvers came out and worked hard the entire game," he added. "(Bridgeo) is obviously very good, too; shots he can see from the point aren't going to beat him. We had to try and get rebounds, and were able to do that only once."
Marblehead felt the obvious loss of talented junior defenseman Aidan Jalbert on this day, particularly on special teams. As a result, the Headers used primarily four defensemen. 
Will Shull knocked home his North Shore leading 15th goal with a backhand rebound of fellow captain J.T. Monahan's shot with 36 seconds to go in the second period, allowing the Headers to tie the game at 1-1. In the opening stanza, Robinson had connected on the power play, tipping Griffin Geraghty's blast from the left point into the net for his first goal of the season.
Robinson gave his team the lead back for good midway through the third with a wrist shot from down the right wing boards that beat goaltender Nate Samuels (23) saves stick side up top.
"The puck came off the boards and I was able to go in 2-on-1," said Robinson. "I saw the net was like, 'The top left is all me.' It was calling my name."
Captain Brian Taylor, who assisted on that goal, then delivered a dagger of his own five minutes later. Shooting from a similar spot as Robinson, his bullet caught the inside of the far post, pinged off of it and into the netting.
"When BT scored that goal, we were rowdy on the bench," chuckled Robinson. "It felt really good for us to be up by two goals for a change."
When captain Michael Papamechail (2 assists) chipped the puck out of his own zone with under a minute remaining, the puck squirted free to Robinson, and he was more than happy to fire it into the empty net with 29 seconds to play. 
Danvers 4, Marblehead 1
at Connery Rink, Lynn
Danvers     1     0     3     —     4
Marblehead     0     1     0     —     1
First period: D, Tyler Robinson (Griffin Geraghty, Dillon Driscoll), ppg, 12:42.
Second period: M, Will Shull (J.T. Monahan), 14:24.
Third period: D, Robinson (Brian Taylor), 7:29; D, Taylor (Connor Horn, Michael Papamechail), 12:40; D, Robinson (Papamechail), eng, 14:31.
Saves: D, Adam Bridgeo 28; M, Nate Samuels 23.
Records: D, 4-7-0; M, 8-3-1.