I don't watch football and I don't eat meat. But I'm a reporter and I always try to keep an open mind, so when an editor told me to write about "people trying to get wings on Super Bowl weekend," I cracked my knuckles and got to it the only way I know how — with a hefty dose of sarcasm and self-deprecating humor.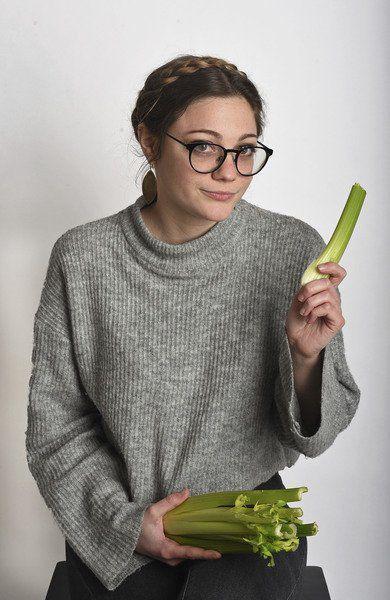 I learned two things this week: one, that there's a National Chicken Council, and two, that they keep track of how many chicken wings Americans eat on Super Bowl Sunday.
This may not come as a surprise, but people consume a staggering amount of wings. The council projects Americans will consume 1.38 billion wings this weekend. I'll be the one in the corner eating all the celery.
For some context, that's enough to put 640 wings on every seat in all 31 NFL stadiums; that's enough to circle the Earth three times; that's enough for every man, woman and child in the country to have four wings each, according to the council.
The National Chicken Council is a trade association whose primary purpose is to advocate for the chicken industry. They're pretty big fans of wings.
So is Marc Levin of North Andover, a self-proclaimed wing expert who told The Eagle-Tribune all about this American tradition.
"What wing connoisseurs have learned about the Super Bowl is, it can be a very frustrating day, in terms of getting wings," he said. 
The 46-year-old said his research into chicken wings goes back nearly 25 years, roughly coinciding with his college days at Boston University. He's got some advice for those looking to ensure their wing order is accurate this weekend.
"Don't trust the pre-order. That's a rookie mistake, to call it in early. They're going to lose the ticket," he said.
Levin's recommendation — backed by a very scientific method of firsthand trials — is to order wings by 11:30 a.m. or noon at the latest, and set a pickup time no later than 4 p.m.
"That's the hard cutoff. Kickoff is usually 6:30, so if you're there after 4 p.m., it's like the DMV on the busiest day of the year."
The popularity of the chicken wing as a dish was born from good old-fashioned Capitalism.
Cooking whole chickens was the trend in the 1960s, but by the 1980s U.S. consumers started preferring boneless, skinless breast, and wings became an undesired byproduct that was thrown away.
The story goes that enterprising restaurateurs in Buffalo, New York, realized they could sling 'em on the cheap, turning trash into something they could make a profit on. And lo and behold, the ubiquitous — and excellent-on-a-first-date — snack, was born.
Haverhill resident Mark Kingman skips the ordering ordeal altogether and makes his own wings.
Kingman, 43, crafted a 12-spice rub recipe to accommodate his wife, who doesn't like traditional Buffalo flavor, but likes the heat.
"It gets the pores open a little bit, the spice rub," he said.
Kingman said he'd make about 60 wings, purchased in a jumbo pack from BJ's Wholesale Club.
"It's going to be mostly me," he said. "I'll have wings for days."
So maybe I learned more than two things this week, but I'm still going to pass on the wings.
I'll eat those garnishes any day of the week, though.